With spellbound beauty, buffed arms, Zooey Deschanel is a popular actress, singer, and songwriter. Zooey being well aware of the statuesque figure she has got in treasure takes great care of her body. She doesn't disappoint her body by relying on junk foods and sedentary lifestyle. The blue eyed beauty dishes out her diet and workout secrets; let's find out what they are.
Simple And Healthy Lifestyle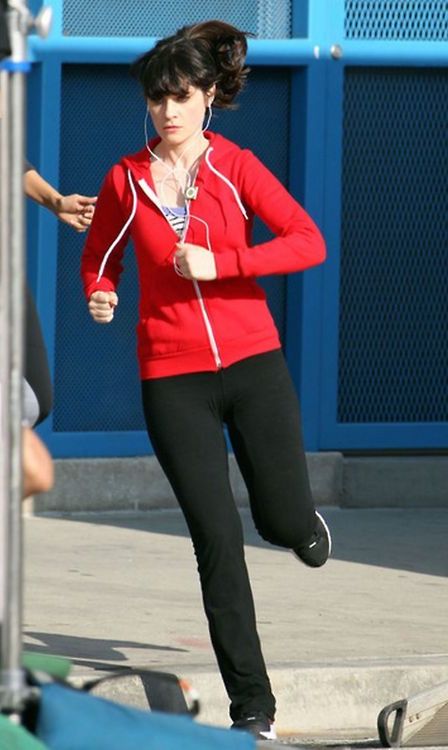 While swearing by regular workouts and wholesome diet, the brunette doesn't overlook the significance of adequate rest. After her long and tiring stage performances, she makes sure that rather than boozing with her friends, she takes proper rest. Late night parties and sneaking around with friends for spas are off her list. And prior to her stage performance too, to look energized and smashing hot, she in particular watches her diet and shuns the consumption of unwholesome foods.
She even arranges the parties at her home and serves self-cooked delicious foods to her pals. She being in love with cooking adores preparing healthy dishes such as quinoa spaghetti with zucchini, pesto etc. Aside from that, she keeps experimenting with the ingredients used in dishes. For instance, instead of using pine nuts as ingredient, she replaces it with nutrient-ridden hemp seeds. However, despite the swapping of ingredients, she doesn't fail to impress her guests with the awesome taste of cuisines.
Three Square Meals
While most of the nutrition experts acknowledge consumption of five to six small meals in a day, the exquisite beauty prefers eating three square meals. She chirps, since she doesn't feel hungry very often, she doesn't require snacks to fuel her body. While maintaining healthy diet regime, she eats three fuller and nutrient loaded meals, having proportionate mix of complex carbs, lean proteins, and healthy fats.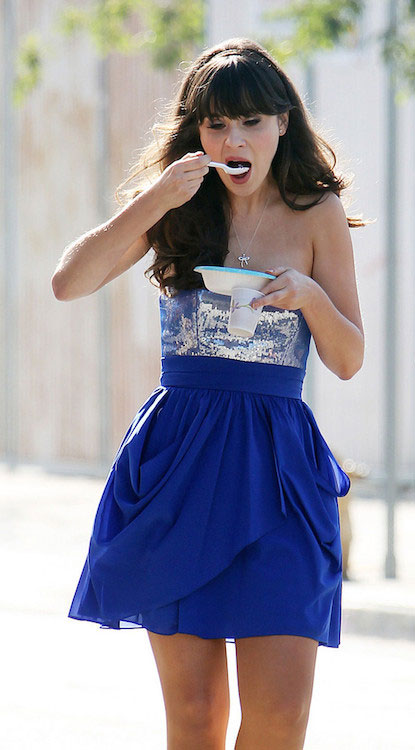 The beauty with brain has figured out one smart way to purge her craving for her beloved gluten-free chocolate chip cookies. She always saves the cookies in her refrigerator and without actually touching them, she feels contented with their mere presence. Since all our five senses participate in creating and satisfying cravings, when our eyes witness the availability of our craved foods, we feels gratified without even consuming them.
Purge Gluten and Soy Products
Like her sister Emily Deschanel, Zooey too wished to abide by vegan diet plan. But she feels disheartened about her inability to do so due to her food sensitivities. Since while following plant based diet, you already are left with limited choices of foods, you cannot afford to stick to vegan diet especially when you are intolerant towards some major foods such as wheat, rye, soy, dairy etc.
If you are sensitive towards some foods, you shall forbid their consumption because you really have to pay heavy toll for their consumption. Not only does the intake of these foods have you suffer from anxiety, nausea, headache, bloating etc., they also bulk up unwanted pounds. Since food intolerance triggers the release of insulin and cortisol hormone, your body begins piling up fat, thus making you grow overweight. So, don't turn blind eyes towards your food intolerance.
Healthy Snacking While Traveling
The hot babe shares that she is very prone to switching to junk foods while traveling. So, to avoid her become victim of unwholesome foods, she carries wholesome snacks such as nuts, fruits etc. in her bag. And no matter which city she is in, first thing she does is, find out healthy grocery stores there and buy fresh fruits, vegetables, nuts, lean meat etc. from there.
Prefers Sports Over Gym Workouts
The glam star really feels pity over the girls who embark on workouts with the sole objective to trim down their waist and acquire rail thin figure. However, the bombshell has seldom used exercises as a weapon to look skinny. Her workout motive rather is to boost her health. The thought of monotonous exercises to acquire slender figure extremely bores the vibrant star.
Zooey rather feels more captivated towards outdoor workouts such as hiking, biking, running, swimming, and exhilarating sports. While giving herself a one day rest, she executes workouts six days in a week for one hour. The radiant star being an avid fan of tap dancing devotes numerous hours to the cardio workout. Apart from detoxifying her body through tremendous sweat, tap dance also makes her body willowy and strong. She even suggests her fans too to abide by something they love.