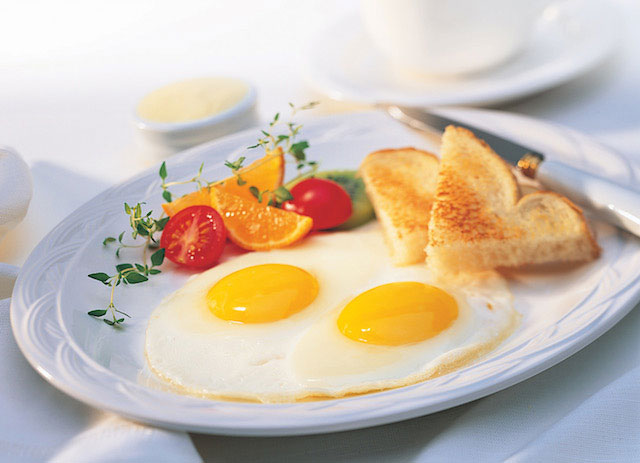 If you don't have much time to dedicate to a well planned workout regime but still can't compromise with your wish to slim down fat around your belly, then we have a solution for you – breakfasts that promise weight loss fast.
These meals really work because they have a simple philosophy – provide the much needed nutrition to the body within limited number of calories without leaving you feel bloated.
1. A Heart Bowl of Yogurt, Oatmeal and Almond Powder
It is probably the most naïve breakfast preparation. All you need to do is take a small bowl and put in it 4 large spoonfuls of yogurt. To this add, 2 spoonfuls each of "ready to eat" oats and almond powder. Mix it well. Add a few sultanas (dark raisins) if you would like to add sweetness to the meal, but remember not go overboard with the raisins as they increase weight when consumed in large quantities. This is an amazing summer breakfast and shall leave you feeling full till noon.
2. Have a Banana Milkshake!
Yes, you read us right. Banana milkshakes that are sold commercially bear a whole lot of additives to make it taste as addictive as these are. They carry lots of refined sugar and a whooping scoop of vanilla ice cream to give the shake a rich creamy and frothy flavor. But, if you cut out these unwanted ingredients then voila! You have a perfectly healthy breakfast meal. You need just 3 ingredients – a fully ripened banana, a glass of fat-free milk and 2 spoons of pure honey. Now, many people will be like, whaaaat??? Honey?! Of course, honey! It might be sweet but it is much more than just that. It is full of vitamin B, A and E. It is extremely hydrating too. When you nourish your body with quality nutrients then you lose weight. This milkshake shall keep you going for good number of hours. I strongly suggest that you do not add anything else to this meal. This is another great summer breakfast meal that shall keep you all charged up.
3. Just an Apple and few Walnuts
So, you have no time to cook or chop, we see. This for the type of days when you are barely keeping up with the clock and you need something quick. Grab an apple and a handful of walnuts while leaving for office. Everyone is aware of health benefits offered by apples but did you know that just a few walnuts, when consumed as breakfast or as in-between snack meals, can considerably reduce your cravings while imparting your body with omega 3 fatty acids. You feel contented very easily and do not feel hungry for quite some time.
4. 4 Egg Whites Green Olives Omelette
If you just can't do without a filling meal, then this is going to be your kind of breakfast. Beat together 4 egg whites with 4 to 5 chopped green olives. You may also add some chopped onions to enhance the flavor of the omelette. Add just a dash of salt. For best results make it on a non-stick pan. Drizzle generous amounts of extra virgin olive oil. This recipe tops my list of most nourishing meals.
5. Multi-Grain Bread Toasts with a Warm Cup of Herbal Tea
This is for those days, when you crave for breads. Simply place 2 slices of multi-grain bread in your toaster and meanwhile boil a cup of water. For a hassle-free cup of herbal tea, use tea bags. Add honey, if you like your tea sweet. This is an amazing winter breakfast and energizes and prepares you for the day ahead.
6. A Bean-Burrito
Burritos usually carry a meaty mixture, which is prepared with lots of condiments. But, if you prepare your burritos with a bean salad than with meats then you shall be able to feast on a meal that is high on nutrition and is also very satisfying. Use mustard sauce and good quality ketchup (because it has lycopene) instead of using mayonnaise or other cheesy dips. Legumes are rich source of proteins, which is essential in every weight loss program. A bean-burrito meal should keep you full till the lunch time. It is a great snack especially if you exercise regularly.
You may not possibly find a simpler weight loss method than this. Try it out today!