Crime is not the word you would like to associate with the celebrities. Yes, there are some of us who love to see the famous and successful celebrities take a fall. But, on the whole, the celebrities being accused of committing crimes makes up a shocking affair. I mean, some of the crimes celebrities have committed over the years have been completely unnecessary. It defies logic why anyone earning thousands of dollars would want to shoplift any product irrespective of its price. Not only they get caught, but also tarnish their public images.
Of course, the list of crimes committed by famous celebrities isn't just limited to petty theft. Some have been accused and successfully found guilty of serious crimes such as drug peddling, domestic abuse and murder. And, the association with such crimes is what shocks us most. Yes, I agree that celebrities are human after all and they have fallings that every one of us have. But, to throw away not only your fame, but your life as well in a moment is an act of utmost foolishness.
So, in this article, let us take a look at nine disturbing crimes, celebrities have been accused of. These crimes range from petty shoplifting to serious and damning acts such as murder and domestic abuse.
You know hindsight is a good thing. It allows you to find something good in what was a bad phase in your life. And, Winona Ryder who was subject of a shocking 2001 theft scandal has used hindsight to claim that the shameful incident was start of something good. Yes, it is hard to believe that being a centre of much publicized theft scandal is anything but good. She revealed that it wasn't the start of a bad phase in her life. The shameful event stopped her from crashing into the ground after her life had already started in a tail spin. In a weird way, it allowed her to explore options outside Hollywood and helped her to come closer to her family and friends.
The shameful event took place on December 12, 2001, when Ryder was arrested on shoplifting charges in Beverly Hills, California. Ryder, who was one of the most profitable actresses of 90s, was accused of shoplifting designer clothes and accessories worth $5,500 at a Saks Fifth Avenue department store. During the trial, apart from charges of grand theft, shoplifting and felony, she was accused of using drugs such as oxycodone, diazepam and Vicodin without valid prescriptions. Eventually, she was acquitted on the third felony charge, burglary, but was found guilty of grand theft, shoplifting and vandalism. She was sentenced to three years of probation and 480 hours of community service. Also, she was ordered to pay $6,355 in restitution to the Saks Fifth Avenue store and to attend psychological and drug counseling.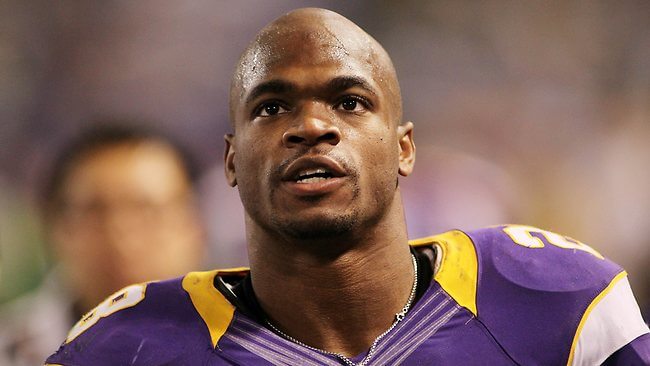 Even before he turned pro, there was enough evidence that the future Minnesota Vikings star was a special talent. During the 2004 season, as a true freshman, he set the NCAA freshman rushing record with 1,925 yards. He was a unanimous first-team All-American and also managed to become the first freshman to win the runner-up position in the Heisman Trophy balloting. He also started his professional career with the Vikings in a spectacular fashion by being named the NFL Offensive Rookie of the Year and setting an NFL record for most rushing yards in a single game (296). Everything was working just fine for the running back and in 2013, he even became the third fastest player to reach 10,000 rushing yards in NFL history. But, a year later, he was in serious trouble. On September 11, 2014, he was indicted by a Montgomery County, Texas, grand jury on charges of reckless or negligent injury to a child in relation to an event that occurred on May 18, 2014. He was accused of using a tree branch, which he consistently called switch to discipline his four year old son. The pictures of severe welts and bleeding on the child's back, legs, buttocks, genitals and ankles were released by tabloids. Initially, he was suspended for a game by the Vikings. On November 18, 2014, he was suspended from all NFL activity. He was also put on probation and ordered to pay $4000 fine by the jury. Plus, he had to do 80 hours of community service.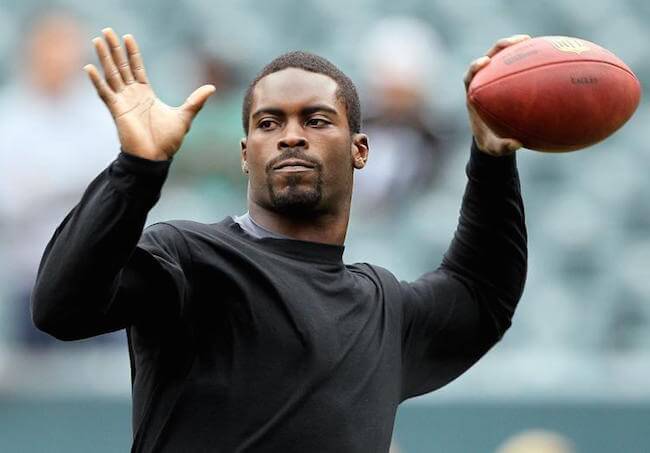 Although Michael Vick's crime is related to dog fighting, still it was an inhuman act of the highest degree. No doubt, the animal activists were enraged by New York Jets recent decision to hand $5 million contract to the disgraced quarterback. Some felt that he should have been handed lifetime ban instead of a fine and temporary ban. However, Vick's supporters and those who felt the decision to hand him a lifeline was right one, point to his exemplary performance ever since his return to justify the decision. Indeed, he led Philadelphia Eagles to the 2011 NFL Playoffs as NFC East Champions. He was selected to his fourth Pro Bowl and was named the 2010 NFL Comeback Player of the Year. However, all this seemed impossible when in 2007, Vick pleaded guilty to federal felony charges and was ordered to serve 21 months in prison, followed by two months in home confinement.
Vick admitted to the brutality of canines which included dreadful acts such as hosing them down, electrocuting them, drowning them, shooting and even hanging them. Most of the animals involved were pitbull terriers. During the raids on his property, the police also discovered a 'rape stand' on which a female dog would be strapped with head fully restrained. She would be subsequently raped by male dogs without fighting back.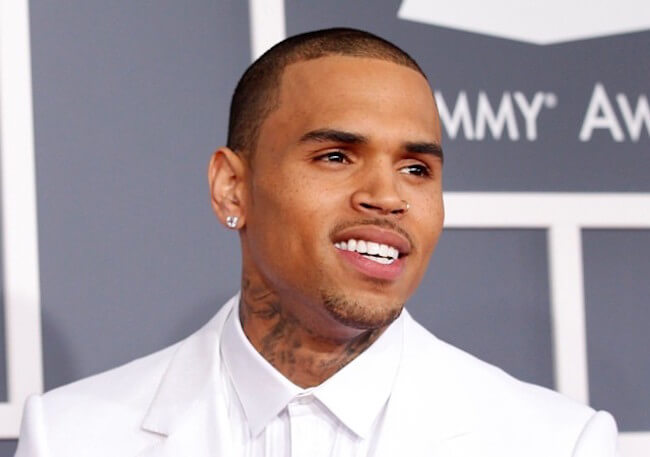 It has been more than six years, since images of Rihanna's battered face were plastered all over the tabloids. And, even in these six years, Chris Brown's image and music career has failed to completely recover from the incident. Of course, the fact that Brown has been involved in several brawls and scuffles doesn't help. Recently, he was left stranded in Philippines after an organization filed a fraud case against the singer in relation to cancellation of a New Year eve event.
Coming back to Rihanna's abuse and assault case, the incident took on February 8, 2009, after Clive Davis's annual pre-Grammy party. The incident was allegedly provoked by an argument in which Rihanna accused Brown of infidelity after finding some clues in his phone. The argument escalated into physical violence, leaving Rihanna with visible facial injuries that required medical attention. Brown was subsequently charged with felony assault and making criminal threats. He initially pleaded not guilty, but later made a u-turn and pleaded guilty to a felony and accepted a plea deal of community labor, domestic violence counseling and five years of formal probation.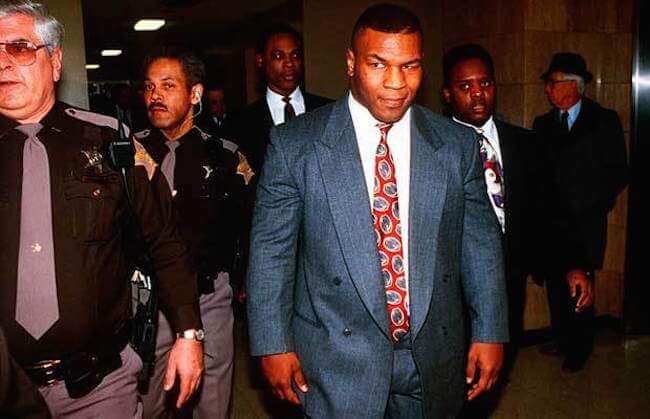 Mike Tyson is a perfect example of classic saying that no amount of money can make you smart. Over the years, not only he has squandered a fortune of around $300 million, but has also been involved in host of unsavory incidents. The most famous of which is Desiree Washington's rape allegations. In 1991, the 18 year old beauty pageant winner accused then world heavyweight champion of forcing himself on her. In the court, Washington testified that one evening, she received a phone call from the boxer inviting her to a party. She was subsequently raped by the boxer. Tyson's bodyguard testified in favor of the model. He revealed that she was in state of shock when she returned to the waiting limo. Tyson was found guilty and was sentenced to six year prison term. This wasn't the first instance when Tyson was accused of abuse. His first wife Robin Givens had earlier described life with Tyson as "torture, pure hell, worse than anything I could possibly imagine" in a bizarre national television interview while Tyson looked on with a calm expression.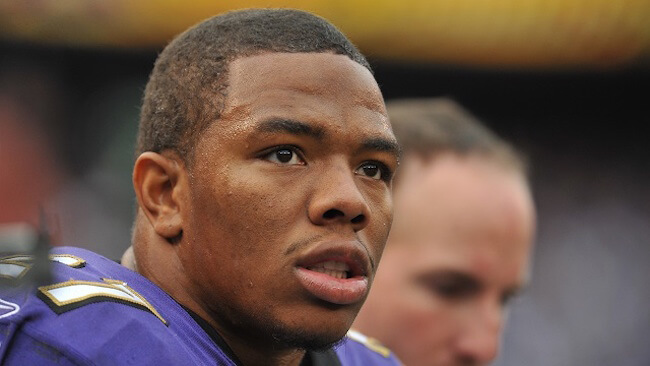 The NFL star Ray Rice's domestic assault case was bizarre by all accounts. Rice was accused of brutally assaulting and manhandling Janay Palmer, who was his fiancé at the time of incident. The incident took place in an elevator at the Revel hotel and at the time of the incident, both were highly intoxicated. In a physical altercation, Rice allegedly knocked out his fiancé. In a leaked video, he was seen dragging Palmer out of an elevator after apparently knocking her out. Initially, the NFL was criticized for not taking appropriate action. The game's organization in its defense stated that they hadn't seen any evidence. However, soon the above mentioned video was released by TMZ and the running back was released from the Baltimore Ravens. However, to everyone's dismay and shock, Palmer whom Rice had married six weeks after the incident, took to Instagram to criticize the NFL for terminating her husband.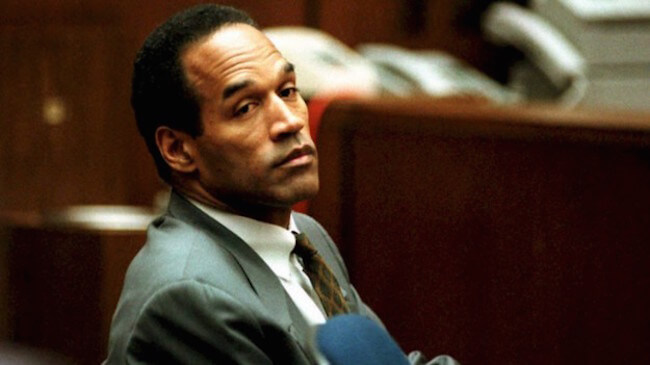 The former San Francisco 49ers running back is currently incarcerated at the Lovelock Correctional Center in Nevada. His current jail stay is in relation to 33 years prison sentence handed down by the Nevada Supreme Court for 2008 robbery and kidnapping. However, his inclusion in this list is not due to this crime. He was the centre of the famous murder case in which he was accused of killing his ex-wife Nicole Brown Simpson and her friend Ronald Goldman. Kim Kardashian's father Robert Kardashian was Simpson's attorney for the case. In fact, some people still believe that Kardashian helped Simpson in disposing of the murder weapon and bloody clothes that he wore for the crime. After a much publicized trial which was called the 'trial of the century,' the jury on October 3, 1995 gave verdict of "not guilty" for the two murders. According to the reports, about 100 million people nationwide stopped their activities to watch or listen to the verdict announcement.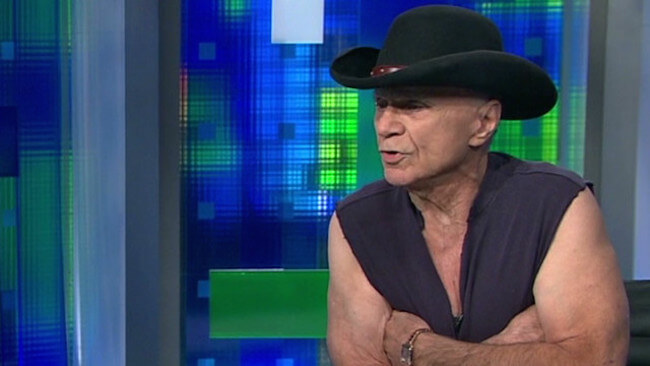 Many believe that Robert Blake, who has had one of the longest acting careers in Hollywood, is a smart man. And, according to some, he was smart enough to get away with ordering a hit on his wife of one year Bonnie Lee Bakley. On May 4, 2001, he took Bakley for an Italian dinner at a restaurant in Studio City. And, while she was waiting in the car, which was parked on a side street around the corner from the restaurant, she was killed by a gunshot to the head. Blake claimed that he had returned to the restaurant to collect a gun that he had forgotten and wasn't present at the time of shooting. Many felt it was a good story as the only firearm he owned couldn't be connected with murder. He was arrested and put to trial. However, due to lack of evidence that could tie him up with the crime, he was subsequently acquitted. Bakley's three children filed a civil suit against Blake, claiming that he was responsible for their mother's death. Blake was ordered to give $30 million, the amount which was reduced to half after an appeal.
Child abuse allegations have put a huge blot on Michael Jackson's legacy. He was first accused of molestation in 1993 by Jordie Chandler, who told police and a psychiatrist that Michael Jackson had forced him to perform sexual acts. Chandler, who was 12 year old at that time, was Jackson's close friend and they had spent a lot of time together during slumber parties. Eventually, the case was settled out of the court after singer agreed to pay $22 million to boy's controversial father Evan Chandler. Many felt Chandler's decision to take money instead of pushing for verdict on his son's case was a major sign that Jackson was falsely accused for money. Ten years later, Michael was again accused of molestation by a young cancer survivor. However, after a lengthy and tedious trial, Michael was not found guilty.