Amouranth Quick Info
Height
5 ft 4 in
Weight
55 kg
Date of Birth
December 2, 1993
Zodiac Sign
Sagittarius
Eye Color
Blue
Amouranth is a Twitch star, model, and costume designer who is best known for the live streaming videos that she uploads to her Twitch channel as well as for the exotic cosplay pictures that she uploaded to her Instagram account titled Amouranth before getting banned in October 2021. With time, she has also garnered herself a huge fan base with more than 500k followers on Facebook, more than 1 million followers on Twitter, and more than 2 million followers on Twitch.
Born Name
Kaitlyn Siragusa
Nick Name
Amouranth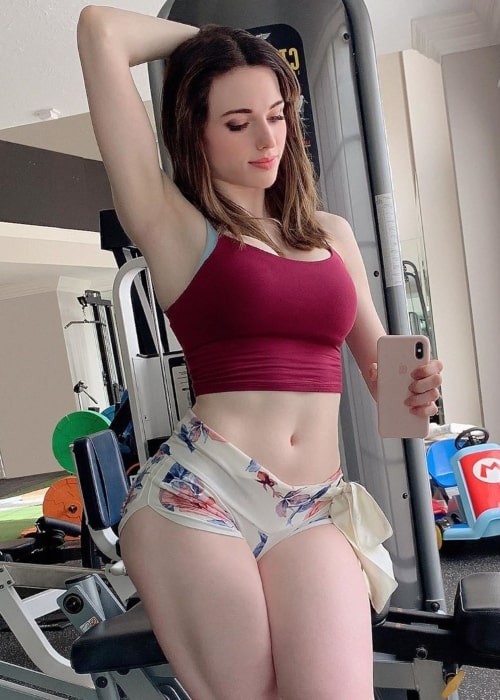 Sun Sign
Sagittarius
Born Place
Houston, Texas, United States
Residence
Texas, United States
Nationality
Occupation
Costume Designer, Model, Twitch Star
Build
Slim
Height
5 ft 4 in or 162.5 cm
Weight
55 kg or 121 lbs
Boyfriend / Spouse
Amouranth has dated –
Nick Lee – In 2018, a YouTuber by the name of "L Of The Day" uploaded a video to his channel in which he talked about Amouranth having lied to her fans about her relationship status and that she had been married to a man by the name of Nick Lee.
Race / Ethnicity
White
Hair Color
Dark Brown
However, she dyes her hair pink and blue.
Eye Color
Blue
Sexual Orientation
Disputed
Distinctive Features
Pale skin tone
Buxom figure
Perfect lips
Amouranth Favorite Things
Hobby – Costume Designing
Source – KaitlynSiragusa.com
Amouranth Facts
She was raised in Houston, Texas.
Amouranth was 16 years old when she began learning to design costumes on her own.
Amouranth's talent was taken into account by the Houston Grand Opera and Houston Ballet who employed her in their costume design department.
In the past, she started the character company titled A Charmed Affair.
It wasn't until 2015 that she began designing costumes for herself for cosplaying.
Chinese model, cosplayer, and costume designer Yaya Han is one of her biggest inspirations. She met Yaya for the first time in 2016 at the TwitchCon.
In November 2019, various online sources reported that Amouranth had lost an astonishing 300k plus followers on Twitch after having accidentally exposed herself by accident.
In March 2021, she overtook Pokimane as the most-watched female Twitch streamer for that month.
In April 2021, Amouranth claimed that hot tub streamers like herself are negatively affecting Amazon-owned Twitch's ad revenue.
On May 18, 2021, Twitch decided to remove ads on Amouranth's Twitch channel indefinitely. According to Amouranth, this could result in a loss of $500,000 in a year for her as she was earning $35,000 to $40,000 a month. Later on, she hinted that she might stop her hot tub streams. On May 22 stream, her ads were back on Twitch but she was making far less money than earlier. Before she was making nearly $1,000 a day but later, her revenue got dropped to $130 a day.
In 2021, Amouranth's net worth was estimated at $7 million.
After being mass reported, she was banned on Twitch in June 2021. She had started making ASMR videos in which she used to lie down while wearing leggings and lick her earphone to create sounds. Her ban was lifted after 3 days on June 21, 2021.
After receiving criticism for her hot tub and ASMR streams on Twitch, she had once thought about quitting Twitch.
In August 2021, her property was the target of an arson attack.
In 2021, she revealed to investmenttalk that she was earning more than $1 million every month just from OnlyFans. $189,000 per month from Patreon, $17,000 from Fansly, between $10,000 and $25,000 a month from Instagram (which got banned in October 2021), approx $133,000 a month split between Twitch, TikTok (got banned in October 2021), and YouTube. Finally, between $5,000 and $15,000 from Twitter. Overall, she was earning upwards of $1.3 million per month.
In August 2021, Amouranth revealed that she was getting serious money from content creators in return for coaching them on how to build their channels.
As per a Reddit user, from 2016 until September 2021, Amouranth had remained LIVE for 25,338 hours (or 1055.75 days) which is equivalent to 60% of her time in those 5 years – which is huge.
In October 2021, Amouranth was banned for the 5th time on Twitch for over 3 days before getting unbanned on October 11, 2021.
In November 2021, it was revealed that she had purchased a gas station for nearly $4 million. She was looking to lease out that property and in turn generate $85,000 a year in rental income. She had planned to sell this property in profit in a couple of years' time.
In November 2021, through the OnlyPunks collection of digital artwork, she had released her own NFT (Non-Fungible Token) representing herself, which got a bid of nearly $125,000.
In November 2021, Amouranth was presented with an idea by Ludwig Ahgren during his The Yard podcast about creating an adult toy. Amouranth was down to accept that idea of Ludwig.
In November 2021, Amouranth had revealed that she had spent $10 million to purchase a quarter of a 7-Eleven store.
For her 28th birthday in December 2021, she had purchased $1 million of VISA stock as a gift for herself. Overall, she had bought 5,400 shares and 44.1M in buying power.
In early December 2021, she had announced that she was an official Playboy model.
Just before Christmas 2021, she had joined Playboy's new digital platform Centerfold which is a rival to OnlyFans.
During her Christmas 2021 break, she had offered to pay $6.9 million for a mansion in Los Angeles which turned out to be Rihanna's home. Later, she decided not to buy the property.
In December 2021, it came to public attention that Amouranth's Twitter account was shadowbanned.
In December 2021, she was announced as the top female Twitch star of 2021 with 38.34 million hours collectively spent watching Amouranth's streams. Overall, she was placed at #33 on Twitch with xQc at #1 with 261 million hours watched.
Amouranth's parents are very conservative and they were not supportive of her decision to make content on Twitch in the starting.
In January 2022, Kaitlyn revealed that as long as she had haters, she would never quit Twitch as they give her a tremendous amount of energy to create content and prove them wrong.
In early January 2022, her Discord server had got hacked.
In January 2022, Amouranth was banned from another platform, Just Dance after hackers got access to her account and changed the name from 'Amouranth' to 'Twitch Sl*t' which was against the platform's ToS.
In January 2022, Amouranth had purchased an inflatable pool toy company for $7 million.
In January 2022, Amouranth gifted her long-term assistant Morgan, a brand new Subaru Crosstrek worth $25,000 after getting to know that she had damaged her car while driving on Christmas.
In February 2022, Amouranth had invested in seven figures in a plastic ball manufacturing company that produces hollow plastic, plastic, and rubber balls for playpens, ball pits, and more. She remained a minority stakeholder in the company to be able to generate cash flow passively.
In February 2022, Amouranth was seen on some mysterious billboards (which featured her picture and mentioned about her 24/7 availability on OnlyFans) in Los Angeles and New York.
In February 2022, she invested another $2 million in Alphabet (parent company of Google). This took her total investment in the company to over $5 million. At that time, she was holding 2135 shares of the company.
In March 2022, she had invested $2 million to purchase the shares of Activision Blizzard company.
In April 2022, Amouranth revealed that she was planning to launch an e-girl agency (or talent agency) that would represent e-girls and female OnlyFans content creators.
In April 2022, she revealed that she was lead producing the show, 'Streamer Royale' in which many big streamers were featured.
In May 2022, she revealed that she had invested $338,000 in $SPGI stock (S&P Global Inc.) and purchased 1,000 shares for $338 each.
In June 2022, Amouranth revealed that she had purchased another gas station – Kum & Go worth $8,000,000 for a 25% share. It had 12 pumps at that time.
Later in June 2022, Amouranth revealed that she had purchased 22,500 shares of Altria Group, which is a tobacco and cigarette producer, for $45 a share. It was nearly a $1 million investment with an 8% dividend at that time.
After the above investment, Amouranth revealed that she was generating $500,000 of passive income a year.
Starting from May 2022, she was cyber-stalked for over a month by a stalker who traveled from Estonia, Europe to her city and stayed in a hotel near her PO Box.
On June 30, 2022, she retired from OnlyFans on which she was earning $1.5 million a month as revealed by her in April 2022.
Featured Image By Amouranth / Instagram