As any previous MTV Awards show, this one was also special for many reasons. The fans got the pleasure of watching superstars such as Scarlett Johansson and Rebel Wilson on the red carpet. The MTV 2015 Movie Awards also honored Robert Downey Jr., Shailene Woodley and Kevin Hart for their accomplishments in the past year. It was held in Los Angeles at the glorious Nokia Theatre on April 12, featured with performances from the amazing Fall Out Boy, Fetty Wap and Charli XCX. But this kind of show couldn't go without the lovely dresses and gorgeous suits that the celebrities have shown to the world. In this article, you will find out more about the best-dressed stars at the show by Penn Live.
For a start, you should be aware that spring has come and so there is a change of wardrobe. Scarlett walked on the red carpet in a beautiful Zuhair Murad Jumpsuit. It was featured with a coral-pink ensemble, leaf-like cutouts and tone-one-tone embroidery. It fitted perfectly on Johansson's beautiful body. She was nominated for Best Female Performance and Best Kiss. The fans are impatiently awaiting her appearance in the next Avengers sequel.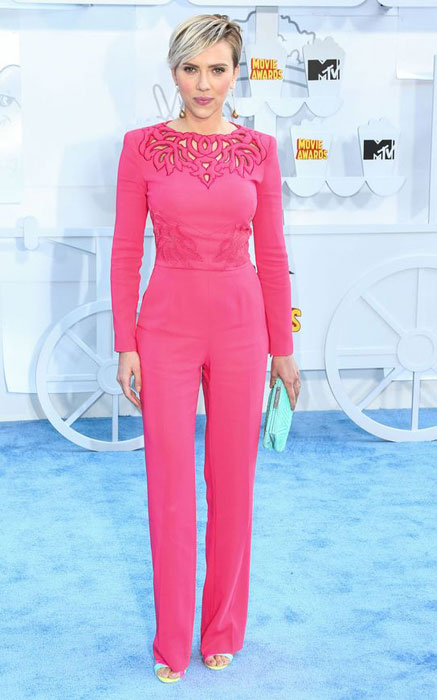 The show had a pleasure to welcome the famous designer Rachel Antonoff. She is a lovely woman and definitely picked a nice dress. It would be weird if she couldn't make the best choice as a designer, but mistakes happen very often. Rachel wore an iridescent Seafoam green dress, featured with a ruffled white blouse that showcased her personal brand. It is a combination of a great design and a little promotion of herself as an artist.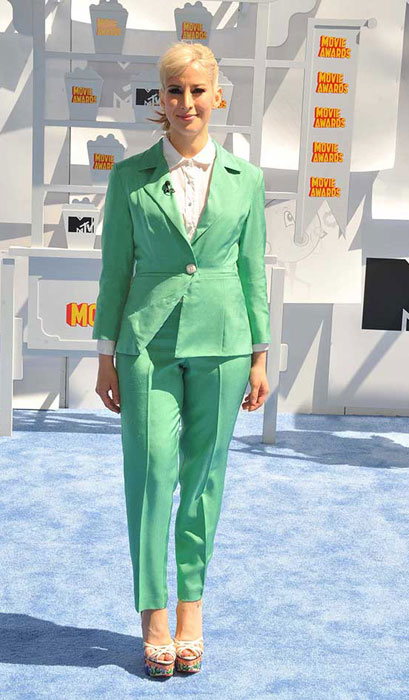 Ty wasn't too much out of his comfort zone. He was dressed probably without too much thinking about it, but it still looked great. Wearing a bandana isn't out of style if a famous rapper wears it. He knows how to be himself and still make a nice appearance on the red carpet. The fans were mesmerized by his performance at the Movie Awards alongside Charli XCX.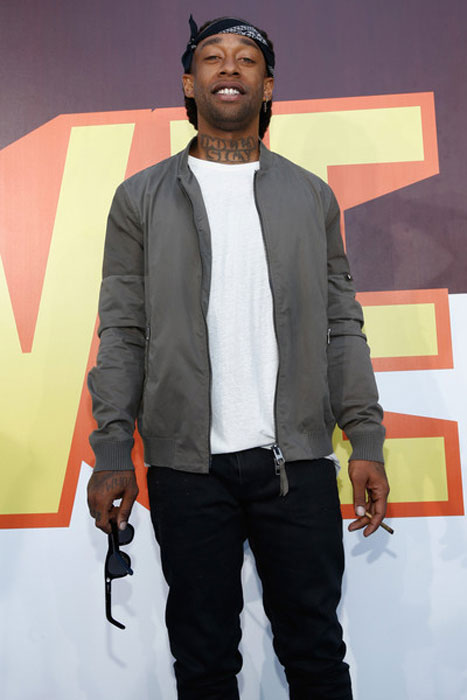 She left Fashion Police and this was her first red carpet appearance since that. You have to admit that Kelly looks amazing in her dress. She often likes to add spice to it by making extravagant hairstyles, but it suits her character perfectly. The black dress is amazing on her body and she definitely knows how to wear and carry one. Welcome back Kelly, the red carpet wasn't perfect without you.
The lovely Kersey wasn't afraid to show her legs at the Movie Awards. Her dress provided her with that kind of an opportunity, so she couldn't avoid it. Alongside Kiersey's beautiful body, she can also pick a great choice for a dress. The yellowish gold outfit fitted perfectly with her smile and gorgeous hairstyle.
A dress with sleeves doesn't appear very often on the red carpet. But, Katie was gorgeous in it because it is a nice choice for her body. It was a white mid-length dress with gold studs. Nothing too complicated for the fashion critics, but she still looked great in it. Usually, the gold studs aren't the details a white dress needs, but they seemed perfectly in sync this time.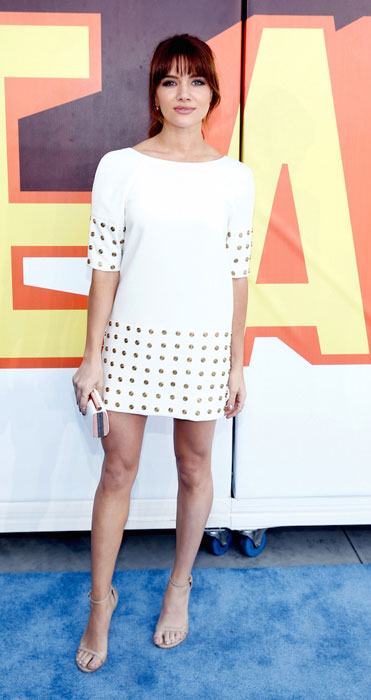 The famous singer and actress wasn't afraid to take the skirt suit to another level and give something more to her fans. She wore a Versace blazer, featured with a nice belt and three gold dots. She definitely is aiming for the highest expectations because her walk on the carpet is nothing less than astonishing.
Fetty Wap
Fetty's sky blue suit and gold chains have made him a one of a kind celebrity at the Movie Awards. But, he will also gain a lot of fans after his glorious performance alongside Fall Out Boy. Even if Wap is an upcoming superstar in the music business, the critics are promising him a very fruitful career.
Wearing a purple dress that is lacy, sheer and draped, will not work for every woman. But, Cara looked amazing in it. She really is divine in the dress, and the red carpet could afford more ladies with such style. Her British style compliments the MTV Movie Awards and she will be great in the upcoming Paper Towns. Delevingne was wearing a Reem Acra dress.