Bill Clinton Quick Info
Height
6 ft
Weight
87 kg
Date of Birth
August 19, 1946
Zodiac Sign
Leo
Spouse
Hillary Clinton
Bill Clinton served as the 42nd President of the United States. But, he was not born by this name. He adopted the last name "Clinton" of his stepfather in his honor. He was in the office for the President of the United States from January 1993 to January 2001. Before that, he was the "Governor of Arkansas" until December 1992. Before that also, he was serving as the 50th Attorney General of Arkansas.
When he became the President of U.S., he was just 46 which made him the third-youngest president of U.S. at that time. Bill and his wife Hillary Clinton are the members of Democratic Party. His name has also been linked with over 25 women in his entire life.
Born Name
William Jefferson Blythe III
Nick Name
Bill Clinton, The Man From Hope, Bubba, The Compromiser in Chief, Secretariat, The Wizard of "Is", The Comeback Kid, Slick Willie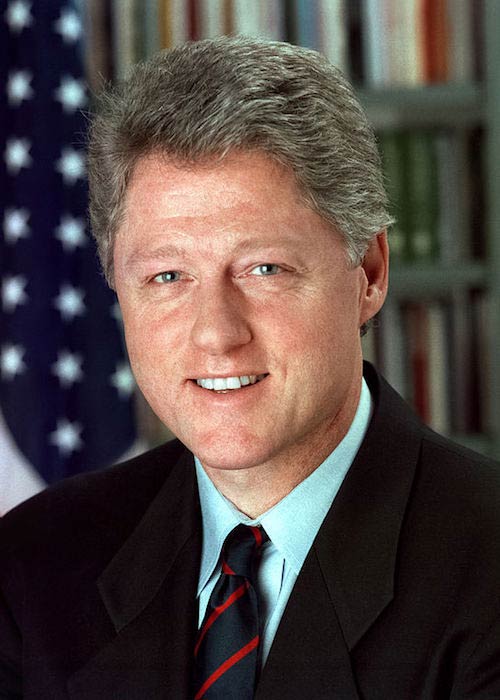 Sun Sign
Leo
Born Place
Hope, Arkansas, United States
Residence
When he and his family are in Washington, they live in his lavish mansion on Whitehaven Street.
While their 11 bedrooms Dutch colonial house in Chappaqua, New York serves as their primary vacation home.
Nationality
Education
Bill Clinton went to the St. John's Catholic Elementary School. He also studied at the Ramble Elementary School. He later got enrolled at the Hot Springs High School.
After completion of his school education, he got admission at the School of Foreign Service at Georgetown University in Washington, D.C. with the help of scholarships. He graduated from Georgetown in 1968 with a Bachelor of Science in Foreign Service degree.
Soon, he won a Rhodes Scholarship to study at prestigious University College in Oxford. He initially had got enrolled in a B.Phil. in Philosophy, Politics, and Economics but decided to transfer to Bachelor of Letters in politics. He again decided to transfer and got enrolled in B.Phil. in politics. However, he left Oxford without completing his studies.
He subsequently took admission at the Yale Law School and graduated with a Juris Doctor (J.D.) degree in 1973.
Occupation
Politician, former President of the United States, and former Governor of Arkansas
Family
Father – William Jefferson Blythe Jr. (Traveling Salesman) (Passed away in an automobile accident about 3 months before Bill's birth)
Mother – Virginia Dell Cassidy (Nurse Anesthetist)
Siblings – Roger Clinton (Brother), Sharon Lee Blythe (Sister), Henry Leon Ritzenthaler (Brother)
Others – Roger Clinton Sr. (Stepfather) (Car Salesman), William Jefferson Blythe (Paternal Grandfather), Lou Birchie Ayers (Paternal Grandmother), James Eldridge Cassidy (Maternal Grandfather), Edith Grisham (Maternal Grandmother)
Build
Average
Height
6 ft 2 in or 188 cm (Peak Height)
With advancing age, he has lost some inches and is now believed to be 6 ft or 183 cm.
Weight
87 kg or 192 lbs
Girlfriend / Spouse
Bill Clinton has dated –
Hillary Clinton (1971-Present) – Bill Clinton was smitten with Hillary at the very first sight after having seen her in a political and civil rights class. They met for the first time at the library in Yale University. Hillary had found him staring at her. In 1971, they went on their first date, which was a walk in the art museum. In the summer of 1971, Hillary found a place at a law firm in Oakland as an intern. Bill decided to cancel his vacations so that he can be with Hillary in Oakland. Later, she decided to spend an additional year at Yale to spend more time with him. She had turned down his marriage proposal by 1974 as she felt that she would lose her identity by getting married. However, she eventually relented and they got married in a small ceremony held in October 1975. In February 1980, she gave birth to their only child, a daughter – Chelsea Clinton. Over the course of their marriage, Hillary has endured several rumors of his extra-marital affairs. The most difficult and high profile of his affairs was with White House intern Monica Lewinsky.
Eileen Wellstone – Bill Clinton is reported to have a sexual encounter with Eileen Wellstone in 1969. He had met her at a pub while studying in Oxford. There are some sources that argue the relationship wasn't consensual and he had sexually assaulted Wellstone.
Norris Church Mailer (1975) – As per Norris Church Mailer claims, she had a fling with Bill Clinton in 1975, who was unmarried at that time.
Carolyn Moffet – Carolyn Moffet alleged that she was sexually harassed by Clinton in 1979. She met him at a political fundraiser and he invited her to his room. She was escorted by a state trooper to his hotel room, where she found him sitting only in his undershirt. However, when she rejected his sexual advances, he shoved her face into his lap.
Judi Gibbs – Judi Gibbs, who was Penthouse Pet of the Month in December 1979, died in a mysterious house fire in 1986 along with her long-time beau, Bill Puterbaugh. Since then, her sister Martha maintained that Clinton was responsible for the fire. Clinton and Gibbs's affair came to public attention after a rumored picture of them together, which Gibbs's brother-in-law, Dale Bliss had taken secretly, was discovered in a police raid in Bliss's house after he was arrested on the charges of child rape.
Lencola Sullivan – Clinton is reported to have had a fling with Lencola Sullivan, the former Miss Arkansas winner, and news anchor. She was the first African American to have won the title of Miss Arkansas. Their affair came to light during former Arkansas state trooper L.D. Brown deposition in the Paula Jones case.
Juanita Broaddrick (1978) – In 1998, Clinton was accused by Juanita Broaddrick of having raped her in the spring of 1978. She claimed that she wanted to volunteer for his campaign to become governor of Arkansas. He had called her in for a meeting in his room, where after talking about the campaign issue for some time, he tried to kiss her. After she tried to push him off, he raped her there in the room.
Elizabeth Ward Gracen (1982) – In 1998, the former Miss Arkansas and Miss America winner, Elizabeth Ward Gracen, revealed that she had a one-night stand with Clinton in 1982. Paula Jones had claimed in her testimony that Gracen had told her that Clinton had raped her in 1982. However, Gracen rubbished rape claims and insisted that s*x was consensual.
Sally Miller (1983) – Sally Miller, who is also known as Sally Perdue, revealed in 1992 that she had an affair with Bill Clinton in 1983. The former Miss Arkansas revealed that she was threatened by Democratic Party staffers to not make their affair public as the revelation could prove to be detrimental to her life.
Dolly Kyle Browning – In her sworn statement to Paula Jones's attorneys, Dolly Kyle Browning revealed that she had a sexual relationship with Bill from the 1970s to 1992. Their affair had started when they were classmates in the high school.
Connie Hamzy (1984) – Connie Hamzy, the former rock groupie, claimed that she was approached by Bill Clinton with a sexual proposition in 1984. Clinton refuted her claims and insisted that she came on to him and flashed her breasts at him.
Regina Blakely Hopper – It seems that Clinton had a thing for the Miss Arkansas winners as he is rumored to have romped with another winner, Regina Blakely Hopper. Their affair was brought to public light by state trooper L.D. Brown.
Helen Dowdy – Helen Dowdy, who was Hillary's cousin alleged that Bill had groped her in 1986 while attending a wedding. He had pulled her onto the dance floor for a dance on a slow song and soon the dance turned into a grope.
Gennifer Flowers – During Clinton's 1992 presidential campaign, the actress and model Gennifer Flowers claimed that she had a 12-year-long affair with Bill Clinton. Bill made an appearance with his wife on 60 Minutes to refute the allegation of having had an extra-marital affair. However, in 1998, he admitted that he had a sexual relationship with Flowers.
Patricia Duff – Clinton reportedly had an affair with Patricia Duff in the early 90s. She publicly called him her good friend and helped raise tens of millions for his election campaigns.
Sandra Allen James – In 1999, Sandra Allen James accused Clinton of sexually assaulting her during his presidential campaign in 1991. He had invited her to his room and had pinned her to the wall before putting his hand on her dress. She screamed loudly enough for the Arkansas State Trooper stationed outside the hotel suite to ask whether everything was alright from outside the room, which saved her from further assault.
Paula Jones (1991) – In 1994, Paula Jones filed a lawsuit alleging sexual misconduct against Clinton. She had claimed that he had exposed himself and propositioned her in May 1991 in a hotel room.
Sharon Stone – Bill Clinton has been linked with actress Sharon Stone on a couple of occasions in the nineties. They were first linked during the presidential campaign in 1992. They were again linked in the last months of 1995. It has been reported that even Hillary knew about their affair. At one Clinton fundraising dinner, she decided to shift Sharon's place after realizing that she was to be seated alongside Bill and made sure that some other woman would be seated next to him. However, he managed to get her to sit next to him.
Kathleen Willey – In 1998, the former White House volunteer aide Kathleen Willey alleged in her TV appearance on 60 Minutes that she was sexually assaulted by Clinton in November 1993. She claimed that he had kissed her on the mouth in his study in Oval office while groping her breasts and touching her genitals. The independent counsel later found inconsistencies in her sworn testimony. Kenneth Starr later tried to prosecute her for making false statements and obstruction of justice but it ended in a mistrial. Willey has since maintained that Clinton used his political power and influence to discredit her. She also claimed that she had been subjected to intimidation by their party and Clinton supporters.
Ghislaine Maxwell – His name was also linked to convicted felon Jeffrey Epstein's madam, Ghislaine Maxwell. Clinton, however, has denied the allegations.
Markie Post – Clinton reportedly had an affair with actress Markie Post in the mid-nineties. It was rumored that they had romps in the stately Lincoln bedroom in the White House. They officially maintained that they were just good friends.
Christy Zercher – In 1998, the former flight attendant, Christy Zercher accused Bill of groping her in 1991 while on a campaign plane.
Eleanor Mondale – Clinton is reported to have had an affair with radio personality and actress, Eleanor Mondale (later died in 2011 due to a brain tumor) in the late nineties. He often used to take trips to California for his flings with the daughter of former Vice President Walter Mondale.
Monica Lewinsky (1995-1997) – Clinton's affair with Monica Lewinsky is one of the most popular scandals involving a sitting U.S. president. They were s**ually involved in 1995 and 1997 and some caustic sources even alleged that they had a sexual encounter right in the oval office in White House.
Becky Brown – In his book Crossfire: Witness in the Clinton Investigation, L. D. Brown alleged that Clinton had sexually harassed his wife, Becky Brown, while she was babysitting his daughter Chelsea.
Belinda Stronach – In an article published by the Vanity Fair in 2004, it was alleged that Belinda Stronach, billionaire auto-parts heiress and member of the Canadian Parliament, was having an affair with Clinton. However, the Vanity Fair wasn't the first publication to hint at their alleged affair as previously NY Times had reported that their regular private dinners were suspicious.
Naomi Robson (2005) – Clinton was reported to be having a fling with TV presenter Naomi Robson in 2005.
Maria Furtwängler (2005) – Towards the end of 2005, Clinton was having an affair with German TV actress Maria Furtwängler.
Gina Gershon (2008) – Bill Clinton was rumored to be dating actress Gina Gershon in 2008.
Gulnara Karimova (2009) – Clinton was linked with Gulnara Karimova, who is the daughter of Islam Karimov, the tyrannical leader of Uzbekistan till his death in 2016, in the summer of 2009. It was also rumored that Gulnara had lent her help to Clinton Foundation to accomplish some shady deals.
Race / Ethnicity
White
He has English, Irish, German, Scottish, Swiss-German, and Scots-Irish ancestry. He also has traces of French Huguenot ancestry.
Hair Color
White
Eye Color
Gray
Sexual Orientation
Straight
Distinctive Features
Raspy Southern accent
Brand Endorsements
Bill Clinton has appeared in the TV commercials for the following –
Rotary International
Designated Driver program
Nationale Nederlanden
Religion
He is a Southern Baptist.
Best Known For
Being one of the most Iconic Democrat politicians of the 20th century.
Having served as the President of the United States for two terms. He left the office with highest end-of-office approval rating than any other US president after the World War II.
First TV Show
In 1988, Bill Clinton made his first TV show appearance on the talk show series, The Tonight Show Starring Johnny Carson.
Bill Clinton Favorite Things
Movie – High Noon (1952), The Princess Bride (1987)
Source – IMDb
Bill Clinton Facts
In 1992, the Time magazine declared him Man of the Year. He was named Co-Man of the Year along with Ken Starr in 1998.
He holds the unwanted distinction of being the first sitting U.S. president to be sued as Paula Jones filed a lawsuit for having sexually harassed her, 6 years earlier.
When Jones case gained nationwide attention after reports of his other sexual misconducts started surfacing, Clinton decided to reach an out-of-court settlement and paid her $850,000.
The codename coined by the US Secret Service for him is 'Eagle'.
When he left as US President, the country had a substantial budget surplus. He was the first president in more than 50 years to have left the country in such a positive state.
In 1972, Bill was appointed as a non-tenured professor of Law at the University of Arkansas with a yearly salary of more than $14,000.
In November 1995, he became the first serving US President to have gone to Northern Ireland on an official visit.
In 2013, US President Barack Obama honored him with a Presidential Medal of Freedom.
At the age of 15, Bill decided to officially adopt Clinton as his surname in honor of his stepfather, Roger Clinton Sr. However, he had been using it since his mother's marriage to him in 1950.
His stepfather was an alcoholic, who often abused his mother and his half-brother, Roger Clinton Jr. He often had to step in with a threat of violence to stop his stepfather.
While studying in high school, he played the tenor saxophone and was in the chorus. In fact, he won the first chair in the state band's saxophone section. He even briefly considered pursuing a future career in music.
He considers watching Martin Luther King Jr.'s 1963 I Have a Dream speech as one of the most influential moments in his life. He was so impressed with the speech that he memorized it.
While studying at the Georgetown University, he started working as an intern in 1964 in the office of Arkansas Senator J. William Fulbright. He later became a clerk and worked for Fulbright till 1967.
In 1974, he contested for the House of Representatives seat from a conservative district against Republican candidate John Paul Hammerschmidt. However, he lost by a slim margin but managed to win the election in 1976 for the same seat.
When he was elected as the Governor of Arkansas in 1978, he became the first politician to become a governor at the age of 32 in the whole country.
In 2004, the U.N. Secretary-General Kofi Annan decided to appoint him as the head of the relief effort in response to the devastation of the Asian Tsunami.
In January 2005, he collaborated with the former Republican President George H. W. Bush to set up the Bush-Clinton Tsunami Fund. They also established Bush-Clinton Katrina Fund in the October of 2005.
In 1997, he established the William J. Clinton Foundation, which was later rebranded as Clinton Foundation. In the later years, the foundation got engulfed in controversy over its acceptance of large donations from shady donors.
In 1994, he was awarded a fellowship and honorary degree from the University of Oxford in recognition of his efforts to bring out world peace.
In 1998, he was impeached by the House of Representatives for alleged perjury and obstruction of justice in relation to Lewinsky scandal. He became the second US President after Andrew Johnson to be impeached. He was later acquitted by the US Senate.
When the reports of his sexual affair with Monica Lewinsky surfaced, he had lied in a sworn statement and had tried to use his position to conceal his sexual relationship.
In October 2021, Bill was hospitalized at the UC Irvine Medical Center in Irvine, California, to receive treatment for a non-COVID-related infection.
Featured Image by Chad J. McNeeley (U.S. Navy) / Navy.mil / Public Domain