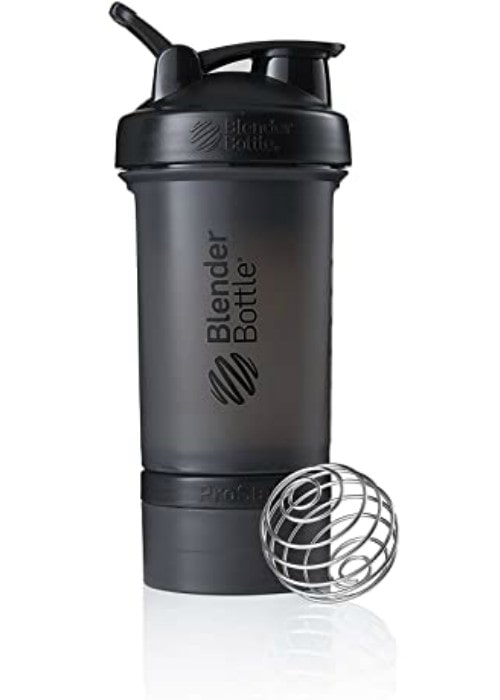 You will hear most people having bodybuilding goals drink protein shakes before and after their workouts. Protein shakes provide the essential amino acids that the tired muscle cells need which helps in recovering from post-workout recovery. You can also drink protein shakes if you want to get slim. Protein shakes act as a meal replacement and it is low in calories. To make protein shakes, you need to mix the protein powder with water. It is important to mix the ingredients well so that there is no lump. You can now find bottle shakers in the market that makes it very easy to prepare a protein shake. All you need to do is add the ingredients and shake the bottle to mix them properly. You need to make sure that you have put the recommended amount of water and powder so that you get the most nutrients from it. Here, we are going to review the Blender Bottle 500209 ProStak System, which has received thousands of positive reviews from the customers. We are going to look at its unique features and find out why it is so popular.
Design
This bottle is available in 10 amazing colors. It is designed in such a way that it has enough storage capacity to store powders, supplements, and pills. It has 22 oz capacity with measurement markings to 16 oz. So, you can add the ingredients according to the recommended amounts. It has a 150 cc jar, 100 cc jar, and pill organizer. You can use the jars separately as well. Additional jars are sold separately, so you can expand your capacity by buying the extra jars. It has a StayOpen flip cap with a unique loop that makes it easy to carry the bottle. You also get a good place to attach your keys while you workout at the gym.
Build Quality
The bottle is made of BPA free and Phthalate free materials, making them environmentally friendly and non-toxic. It is strong and made of 316 surgical grade stainless steel, so it won't break even if you drop it accidentally. It will not rust, peel or chip. It can hold a 22 oz drink. It has 150 cc jar, 100 cc jar, a patented wire whisk, and a pill organizer. It has the unique Twist n' Lock jars that provide unlimited storage expandability. It has a leak-proof SureSeal flip cap that ensures that there won't be any leakage. It is top-rack dishwasher safe.
Size
It has dimensions 3 inches by 4.1 inches by 8.6 inches which makes it handy and comfortable to carry around. As it is lightweight, it won't make your gym bag heavy.
Comfort
This bottle is very convenient to use. Opening the cap is easy and you can pour the ingredients in the recommended amount with the help of the measurement marked on the side. There are 2 separate compartments to store pills and protein powders. These jars are removable and so you can use them separately without the bottle as well. The whisk inside the bottle makes it easy to blend the ingredients and get a smooth drink.
Ease of Use
All you need to do is open the bottle and add all the ingredients. It is better to pour the water first and then the powder; that way the powder won't stick at the bottom and you will get a smooth drink. You just need to shake it well to get the perfect protein shake. There is a loop on the side of the bottle which makes it very easy to carry around.
Effectiveness
It has the patented BlenderBall wire whisk that whips around the bottle when you pour all the ingredients. It mixes the drinks and makes a smooth consistency so that there are no lumps. It has the Twist n' Lock jars that keep the contents in the jar secure. You can use the jar without the bottle as well. Using this bottle, you can take your pills and vitamins on the go. This bottle shaker is designed for serious athletes and those who need to make a bottle of protein shake quickly before or after a vigorous workout session. Drinking a protein shake will give you energy and help you to recover from the stress of workout quickly.
Pros
This bottle is made of BPA free and Phthalate free material, making them environmentally friendly.
It is made of surgical grade stainless steel
It has the wire whisk that mixes the ingredients as you shake the bottle.
There are 2 separate storage jars having Twist n' Lock technology.
It has a 22 oz capacity.
On the side of the bottle, there is a liquid measurement scale that is very handy and lets you put the exact amount of water for getting the right consistency.
There is a pill-tray to store your pills.
Its screw-on lid ensures that there is no leakage.
It is easy to open the lid, so you can just grab the bottle and drink quickly when you are in a hurry.
It provides lump-free protein which makes it nutritious.
It has a carry loop that helps to carry it easily. You can also hang your keys here.
Cons
You need to shake the bottle vigorously so that the powder dissolves well.
The lid may leak with overuse.
Final Verdict
This bottle shaker empowers lots of athletes and fitness enthusiasts across the globe and encourages them to eat and train well. Whether you aim to lose weight, compete at the Olympics, or stay fit, you can use this bottle shaker to have your protein shake. You can take pills, snacks, supplements, and liquids all in the same bottle, making things easier for you. It is powerful and leak-proof, so the liquid won't spill while you shake the bottle vigorously to make the protein shake. It has a wire whisk that ensures that you have a smooth shake every time. Considering the features, it is one of the best bottle shakers you will find in the market today.