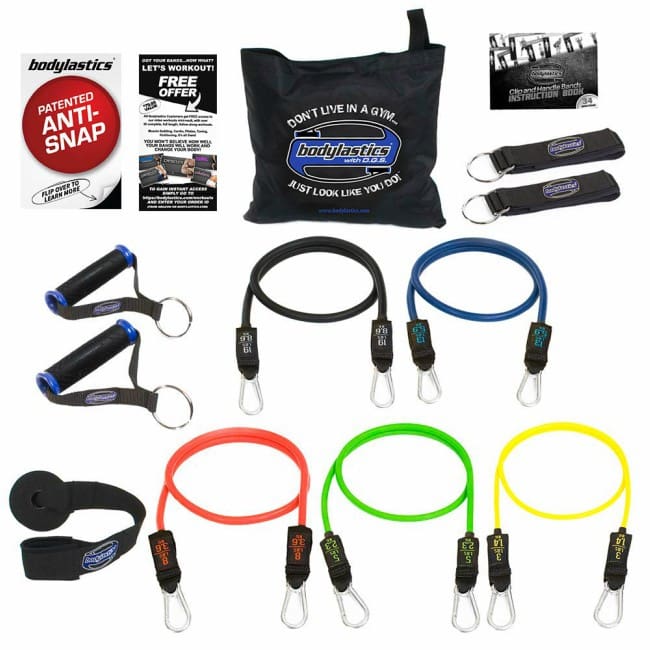 When we often talk about exercising tools, we think of dumbbells, treadmill, and other machines we see in the gym. But, we don't talk about resistance bands. However, these bands are very useful and equally important as the other tools you find in the gym. They are lightweight, portable, and versatile. You can train anytime and anywhere using these bands. You can use them alone or with other exercises to get better results.
Resistance bands can create constant tension that can stimulate muscle growth. When buying a resistance band, you must first decide what type of workout you want to do with it. You will need different types of resistance band for Pilates and HIIT workout, for example. You should also consider which part of the body you want to focus on. Some resistance bands are good for upper body workout and some are good for lower body workout. Of all the resistance bands out there, the Bodylastics Resistance Bands Set is ones of the best ones you will find. 
Design
These resistance bands are designed for athletes, bodybuilders and those who have average strength. These bands come in a set of 5 and you can use different resistance levels for different types of workouts. They are lightweight and portable. It has the anti-snap safety design that incorporates Snap Guard inner safety cord which is very strong and prevents the bands from getting damaged due to stretching. In case of the band snaps, this will also protect your body and face from any injury.
They have superior TPR waffle grip handles that make workouts more comfortable. The 5 bands come in various resistance levels and you can stack them to get 96 lbs of resistance to challenge your every muscle group.
You get a lot of free accessories when you buy this resistance band set including door anchor, 2 ankle straps, carrying bag, 2 thermoplastic rubber handles, and a user manual. You also get unlimited access to 44 professional online workouts that include pilates, cardio, muscle building, toning, and more.
Build Quality
The manufacturer has improved the product over the years and they are made of high-quality Malaysian latex. There is a strong braided core underneath this late shell that prevents the outer latex material from getting stretched too much. These resistance bands are durable and won't snap prematurely due to the patented D.G.S Technology, thus making them perfect for heavy use. They have built-in safety guards and woven cords tucked inside to prevent overstretching. The bands are sturdy as more latex is incorporated and there is a strong nylon cord inside. The handles are made of strong plastic injected Nylon. They have large clips that are made from aluminum. You can use these clips to attach the bands to handles or ankle straps.
These bands are portable and lightweight, so you can carry them anywhere you go. They are also perfect for home use and gym use. You can use these resistance bands for losing weight, strengthening your muscles, or other fitness goals.
The manufacturer provides a 100% money-back guarantee, making it a risk-free purchase. You will get 90 days of warranty and within this period the components or the band can be replaced for free. After this period, they will only charge you $5.95 for replacement.
Size
This set of 5 resistance bands come in different colors and resistance levels. The yellow band is 3 lbs, the green one is 5 lbs, the red one is 8 lbs, the blue one is 13 lbs, and the black one is 19 lbs. If you are new with these bands, you can start with the lowest resistance level and slowly progress towards the higher ones. The length of each band is 4 feet.
Comfort
These bands come with heavy-duty ABS plastic handles that are sweat-resistance and thus provides excellent grip. You will find them very comfortable to use. The ankle straps are very soft. You can use the door anchor to workout anywhere. These bands are comfortable for regular use and are great for strength training.
Effectiveness         
The Bodylastics brand has been around since 1998 and they have been manufacturing quality fitness products. These bands have been made to enhance strength training workouts. They can target all muscle groups; so whether you want to work on your abs or leg muscles, you will be able to achieve it by using these bands. You can also use them for various sports. They are easy to use and you can use them in several different ways. They are easy on the joints, so you can use them for rehabilitation purposes as well. Free weights can cause pain in our joints, but the resistance bands won't. So, you can use these bands instead of free weights or dumbbells. With these dumbbells, you will be able to recreate more than 140 of the gym exercises.
These bands are popular among the strength and conditioning coaches. These bands can simulate the exact punching and kicking movements with minimal injury in comparison to the free weights. You will be able to achieve speed and power with these bands. When you use these bands, the elastic stretches and it adds more tension to your muscles, giving you better results.
Price
You can buy this set of resistance bands for only $26.95 at Amazon. The price is less than a month's gym membership fee.
Pros
The bands are portable and lightweight, so can be used anywhere.

They are made of premium quality Malaysian latex and are very durable.

They have anti-snap features and so the bands won't snap even when they are stretched.

They provide different resistances so that you can do various exercises with them.

You can use the bands for rehabilitation purposes as well.

The handles you get with the bands are comfortable and provides excellent grip.

They come with different accessories like handles, ankle straps, door anchor, carrying bag, workout DVD, etc.

You get a lifetime warranty for the product.
Cons
If you have a latex allergy, then these bands may not be appropriate for you.

The price may be higher than the other bands.
Final Verdict
To improve your fitness, you need to invest in several exercise tools. However, you don't need to spend hundreds of dollars on it. Simple and cheap tools like resistance bands can prove to be very effective in developing your fitness.
These bands are 99% snap resistant, so will last for a long time. They are made of high-quality Malaysian latex. They are very comfortable to use and you can use them in different ways. You can use these bands with other exercises like pilates, yoga, and more. You get a free exercise guide with it that can help you to do the various exercises that will be effective for your body. It is very easy to lose weight and strengthen muscles by using these bands. So, if you want a significant change in the shape of your body, you should buy these resistance bands today. These bands are one of the best in terms of quality, durability, effectiveness, and price.