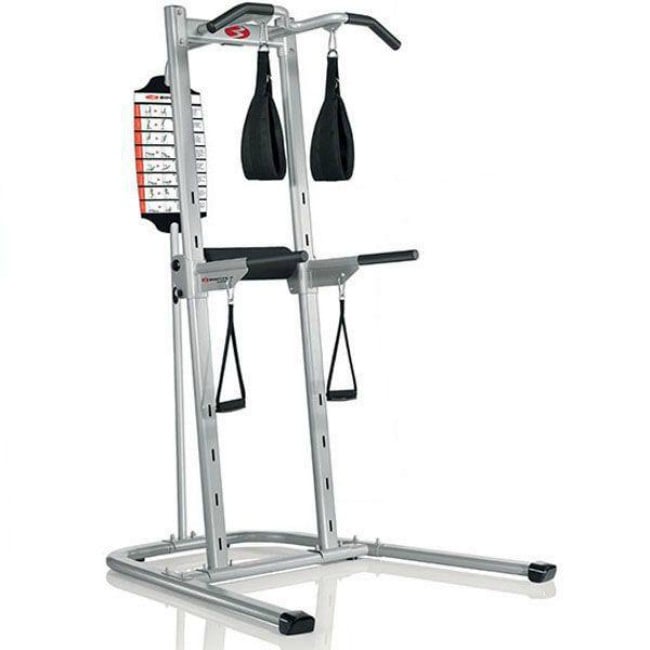 A power tower is a very useful equipment that can help to maintain your fitness. You will be able to get a whole-body workout using it. As it doesn't take much space, you can buy it for your home. You won't have to use weights or cables to build up muscles once you have this power tower. When buying a power tower, you should consider several factors. The size of the equipment is very important as you need to fit it somewhere in the house. So, it is better to go for something compact so that storage is not a problem. You should then consider the capacity of the power tower. The price, quality, and other factors should be considered as well. After going through several power towers in the market, we have picked up the Bowflex Power Tower for review. Bowflex has already earned a good reputation for manufacturing quality fitness products over the years and the power tower is no different. Here, you will know about the different features of the Bowflex Power Tower and you will be able to decide whether this power tower will be suitable for you or not.
Design
It has an innovative design that can help you to perform different types of exercises. There are adjustable dip bars and attached slings and handles. As you can adjust the height of the dip bars, you will be able to lower the position and perform dips with the feet on the ground. The pull up and dip bars are on the same side and so you will be able to push the power tower against a wall or any corner of the house. This will save space and you can easily store it. It has a low pull bar that places the center of gravity near the ground. It has a wide base which makes it very stable and so it won't wobble when doing pull-ups or dips.
Build Quality
This power tower is made of very high-quality materials. It is made of a steel frame that feels sturdy. It has a silver coating finish that is corrosion-resistant. It can be used at home or in the gym. It has a maximum weight capacity of 300 lbs. So, you won't have to worry about it breaking or bending no matter how intense your workout sessions are. You will get a 5-year warranty for the frame and 1-year warranty for the rest of the parts. The VKR slings are of high quality and the carabiners and D-rings are strong and keep different parts of the frame together. It has a padded backrest to give you comfort. The back pad has a four-inch foam roller that provides great lumbar support when performing dips. The handgrips are also padded which makes workouts comfortable.
Size
It is 50 inches wide, 51 inches deep and 77 inches tall. It has an angled base that increases the footprint. Once assembled, it weighs 120 lbs.
Comfort
Its back pad has a 4'' foam roller that provides extra lumbar comfort when performing dips. The foam rubber handles provide excellent grip. The pull up and dip bars are adjustable and so you will be able to vary the heights according to your preference.
Ease of use
It is very easy to assemble the power tower. It will take only 30 to 45 minutes to fully assemble this equipment. The instructions provided are easy to follow. As the pull bar and the dip bars are on the same side, it will be very easy to perform different exercises. This power tower is more stable than most power towers you will find in the market. You can place lightweight gym flooring underneath the base to ensure that it doesn't wobble when performing exercises. You can also place sandbags or heavyweight plates. It has adjustable handlebars that are very easy to adjust. All you need to do is just remove the pins and unhook the metal clutches from the holes. Dip bars can also be adjusted to different heights.
Effectiveness
You can do a variety of exercises with this power tower. You can use the pull-up bar for doing pull-ups and chin-ups. You will be able to vary the grip's width. The dip station will allow you to perform triceps dips. You will be able to vary the angle of the dips. When you bend your torso towards the front, you will work your pecs. When your torso is upright, it will work the triceps. You will be able to do vertical knee raises to tone your abdominal muscles. You can use the dip bars to do unassisted vertical knee raises to give you better and more intense abdominal workout. You will be able to perform crunches for a good ab workout. Decline push-ups are good for the upper body and you can easily do that with this power tower. You can raise your feet higher to make it more challenging. You can do supine rows for working out the lats and trapezius. By lower the dip bars, you can perform single-leg squats. You can also do squats, raised bridge, planks, legs, and knee raise with this power tower.
Pros
It is made up of a commercial-grade steel frame.
It has sling straps and hand grips that provide more exercise options.
It has a wide base that makes it stable and prevents any unwanted movements during exercise.
The pull-up bar makes the power tower more stable as it puts the center of gravity near the ground.
There are 7 levels of adjustments that allow you to perform a wide range of exercises.
The E-7 adjust horizontal bars will provide intensity and variety to your workouts.
It is quiet and you won't be disturbing your neighbors when you workout.
It is easy to assemble.
It has a padded backrest that provides superior comfort.
There are padded hand grips located on the pull-up and dip bars.
You get 5 years warranty for the frame and a 1-year warranty for the parts.
Cons
It is not suitable for small people or those having low ceilings at home. Tall people may have to bend their knees to use the pull-up bar.
It has a wide footprint, so storage can be an issue.
Final Verdict
If you prefer quality over price, then this power tower is for you. It is a mid-ranged equipment that provides exceptional value. This power tower offers various range of exercises including pull-ups, push-ups, chin-ups, and more. You will be able to tone your upper and lower body with it. The Bowflex Power Tower will give you the satisfaction that you won't get from other power towers. So, you should buy one today!