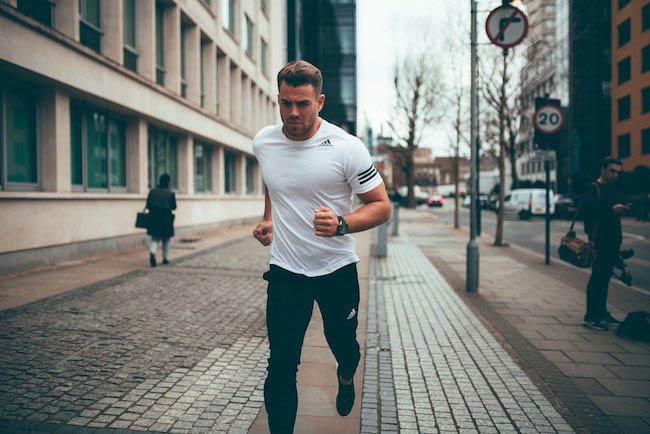 Bradley Simmonds is a familiar name for all the premiership football fans as he earlier played for clubs like Queens Park Rangers and Chelsea while he now trains football stars like John Terry and Theo Walcott. So, when he talks about his own workout routine and diet plan, we are all ears.
He has also shared some workout and diet advice with his fans that if implemented would make you move forward in your fitness journey. Have a look at all of it here.
Workout Routine
The workout regime of the personal trainer includes hitting the gym twice a day for six days a week.
In the mornings, he wakes up early to get an hour of cardio because it kick starts his day on a good note and makes him raring to go.
In the evenings, he prefers to do a mixture of body weight training, core isolation, and weight training exercises. He ensures that he targets each muscle twice a week to get maximum results.
Preferred Workout
His preferred workout is boxing because it engages all the muscles, improves fitness levels, burns fat and helps him to de-stress and switch off from social media & work.
Rest Days
Sundays are reserved for rest and enjoying time with family and friends. He loves having roast dinner while watching premier league football.
Diet Plan
The diet plan of the London-based trainer includes having loads of lean protein especially chicken and fish. He also likes having loads of vegetables on the side.
On the days, after he has put in a workout, he will include some complex carbs, protein, and vegetables like sweet potato, or quinoa / whole grain rice. It not only helps him to recover but it also assists in getting the necessary energy that he has used up.
Pre and Post-Workout Snacks
A banana & some nuts before the workout and a protein shake post workout.
Diet Indulgence
You should not feel guilty about treating yourself once in a while as you are doing nothing wrong. He likes to indulge in Jack Daniel's glazed ribs with an Oreo milkshake.
Fitness Motivation
The fitness motivation of the former sports personality is quite unique. The screensaver of his phone says to train like an athlete, sleep like a baby, eat like a nutritionist and win like a champion. He tries to live by this quote.
Fitness Goals
Setting fitness goals is vital for the talented trainer. He says that it helps him to stay motivated. In his opinion, there is nothing more rewarding than bettering yourself and reaching the goals that you had set.
His latest goal is to reach 10% body fat so he is getting super lean. It's currently at 12%.
Workout Advice for Fans
Many people make the mistake of focusing too much on bulking that they forget about their fitness levels and shredding the fat that's around the muscles. For that, they usually ignore the cardio as well. You should realize that a combination of weight training and cardio is always the best if you wish to stay fit.
Supermarket Food List
Simmonds also believes that the food you fuel your body with is just as important as the workouts. So, he has created a list of foods that you must buy the next time, you hit the supermarket.
Chicken, fish, and eggs – They are vital for getting some protein in.
Brown Rice – Sweet Potato, quinoa, and brown rice.
Tomatoes – Make a salad with tomatoes, sweet potatoes, and chicken.
Bananas – They are a great pre-workout option.
Almond Milk – Mix it with shakes and oats.
Breakfast Advice
Have some wholemeal or sourdough toast with poached or scrambled eggs with spinach and tomatoes.
Dinner Advice
Enjoy a portion of brown rice, with salmon and green leafy vegetables.
Best Diet Advice for Fans
Bradley advises his fans to stay away from hidden sugars. Many of the convenient foods have hidden sugars so you should avoid them.
Even healthy snacks have high natural sugar content. You should know that too much sugar will lead to weight gain, change in mood and a fluctuation in energy levels. Avoid it as much as you can and have it in moderation only.