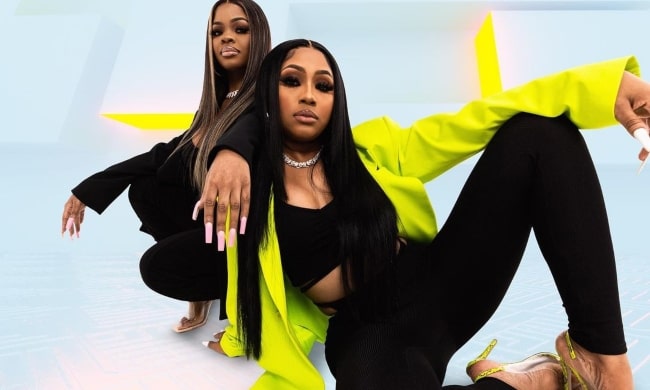 City Girls is an American hip-hop duo that is best known for the release of their tracks Twerk (featuring Cardi B), Act Up, and, their 2nd studio album City on Lock (2020).
Members
Yung Miami (Rapper, Social Media Star, Fashion Designer)
JT (Jatavia Shakara Johnson) (Rapper, Social Media Star)
Origin
Miami, Florida, United States
Genres
Hip Hop, Southern Rap, Trap
Labels
Quality Control Music
Formation Date
2017
Singing Portfolio
City Girls released their debut studio album titled Girl Code on November 16, 2018. The album was made up of a total of 13 tracks in all that included hits such as Twerk (featuring Cardi B) and Act Up. Girl Code made its way into the weekly charts of the US Billboard 200 at #55 and #31 on the US Top R&B/Hip-Hop Albums (Billboard).
On June 20, 2020, City Girls released their 2nd album City on Lock, which featured the appearances of music artists Yo Gotti, Doja Cat, Lil Durk, and Lil Baby. It was ranked at #29 place on the US Billboard 200 and was listed in the rankings of various publications including Vice, Rolling Stone, and NPR.
City Girls Facts
The word Yung in Yung Miami's stage name is pronounced as "Young".
JT was born Jatavia Shakara Johnson in Opa-Locka and Yung Miami was born Caresha Romeka Brownlee in Liberty City. The cities that they were born and raised in are considered to be 2 of the most dangerous neighborhoods in Miami.
Initially, they garnered fame after being featured on Drake's hit track In My Feelings from his 5th studio album Scorpion (2018). However, their guest appearances were uncredited.
One of the earliest songs that they had come out with was a diss track titled F**k Dat Nigga. The song was directed towards their ex-boyfriends who did not lend them money when they asked for it. Yung Miami promoted the song via social media and also paid DJs to play it in clubs.
Soon after the release of their first track in 2017, City Girls' JT was booked for identity theft and given a sentence of 2 years in federal prison. In July 2018, JT was taken to prison and was scheduled to be released on March 21, 2020. Later, she was transferred to a halfway house in Atlanta on October 8, where she awaited her release. Shortly after being released, JT dropped her single JT First Day Out.
On May 11, 2018, City Girls release their debut mixtape Period. With it, the duo had received a lot of attention as it had achieved #16 on the Heatseekers Albums and the Rolling Stone's rated it #26 on their "30 Best Hip-Hop Albums of 2018" list.
They won their first award in 2019, which was the BET Social Awards for "Issa Wave".
Yung Miami was involved in a potentially life-threatening incident involving a drive-by shootout on August 6, 2019, shortly after she had left Circle House Studios in Miami. The Mercedes-Benz G-Class that she was driving was shot at multiple times. However, she and her at the time unborn daughter Summer Miami did not suffer any injuries.
Featured Image by Cntrl+Alt+Delete / YouTube / CC BY 3.0