A few months back we told you about how the famous WAG and TV presenter Coleen Rooney was doing everything she could to stay fit via this article. Now we are going to share how this beauty is hitting the gym and losing the pregnancy weight. She also shares some tips on juggling a career, a personal life and being a successful mum.
The Challenge
The down to earth celebrity shares that her struggles with regard to getting in shape have only increased with every pregnancy. She says that it's been harder to get back in shape after each baby. She also adds that losing the last few extra pounds has been a big challenge.
Opinion on Post Pregnancy Weight Loss
The mother of three explains that she was not in much hurry to lose the extra weight this time around. Her belief is that your body is definitely going to be different after three births. And having kids is more important than how you look.
Workout Routine
The wife of Manchester United ace Wayne Rooney has been working hard to get back in shape after giving birth to her youngest son, Kit. The exercises she does include box jumps and burpees. She doesn't like doing burpees but she does it anyway because Coleen feels that she has done a good workout after doing it. She also feels little scared when she jumps due to the fear of falling down. But she does it because it's great for the legs and bum. Coleen tries to workout at least 3 times a week and spends at least an hour there.
Music and Workouts
The TV star doesn't like any specific music while working out. She just listens to the music that is being played in her gym, reports Celebs Now.
Being Happy in her Own Skin
The beautiful brunette doesn't mind the fact that she is over 30. She says she has always been confident in that way. She admits that there are certain things she would like to change about herself. But she knows she can't do anything about it. An example is that she want longer legs but she knows that it's not possible.
She suggests all the mums that they should just be happy about the way they are. Even if it includes having a wobbly belly. Just be sure that you wear clothes that emphasize who you are. You should never think that not having a perfect body after giving birth is the end of the world. Have confidence in your body and all would be good.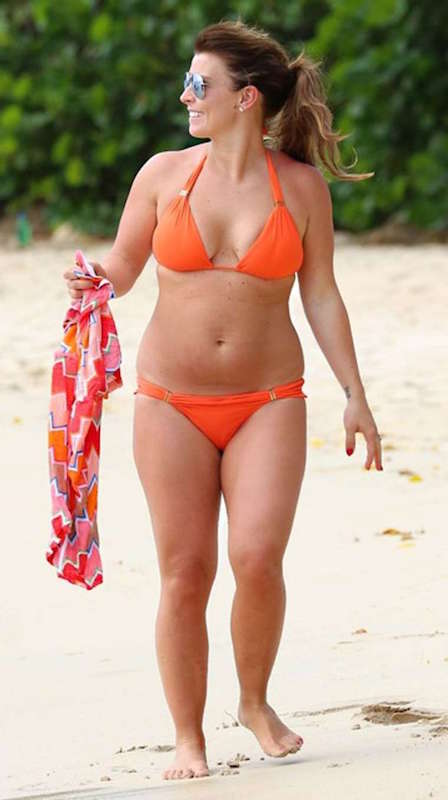 Workout After Being a Mom
The Littlewoods designer didn't enjoy hitting the gym too much before being a mum but she likes it now. She also likes the hard work.
Workout as a Mum
As a mum, the famous WAG gets her workout while running after her kids too. She spends time in running after her oldest son Kai. Coleen recently spent a lot of time in an adventure park while running after him and his friends. The stunner says that running after her kids is a constant exercise she does from the time she wakes up until she goes to the bed.
Relaxation Method
The product endorser likes to relax by having a date night with her husband. They go to a concert with friends or for a dinner. She tries it at least once every week. Sometimes, they just relax at home by watching TV shows along with enjoying an evening meal.
Tips for Busy Moms
Here are a few awesome tips shared by the columnist with all busy mothers who would like to remain fit and maintain a balance between their work & life.
Keep a big gym bag in your car in case you get to spend some time without your kids (when someone promises to take care of them for you). Even if you get an hour, hit the gym and work on getting fitter.
You should not get squished by the pressure to look good. You must realize that being strong, having a strong mind and feeling good about yourself matters the most.
When you are pregnant, you must workout up until 20 weeks. When you get bigger, you won't be able to do certain exercises so be prepared for that. You can always do them after the baby is born.
Making lists can help you maintain a better work-life balance as you will know what you have to do next. The list should include everything you need to do. It can be making sure your kids attend a birthday party or you attend a work related meeting.
The happiness of your kids should matter the most. No matter what balls you have to juggle, if your kids are happy, it's all worth it.
To know more fitness secrets of Coleen, follow her on Twitter, Instagram or Facebook.