Being the President of one of the most powerful countries of the world sure has its benefits. Some of such benefits are to travel various countries, enjoy their luxury meals, request the foods you want and indulge in extra special Thanksgiving Dinner. Don't believe us? Have a look at US President Donald Trump's diet for foreign trips and special holidays over here.
The Plush Dinner
President Trump and First Lady Melania Trump recently visited Paris for Bastille Day and dined with French President Emmanuel Macron and his wife Brigitte Macron in Le Jules Verne, one of the top high-end venues of the city. The Michelin-starred restaurant that's situated on the second floor of the Eiffel Tower offers two prix-fixe tasting menus. One is five courses for USD 216 per person while the second is USD 262 per person.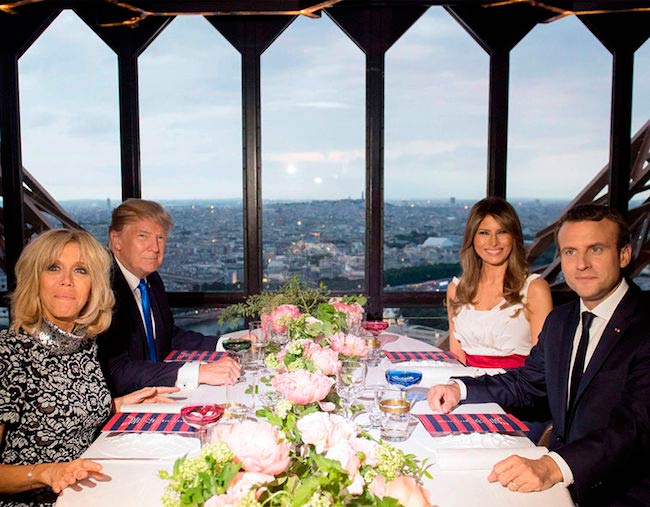 President Trump and First Lady Melania Trump were reportedly offered a special six-course meal. If the pictures of the event are to be believed, Prima Donald enjoyed the finest in French cuisine quite well despite having a strong liking for junk foods like KFC and a well-done steak with ketchup.
Special Menus
As the restaurant was informed of its prestigious guests, it created special menus for their guests that featured the Statue of Liberty on one side and the Eiffel Tower on the other. The table was completely adorned with a breathtaking floral arrangement.
The Actual Meal
The meal was prepared by renowned chef Alain Ducasse. It included a selection of pate, Dover sole, spinach and Hollandaise, tomato, eggplant, and zucchini, souffle potato with truffle sauce, brioche with foie and filet of beef. The desserts included hot chocolate souffle with chocolate ice cream and warm strawberry with yogurt sorbet.
An Unusual Request
Though the Godfather of the Republican Party seemed okay with the French cuisine, he has not been confident of the foods he will be served during his other foreign trips. It is quite evident by the fact that when he was getting set for the first trip abroad of his presidency that lasted over nine days, his aides reportedly requested that a backup steak and ketchup must always be available at meal time.
The AP also reported that caterers who were hired for Trump's stop in Saudi Arabia planned to offer him his favorite meal of well-done steak with a side of ketchup as well as traditional lamb and rice. The meal was prepared in the halal manner as dictated by the Sharia law.
Unhealthy is Better?
When he was a presidential candidate, the politician revealed that he liked pasta, French fries, steak, and hamburger. These are the things we shouldn't be eating. But now, it seems that he is promoting unhealthy foods for all. His administration recently took steps to make lunches for students more appealing again by reducing the nutritional requirements set by the former First Lady Michelle Obama.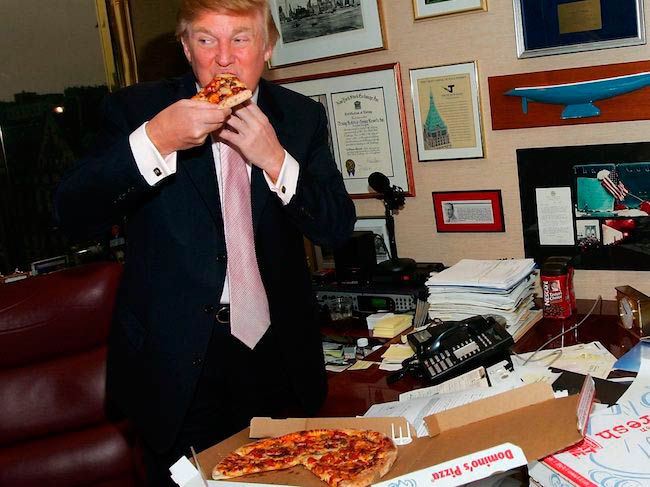 Trump's Sumptuous Thanksgiving Meal
During last Thanksgiving, The Trump had 28 dishes in a meal when he dined with his family at his Mar-a-Lago estate in Florida. The festive feast included 6 choices of main courses and eight different desserts. Have a look at the exact food items enjoyed by the first family.
Seafoods
Jumbo Shrimp
Large Florida Stone Crabs
Middle Neck Clams
Oysters on the Half Shell
Fresh Foods
Roasted Vegetable Cous Cous Salad
Trump's Wedge Salad
Farm-Fresh Deviled Eggs
Ahi Tuna Martinis
Soups
Local Vegetable Minestrone Soup
Maine Lobster Bisque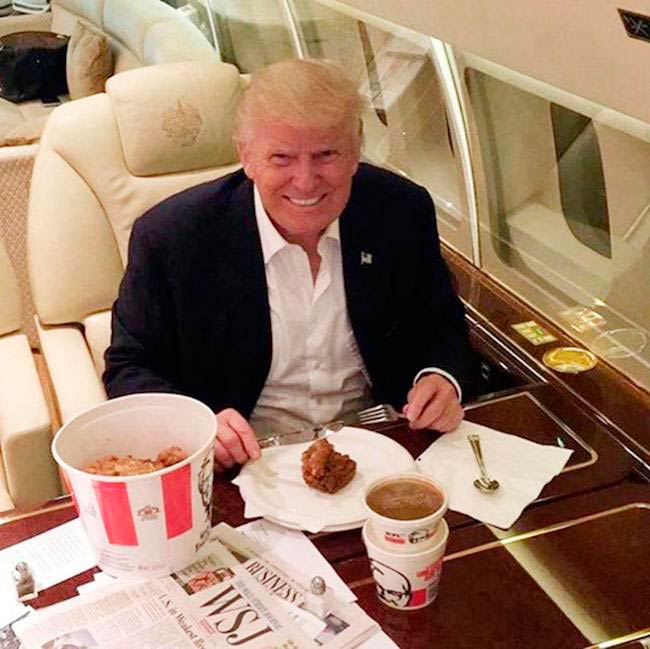 Main Dishes
Oven-Roasted Turkey, Traditional Stuffing with Sweet Mashed Potatoes and House Made Gravy
Steamed Vegetables, Herb-Marinated Beef Tenderloin, Horseradish Cream, Whipped Potatoes and Warm Popovers
Grilled Pita and Tzatziki Sauce and Chef-Carved Leg of Lamb
Curried Vegetables, Pan-Seared Chilean Sea Bass, and Coconut Shellfish Broth
Herb Roasted Potatoes with Red Wine-Braised Short Ribs and Natural Braising Jus
Grilled Diver Scallops and Roasted Vegetable Ratatouille
Dessert Options
Pumpkin, Creamy Key Lime, and Pecan Pie
Chocolate Eclairs
Warm Chocolate Brownie Pockets
Hot Apple Crisp
Toasted Coconut and Three-Layer Trump Chocolate Cake