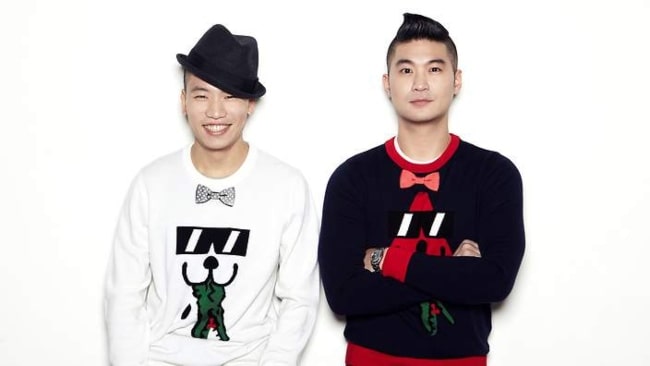 Dynamic Duo is a South Korean hip hop and rap duo that was formed by rapper Choiza and Gaeko in 2003. The duo has released a number of hit albums including their best selling debut album Taxi Driver which was released in 2014.
Members
Origin
Seoul, South Korea
Genres
Hip Hop
Labels
Amoeba Culture
Previously, they had released their music under the record label, GAP Entertainment.
Formation Date
2003
First Album 
Dynamic Duo released their debut album titled Taxi Driver on May 17, 2004. It was compiled with a total of 17 tracks and one hidden track. A few of the tracks from the album are 이력서, Taxi Driver Interlude 1, 두남자 (feat. Brown eyed soul), 실례합니다 (feat. DJ Wrecks, Tablo), Pride (feat. The Name, Double K, Verbal Jint), Taxidriver interlude 2, 신나? (우리가 누구?) feat. Lisa, Skit, 사랑하면 버려야 할 아까운 것들 feat. 성훈 of Brown eyed soul
Superstar (behind the Scene) feat. Tiger jk, sean2slow, dj tukutz, and 비극 Part 1 feat. K.O.D.
Singing Portfolio
As they are one of South Korea's most promising hip hop duo, Dynamic Duo has released a number of albums and tracks such as Taxi Driver (2004), Enlightened (2007), Lucky Numbers (2013), SsSs (2014), AEAO (2014), Summertime (2014), and Highfive (2016).
Dynamic Duo Facts
Choiza and Gaeko have known one another since they were in 6th grade.
Initially, they had formed the underground hip hop group named K.O.D.
In 2003, K.O.D. was disbanded and Gaeko and Choiza clubbed together with rapper Curbin to form the trio under the title CB Mass. However, the same year the trio broke up as a result of trust issues.
After splitting from CB Mass in 2003, Dynamic Duo was born and a year later in 2004, they released their first album, Taxi Driver. It went on to be one of South Korea's best selling album and also captured the #7 spot on the Gaon Album Chart. According to sources, more than 50,000 copies had sold out in the first month of its release.
Dynamic Duo released its 2nd album Double Dynamite on October 26, 2005. It was awarded the title of "Best Hip Hop Album" at the 2006 Korean Music Awards. Until January 2020, it was Dynamic Duo's only album that did not make it into the top music chart list.
On August 18, 2006, Dynamic Duo partnered with Go Kyung-min and founded their own label, Amoeba Culture. The same year, they parted with GAP Entertainment.
Under their very own record label, Dynamic Duo released its 3rd studio album titled Enlightened on May 31, 2007. It was ranked at #2 on the Gaon Album Chart.
Their single Baaam from the 2013 album Lucky Numbers was the first song to be featured at No. 1 spot on Korean music shows such as M Countdown, Music Bank, Music Core, and Show Champion.
On October 12, 2009, Choiza and Gaeko joined the military service in order to complete their term. They were both trained at the Uijeongbu in Gyeonggi Province. Prior to that, they had released 2 more albums Last Days on August 21, 2008, and Band of Dynamic Brothers on October 7, 2009.
In January 2016, Dynamic Duo announced their first-ever tour in the United States.
Dynamic Duo has collaborated with various artists including R&B singer Bumkey, Zion.T, and Crush.
Their record label Amoeba Culture represents various groups and artists such as Planet Shiver, Rhythm Power, Ha:tfelt, Primary, and Yankie.
Choiza and Gaeko are also responsible for producing and recording a series of singles under the "NOWorkend" project of their label Amoeba Culture.
The 7th album Dynamic Duo 6th Digilog 2/2 which was released on January 4, 2012, is the first album of their's to top the Gaon Album Chart.
Featured Image by sbs.com.au