Eva Longoria Workout Routine and Diet Plan – 2015 Edition
Some people say it's hard for women to look gorgeous after they cross 40. But Eva Longoria is proving this belief to be a myth. She has inspired a number of women to stay fit through her books and she has recently shared her fitness secrets in detail with all her fans. The secrets include cooking her meals, working out regularly and even eating pizza sometimes. What more did she share? Find out by reading about her fitness secrets over here.
Workout Routine
The gorgeous woman does a lot of exercises. She has a special fondness for Pilates, SoulCycle and running. She also works out as soon as she gets up in the morning. She does a lot of experimental exercises on Wednesdays like kickboxing and yoga.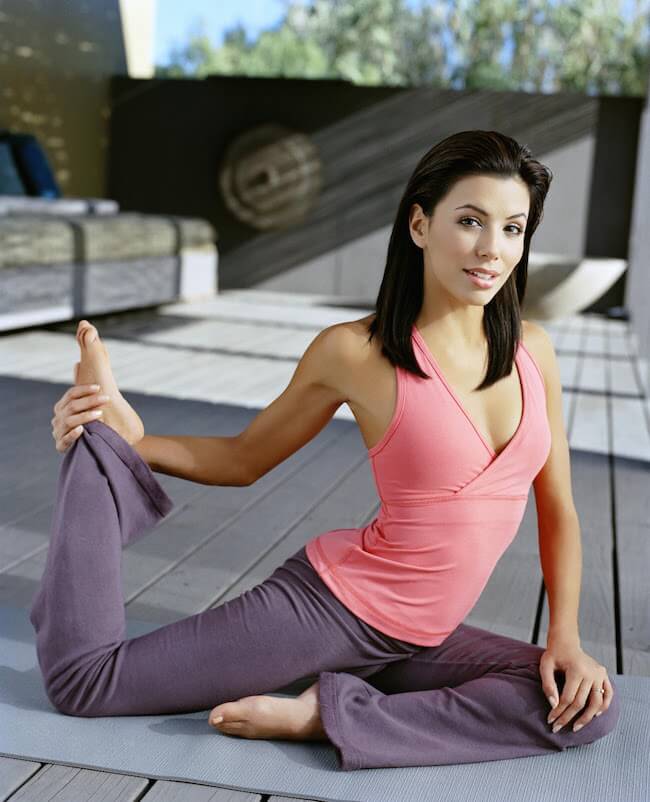 For all other days, her workout routine remains the same. It begins with doing some aerobics, then some high-intensity circuit training. She follows it by running for five to ten minutes. After running, she does a lot of varied exercises for her abs, arms, legs, chest and back. She does at least 15 repetitions of each exercise and cycles through each, three times.
Workout Routine When Away
When the Desperate Housewives (2004-2012) star has to travel due to work, her preferred means of exercise is running. She has run around Eiffel Tower on a trip to Paris in the past and recalls the experience to be the best. She says that running through a new city allows her to do a lot of sightseeing and she really enjoys it a lot.
Regular Workouts
The talented actress believes that constant workouts keep her happy and provide her with energy. When she doesn't workout (which is rare), she feels lethargic.
It's not Hard to Find Time for Fitness
Eva urges all her fans to workout regularly. She believes that no one is too busy to take a bit of time for a workout session. She wants people to commit to it and says everything will be fine once you make your workouts a priority. The sexy actress has a bit of advice for people who feel indecisive before a workout, her mantra is "Just do it."
Combine Workout and Diet to get results
The director of Devious Maids (2013-Present) believes that if someone works out by running 20 miles a day and is not getting results, he should focus on improving his diet. Similarly, if someone eats well but is still unhealthy, he should focus on working out. A combination of diet and workout is what makes you fit and there are no shortcuts to that. We totally agree, Eva.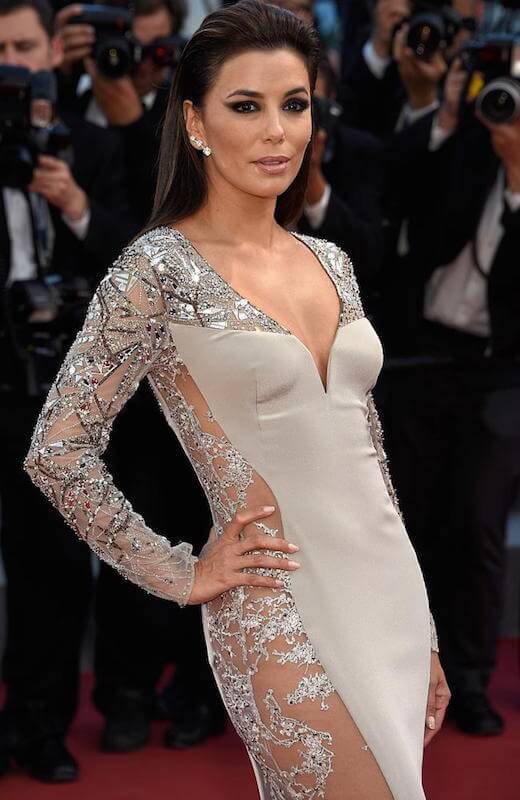 Her Love for Cooking
The author of Eva's Kitchen: Cooking with Love for Family and Friends (2011) likes to cook for herself and the people she loves. She avoids eating out in order to abstain from overeating and consuming high-calorie diet. She recently admitted to cooking for her current boyfriend Jose Antonio Baston too. She cooks healthy breakfasts like rice cake with avocado and sometimes fried egg for Jose. Eva keeps changing the menu too.
Her Love for Vegetables
The businesswoman also likes to eat a lot of vegetables and admits that she could be a complete vegetarian if she wanted to be.
Diet Plans
At Home
On a busy day, Longoria may start off her day with some egg whites and a bit of fresh fruit or a serving of sugar-free cereal accompanied with fresh berries in the breakfast. She then probably goes for some grilled chicken breasts with spinach, avocado and a dressing of olive oil vinaigrette for lunch. The dinner could include chicken and brown rice or salmon and grilled asparagus. The snack of the diva may include raw almonds, vanilla yogurt, cottage cheese, cucumber slices and fruits like apples, bananas, and celery spread with nuts.
At Work
The leading lady of Over Her Dead Body (2008) likes to order her food while she is working. In those cases, her meals may be like this. The breakfast could consist of some fresh fruits and an omelet filled with turkey and vegetables. The lunch could include sauteed chicken and peppers that would be complemented with some fresh vegetables and salad. The busy day would probably end with a dinner of marinated grilled salmon that would be accompanied by asparagus and a salad. The busy bee may just snack on yogurt or apples with cheese slices throughout the day.
Diet Indulgence
The restaurateur is a big fan of a classic pepperoni pizza which should be accompanied by some potato chips. She enjoyed a lot of pizza during her trip to Italy in July. But, she always restrained herself from overindulging.
New Diet Discovery
During the trip, she also discovered her love for fresh fish. She hopes that she could get such fresh fish in the US as well.
Balancing the Diet
The pretty woman also likes eating a lot of vegetables and protein. She also knows how to change her diet to bring transformation in her body. For instance, when she has to lose weight, she simply cuts off all the sugar and starchy products from her diet and stays away from rice, breads and pasta. She was off of sugar for 3 months throughout and didn't even get too much craving for carbs. She also has the experience of following a strict vegan diet to lean out.