People go to a gym with a goal. Some people go simply to be fit, there are people who want to build up their muscles and there are others who want to get trained for marathon or race. Whatever the reason may be, it is not always feasible to go to a gym. The weather factor is there and no everyone likes the fact that you will have to share space and equipment with other people. You will find different fitness equipment designed for a home in the market that is replacing the gym today. A treadmill is one of the most popular and versatile exercise equipment that you can find today.
The treadmill manufacturers have now come up with varieties of the treadmill to meet the demands of the fitness enthusiasts. You will now find treadmills in different price ranges. Here, we are going to review the Gold's Gym Trainer 720 Treadmill that has gained quite a lot of popularity for its outstanding features.
Design
This treadmill has all the best features that you will get from a modern treadmill. You will be able to control the speed from 0 to 10 mph and also adjust the incline up to 10% to bring in variations to your exercise routine. So, you will be able to walk, jog or run according to your preference. It has a foldable design that makes it easy to store. So, you won't need a dedicated space to place your treadmill. It has 18 programmed workouts that will help you to exercise in the most effective way. The AirStride Cushioning feature helps to protect your joins. The multi-window LED display will show you the distance you have covered, the number of calories you have burned, and more statistics. There are grip sensors that can monitor your heart rate. It has an iPod and MP3 player compatibility.
Build Quality
It is a solid piece of equipment that will help to achieve your fitness goals. You will not find many high-quality and comfortable treadmill in the medium budget range. This treadmill is manufactured by ICON Health & Fitness which has a good reputation in the fitness industry for manufacturing quality products. It has lots of pre-programmed workout features that will help you to get the most out of your exercise routine. The LED multi-window display console will help you to keep track of your progress. It is multimedia compatible also and so you will be able to listen to your favorite music or watch a movie while exercising on this treadmill.
This treadmill is operated by the powerful G-Force 2 Commercial motor. The treadmill will run smoothly for long hours. There is a cooling fan that will prevent the treadmill from getting overheated. The fan will also keep you cool so that you don't sweat too much. You can vary the speed and incline of the treadmill to suit your fitness needs. You can track your heart rate through pulse grips. This treadmill has the capacity to support users of weight up to 300 lbs. It is very easy to assemble the treadmill as clear instructions with pictures are given. You will get a lifetime warranty for the frame, 25 years warranty for the motor, 1-year warranty for the parts and a 1-year warranty for labor.
Size
This treadmill has a dimension of 73.3'' by 35.7'' by 68.1''. It has a running surface of 20'' by 55''. It can be easily folded and unfolded. So, it will save your space and you will be able to fold it and store it in a corner of your room when it is not in use.
Comfort
It has AirStride Cushioning that offers comfort to the joints. Running can be hard on the joints and this feature will protect your joints from getting hurt. It will absorb the impact with every stride, thus making your running more comfortable and safer. The tensions in your joints and muscles will be reduced.
Effectiveness
One of the most amazing features of this treadmill is the 18 pre-programmed workouts. These workouts will guide you to exercise the right way. Your speed and incline will be automatically adjusted according to the workouts. So, you will be able to reach your fitness goals fast. Even when you are not following the pre-programmed workouts, you will be able to adjust the speed and incline to vary the intensity of your workout. The AirStride cushioning will allow you to be safer and secure while jogging or walking. Your bones or joints won't get hurt due to pressure. The multimedia options in this treadmill allow you to listen to music or watch a movie while exercising and thus making your workout session more enjoyable.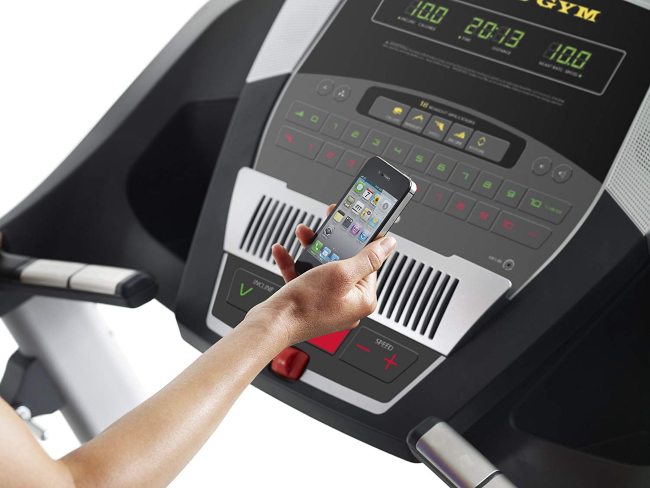 Price
You can get this treadmill for below $1,000. At Amazon, you can get it for just $599. You get a good warranty package and it is one of the best mid-range treadmills you will find in the market today.
Pros
It is very affordable.
It has a space saver design and you can vertically fold it and store it to save space, and so is ideal for small apartments.
The construction is solid and it comes with a powerful motor that can run for many hours continuously without any trouble.
The deck space is large and allows you to learn comfortably.
It can support the weight of up to 300 lbs and therefore is suitable for most runners.
It has 18 pre-programmed workouts that will help you to burn more calories fast.
You will be able to change the speed and incline of the treadmill easily.
It has an LED display to show your progress using parameters such as calories burned, distance covered, etc.
There are grip sensors that can monitor your heart rate.
It has Airstride Plus Cushioning deck that supports your joints and bones and prevents any injury.
There is a fan that will keep you cool and prevent the motor from getting overheated.
It is multimedia compatible and you will be able to listen to music while exercising.
The warrant package is very good and you get a lifetime coverage for frame and 25 years warranty for the motor.
Cons
It doesn't have any chest strap for monitoring the heart rate. The pulse grips may not give accurate results. Also, it can be very inconvenient to hold grips while exercising.
The display is not backlit, so you won't be able to track the readings when the light is low.
The speed limit is only 10 mph which may not be enough for serious runners.
Final Verdict
You will find very few treadmills in the market that offers such a plethora of workout options. You will be able to access the 18 pre-programmed workouts to help you reach your fitness goals. The construction of this treadmill is solid and it has a space saver design. This treadmill is perfect for home use. With the options to adjust the speed and incline, you will be able to change the intensity of your exercise and burn more calories. There are different add-ons like multimedia options as well. At this price tag, you get an excellent warranty package. If you are looking for a mid-range high-quality treadmill, then it's worth buying this one.