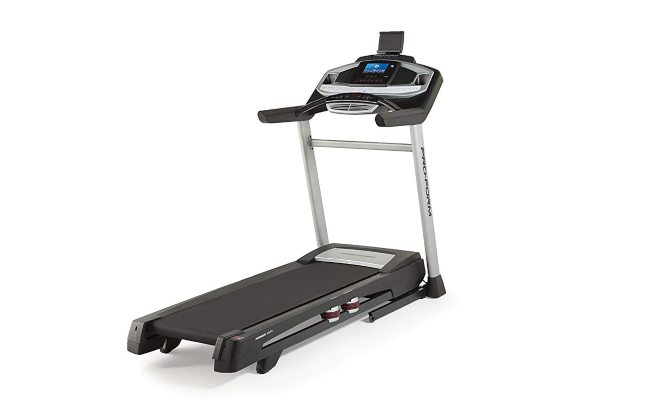 Regular exercise can make you happy and healthy. But, the fact is that due to our busy life schedule, it can be very tough to find out time for exercise. The gyms are proliferating everywhere as people have now become very health conscious. But, the gym membership fees are so high that not everyone can afford to go there. If you are looking for a balance between affordability and a great solution for exercise, then you can buy a treadmill. The modern treadmill has lots of interesting features that not only makes exercise more effective but fun as well. So, you will never get bored with working out. There are lots of options and you can vary your exercise routine to avoid boredom.
When buying a treadmill, you need to look into various features. The construction is, of course, important as you would expect the treadmill to last for a long time. You should also look for the features and price. If you are looking for an affordable yet high-quality treadmill, then you can buy the ProForm SMART Power 1295i treadmill.
Design
It is designed to save space and that makes it ideal for small apartments. The EasyLift Assist will help to easily use the treadmill and put it away when not in use. It has a 7'' high-contrast display for better visibility. There are 34 programs that can help you to achieve your fitness goals easily. With these programs, you will be able to burn calories, do high-intensity and mixed workouts.
You also get free membership of iFit coach for 1 year. So, this gives you the opportunity to enjoy different running workout programs as it will act as your personal trainer. You will be able to access cross-training programs like boot camp programs, yoga, kickboxing, etc. as well. The ProShox cushioning helps to reduce the impact on your joint while exercising. You will be able to sync your smart device audio with the Bluetooth speakers that you will find with the treadmill. There are EKG grip pulse heart rate sensors also in the forward handlebars.
Build Quality
It is constructed with high-quality materials. It has a 3.5 CHP Mach Z Commercial Pro motor that has 34 built-in workout programs. It can accommodate users up to 350 lbs without any trouble. The 3.5 horsepower motor stays cool because of the fan even when you do intense exercise. You can adjust the speed from 0 to 12 MPH to add variation to your exercises. It has high-quality speakers and you will be able to stream your favorite music through it. It has a 20 X 60 inches spacious deck for running smoothly. The precision machine rollers reduce noise and so others won't be disturbed when you exercise. There is an EKG grip heart rate sensor device that will monitor and record your heart rate while you exercise.
It has a hydraulic lift system that makes it easy to fold up the treadmill when not in use. Releasing the treadmill for use is also easy. The treadmill comes with a fan that has different speeds so that you don't feel overheated during exercise. With ProShox cushioning, you won't feel any ache or pain after an intense workout session.
Size
This treadmill has a belt area of 20 inches by 60 inches. It has a foldable frame and takes up 81.4'' X 35.5'' of floor space. With shock-assist technology, it is easy to push the deck to the vertical position. It can hold up to 350 pounds and so is ideal for users of all sizes. The belt is spacious and will suit even users with long strides.
Comfort
The ProShox cushioning helps to reduce the impact that exercise can have on your bones and joints. There will be less jarring; as a result, it will be easier to face your next exercise routing as you won't feel any pain. This cushioning absorbs the significant impact through the deck and so it makes exercise 28% gentler on the joints compared with running or walking on pavement. The hydraulic lift system makes it easy to fold and unfold the treadmill. The CoolAire Fan can help to cool your core so that you don't get exhausted even after an intense workout session.
Effectiveness
This treadmill is versatile. You can use it for your daily long walks or run at high speed. It has the 3.5 CHP Mach Z commercial motor that can support sprinting up to 12 MPH. You can vary the incline considerably also to add variations to your workout and stimulate hill training. You can run or walk at 12% incline to but calories at a faster rate. You get free membership of the iFit Coach to enhance your workout routine. You will be able to view HD videos from well known personal trainers and also access Google Maps workouts. You get a lifetime frame and motor warranty which means the machine is extremely durable. With various in-built workout programs, you will be able to efficiently target your calorie goals.
Price
You will be able to buy this treadmill for less than $1,500 which is a lot cheaper than the other treadmills in the market. You won't get a treadmill with so many features at such an affordable rate.
Pros
It is constructed with a stable frame with steel crossbar.
The motor is very strong and can support exercises like walking, jogging, and running.
It has a space saver design and so you will be able to store it easily.
It has high weight capacity and so people of all sizes can use this treadmill comfortably.
You can get an incline range of up to 12% which will help to vary your exercise.
There is a built-in fan that can cool your core so that you don't feel uncomfortable during exercise.
There are 34 exercise programs to help you reach your fitness goal.
You get a year of free iFit Coach membership.
Extra features include adjustable tablet holder and water bottle holders.
You get a five-year warranty on parts and electronics.
Cons
The grip sensors may not give accurate pulse reading always.
You won't get any in-home service from them in case the machine breaks. So, you may need to ship it to repair and bear the cost of shipping and labor.
Final Verdict
This treadmill is built with high-quality components and so is a good pick at an affordable price. It is ideal for fitness trainers, joggers, and runners. There are various in-built programs to spice up your daily workout routine. The powerful motor can efficiently support intense workout sessions. You also get heart rate monitoring and recording sensors with it. The space saver design can free up a lot of space and make it easy to store the treadmill. The frame is strong enough to support up to 350 pounds. The best feature of this treadmill is that you get a lifetime of warranty for the frame and motor. That means you won't have to worry if the machine breaks down as you can get it repaired for free. Just make sure that you lubricate the belt and the running deck with a silicone lubricant on a regular basis. That way, you will be able to keep it in good condition for a long time.
Buy ProForm SMART Power 1295i Treadmill