Grace Elizabeth Fitness Secrets Before the Victoria's Secret Show
Grace Elizabeth is living the life many young girls fantasize about. She is the face of Estée Lauder, Victoria's Secret angel, and a super successful model who has made a special place in the hearts of millions of her followers. Despite having it all, money, name, fame, and great looks, the stunner has a very simple yet effective stand on fitness and believes in maintaining a healthy lifestyle at all times. Yes, she also amps up her fitness levels before Victoria's Secret show but doesn't do anything crazy. Read on to know Grace Elizabeth's fitness secrets before the Victoria's Secret Show and many other things that make her unique.
Maintaining a Healthy Lifestyle
The beauty agrees that maintaining a healthy lifestyle is essential for her. To do that, she likes to cook her meals and works out regularly.
Diet Secrets
Her diet usually includes chicken, fish, fruits, and loads of greens. Like all of us, she likes to indulge in cake sometimes and enjoys every slice of it.
Exercise Routine
She jumps rope for about 15 minutes every day and practices Muay Thai throughout the week. She also opts for functional training at least 3 or 4 times a week. When in a mood to relax, she likes to do yoga or go bowling to clear her mind.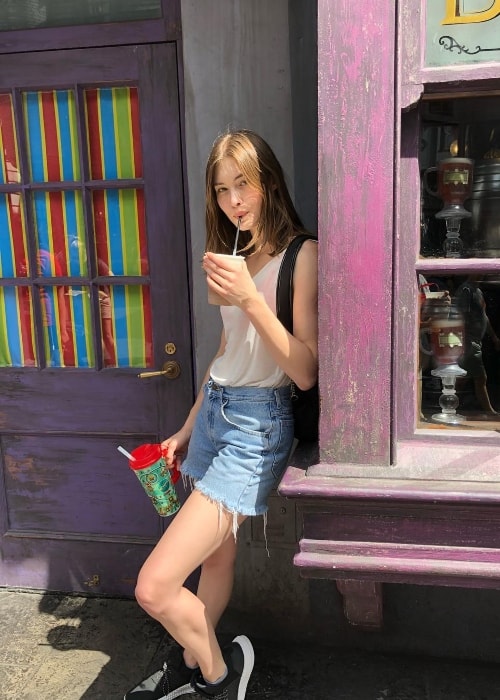 Thoughts on Aging
When asked about aging, Grace said that she is ready for it. In her opinion, all women are beautiful, no matter what their age is. She also thinks that aging is a natural process that must be embraced by everyone.
Beauty Secrets
When not working, she likes to remain make-up free so that her skin can breathe. She also opts for products that suit her and sticks to them for years.
Inside Beauty Matters
The diva says that her mother is her role model because she taught her to be strong and beautiful from the inside. She advised her daughter that her outer beauty will shine easily if she has confidence in herself. Grace feels most beautiful when she is surrounded by people she loves, especially her family. The joy she feels when she is with them radiates on her face and helps her look gorgeous.
Fitness Secrets Before the 2018 Victoria's Secret Show
To look breathtaking in the show, Elizabeth, who has walked the ramp for 3 years until 2018, says that she gets in the perfect shape by depending on Muay Thai boxing. In this sport, one uses kicks and punches a lot. It is the combat sport of Thailand. She also takes the help of her trainer, P.J. McMahon, from Renzo Gracie Academy who puts her through a tough strength training routine. Some of the exercises they do regularly are pushups and squats. She thinks that this combination has helped her to shape her body in a better manner.
She also asserts that she can't get fit instantly before the show so she focuses on working out regularly and eating healthy throughout the year. She is always aware of what she is putting in her body and this approach has helped her a lot.
Featured Image by Grace Elizabeth / Instagram