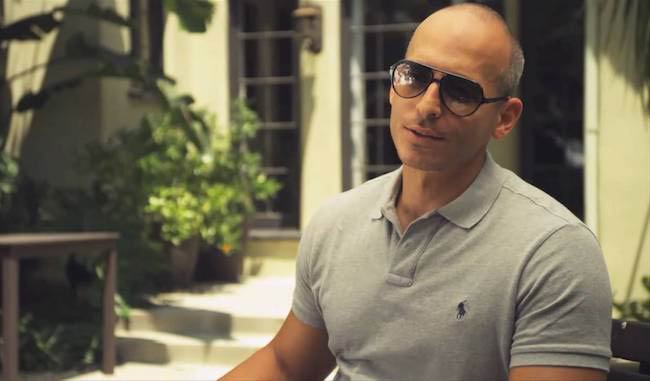 Revenge Body with Khloé Kardashian is one of the talks of the town. It's a much-anticipated show where celebrity trainers would help people transform their bodies and lives. In this show, a key member is the celebrity trainer Harley Pasternak who has worked with a long list of A-list clients like Robert Pattinson, Kim Kardashian, Megan Fox, Amy Schumer, Lady Gaga, etc. Here we try to find out his thoughts on how to train without a gym and losing weight in 2017. Keep reading to know it all.
Lifestyle Changes are Vital
While talking to People, Harley stated that making lifestyle changes out of the gym is as important as what you do in the gym. He says that there are 168 hours in a week and if you attend the gym for 1 hour for five days a week, there are still 163 hours left. What you do during this time is crucial. He didn't let any of the women he worked with on the show to enter the gym until they adopted some healthy lifestyle changes.
The Habits
The habits shared by Pasternak include getting 12,000 steps in a day. It also includes unplugging from technology for one hour and getting 7 hours of sleep daily.
Diet Ideas
The fitness expert also overhauled their diets and put them on his Body Reset Diet. In this diet, you only have smoothies for breakfast, lunch, and dinner plus two healthy snacks each day for five days.
No Excuses
The main reason why people usually don't eat healthy is that they don't have time for cooking. The author of 6 books wants you to try his 60-second meals. If you follow the Body Reset Diet plan for 5 days, it will reset everything from digestion to metabolism. If you get through the initial 5 days, you will be successful.
The S Meal
Post the five days, Harley allowed the participants of the show to follow an S meal plan. In it, you have to substitute one of the smoothies with a single dish meal of a scramble, soup, salad, stir-fry, sushi or sandwich. After 5 days on the S meal plan, the members were allowed to have two S meals, a smoothie and two snacks per day.
After the Body Reset plan was over (15 days), the women were basically transformed without visiting the gym even once.
The Aim
Harley says that many people don't get fit because they think they need a trainer. Via this show, he wants people to understand that you can get healthy without even going to the gym. Don't eat poorly, don't be sedentary and have proper sleep. It will make you leaner in life and stronger in the gym.
Infused Confidence
The Toronto native let the women on the show hit the gym after 15 days. By this time, they were eager to work hard as they had more confidence. He believes that once a person sees the results in the first week of weight loss, he or she is more likely to stick to it. Results help people to learn to believe in themselves.
How to Lose Weight in 2017?
Many people make a New Year resolution to turn towards fitness but they often don't stick to it. Pasternak has shared some simple tips to lose weight that are easy to stick to for longer durations. Have a look at these 3 vital tips here. And yes, they don't involve hitting the gym.
10,000 Steps
He stresses on walking 10,000 steps a day over and over again. If you have an office based job, you can still do 10,000 steps. Just walk before and after the office hours if you can't do it during the office time. Or walk during the lunch break. If you can't walk in the park or at your home, you can begin by walking a block every chance you get. It can be when coming to work or while leaving. These mini block walks are very impactful and give awesome results if you keep at it.
Blend a Meal Daily
Some people have difficulty in getting a decent breakfast or skips it altogether due to lack of time. They eat whatever they want during lunch time because they can't cook and same happens during dinner time due to lack of energy to cook food after a tiring day. So, you should decide what category is yours and replace the difficult part with something healthy. The owner of a line of power blenders wants you to blend at least one meal daily.
Sleep Enough
The last step is to let your body rest by getting 7 hours of sleep daily. If you don't get enough sleep, you will not have enough energy to make the blender meal or walk 10,000 steps. You will also not be as fit or as happy when you don't get enough sleep. Also remember that only quality sleep counts, not the hours you spend in tossing or turning in the bed.