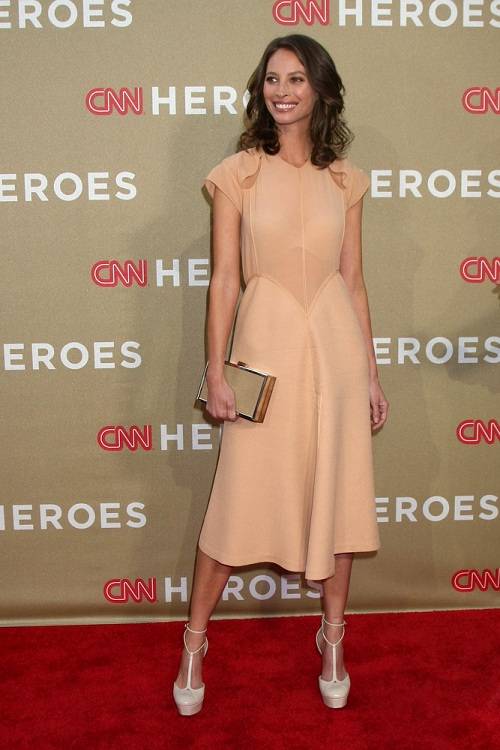 When you are a world-famous model, musician or actor, one would think that your CV needs no embellishing with a postgraduate degree. However, more and more celebrities are using their spare time to go back to school and get a graduate degree, usually to help them in their career or to give them skills for a post-celebrity life.
While many celebrities choose to study subjects related to their careers, others have gone on to get surprising postgraduate degrees in all manner of crazy disciplines. The following 5 celebrities display how a postgraduate degree can give you a great foundation for a career change, even if it is in an unfamiliar subject.
1. Christy Turlington: Supermodel turned super-student
Considered along with Elle Macpherson and Naomi Campbell as one of the original 'super' models, Christy Turlington has spent most of her life being the face of big brands like Calvin Klein and Maybelline  Now 44, she has decided to put both her face and her brains to use by founding the charity 'Every Mother Counts' which aims to reduce maternal mortality across the world. The passion Turlington feels about her work is evident in the fact she has gone back to college to swot up on matters relating to public health policy, and now holds a masters degree in Public Health from Columbia University.
2. James Franco: The Perpetual Student
James Franco's obsession with education goes above and beyond that of any other celebrity, with Franco being well known for attending multiple universities at the same time whilst also starring in Oscar-nominated films. After returning to UCLA to complete his bachelors degree in 2008, Franco has attended at least 5 other universities: Columbia, NYU's Tisch School of the Arts, Brooklyn College, Yale and University of Houston (at least 3 of those at the same time). Columbia awarded Franco with a Masters in Fine Arts in 2011, and he is currently working on a doctorate in English at Yale University.
3. Brian May: Guitarist by day, Astrophysicist by night
Queen guitarist Brian May did not always intend to become a rock star, and had already completed his bachelor's degree in mathematics and physics at Imperial College London before his musical career took off. May was mid-way through his PhD research in astrophysics when he left Imperial to join Queen, but 30 years later he decided to finally finish his PhD and was awarded the postgraduate degree in a special ceremony in 2008.
4. Shaquille O'Neal: Master basketball player, master educator
After leaving Louisiana State University to join the NBA, basketball giant Shaquille O'Neal promised his mother that he would someday go back to school and finish his education. Not only did O'Neal honour that promise by attaining his bachelor's degree in 2000, but he also went on to attain an MBA through the University of Phoenix in 2005. After leaving the NBA, O'Neal then went on to get an Ed.D from Barry University in 2012, and has spoken vocally of his plans to work towards another degree.
5.  Dexter Holland of The Offspring: from rock musician to the molecules of rock
Dexter Holland might be a world-famous rock musician and possibly one of the greatest rock vocalists of all-time, but he is also a self-professed geek at heart. Much like May, Holland has always balanced his love of music with his love for science: he has both a bachelors and a masters degree in molecular biology from University of Southern California. Holland was also a PhD candidate for molecular biology there before The Offspring time commitments required him to put his doctoral plans on hold. Science is not Holland's only secret talent however: he is also a certified pilot for good measure.