Long and buffed legs, charismatic Jacqueline Fernandez is a Sri Lankan born Indian actress and former model. Best known for her roles in Murder 2 (2011), Housefull 2 (2012), and Race 2 (2013), the Asian beauty indeed is one of the hottest and fit celebs of Bollywood. Genetically slender, Jacqueline never had to strive to look slender and curvy. However, bestowing herself sexy and appealing look too was not less than a struggle. She steadfastly devoted herself to workouts and embraced very wholesome diet. Not to mention, with her sheer efforts, she didn't fail to magnetize her fans with her hot body.
Jacqueline Fernandez Workout Routine
While spilling her secrets, the stunner shares that being slim is not sufficient to look smashing on screen because you always look bigger on camera. To render proper shape to the arms, legs, back, shoulder, and face, you have no other option but bank on workouts.
While being reliant on sweaty workouts to multiply lean muscles and strip off unsolicited kilos, her workout routine is an amalgam of vigorous cardio workouts, strength training, martial arts, and yoga. However, she could not stop being flattered with the overwhelming influence of yoga, which she learned after coming to India. The exquisite beauty has consistently been practicing yoga under the vigilance of Anshuka Parwani, her yoga instructor.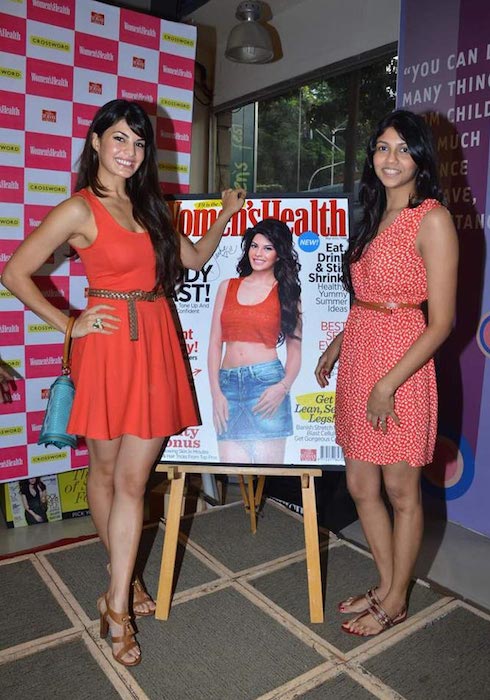 Simply being in love with yoga, she practices it five times in a week for one hour each. She shares, not only has she acquired flexible and toned body with yoga, but her stress level too has dramatically plunged. Her yoga instructor has her begin with surya namaskar followed by varied asanas such as Shirshasana (Headstand), pristhasana, Hanumanasana etc. To perk up her breathing pattern, she executes diverse pranayams such as anulom vilom, Kapalbhati, vrikshasana, utkatasana etc. Besides that, she practices running, swimming, dancing etc. thrice in a week, for forty minutes.
Jacqueline Fernandez Diet Plan
Just like workouts, the ravishing beauty understood the significance of proper diet also after becoming a part of Bollywood. Prior to turning to balanced diet, the hottie tried numerous yo-yo diet plans to drop weight. From immensely restrictive Atkins diet plan to Macrobiotic diet, the phenomenal beauty hardly spared any crash diet. However, before late, she realized that these weight loss plans being mere gimmicks strip off weight only for short duration. You cannot imagine retaining the lost weight forever. Jacqueline being very impressed with the healthy and ever-slender beauties of Bollywood such as Deepika Padukone, Shilpa Shetty, and Malaika Arora Khan submitted herself to healthy diet to attain steady weight.
Being very particular about her appearance, the diva renounces indulging her in her adored foods. She reckons, since delicious foods are mostly high in sodium, you cannot afford to look sleek with their consumption because they retain water in your body, which makes you look bloated.
She reckons, no matter how intense workouts you do, if you don't ally them with wholesome foods, you indeed will not be able to create the impact of being sultry. The glam celeb has completely forbidden sugar from her diet. To bestow proper nourishment to her treasure figure, she makes sure that she eats carbs, proteins, and fats in fair amounts. Jacqueline incorporates low carb foods such as veggies, fruits, brown rice, quinoa, oatmeal, soup, lentils, green salad etc. in her diet. While refraining from the consumption of tea, coffee, she dwells on green tea and water among beverages. The immaculate and glossy glow that the fab actress has on her body is the outcome of her reliance on omega-3 fatty acid. She gulps down myriad nuts, seeds, salmon etc. to enrich her body with essential fatty acids.
Healthy Recommendation For Jacqueline Fernandez Fans
Are you aspiring to acquire curvaceous and svelte figure like Jacqueline Fernandez? Well, to attain perfectly fit and slender body, it's vital for you to sleep adequately at night. Most of us are victims of either insomnia or restless sleeps. Since diet has its influence on your sleep as well, you can relish sound sleep at night with the inclusion of certain foods.
Magnesium – Magnesium renders you relief by plummeting your blood sugar, anxiety, headache etc. Sweet potatoes, fish, bananas, kiwi fruit, dark chocolates etc. are opulent sources of magnesium.
Potassium – Potassium being a vital electrolyte uphold adequate water level in your body. Besides maintaining your blood glucose, it improves your sleep. Oats, avocados, fish, tomatoes, dried fruits, nuts, seeds etc. are some of its sources.
Vitamin B12 – Vitamin B12 shakes off your stress and thus assist you in getting peaceful good night's sleep. Spinach, seaweed, eggs, oats, peanut butter, cashews, yogurt, bananas etc. are dense sources of Vitamin B12.
Calcium – Being equipped with excellent properties of soothing your body and mind, calcium trims down your anxiety, blood sugar, and blood pressure. Kefir, organic yogurt, chia seeds, broccoli, almond milk, leafy greens etc. are superb sources of calcium.