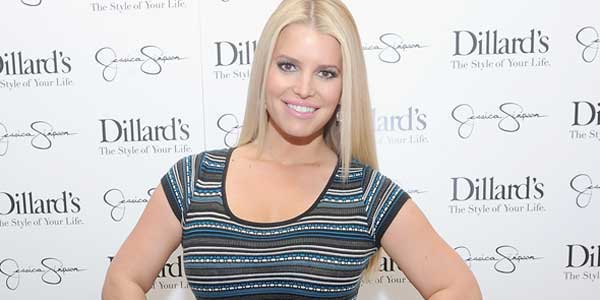 Blonde hair, seducing style, Jessica Simpson is an American actress and singer. She is yet another celeb mommy who has recently gone through dramatic makeover post pregnancy. The spokesperson of weight watchers gave birth to her second child, son Ace in June 2013. Overwhelmed with her new curves, the hottie has consistently been posting her images on Instagram.
The gorgeous star shares, as compared to her first pregnancy, she didn't grow much hefty. One of the reasons might be her first child, daughter Maxwell who kept her on her toes all the while. Since Maxwell was just one year, the mommy had to be after her, which also gave good exercise to her body and didn't let her gain much weight during pregnancy.
Due to her jaw-dropping, perfect bikini embracing figure prior to her pregnancy, the glam star wanted to retrieve her stunning figure as soon as possible and took the trail of diet plans such as weight watchers and 5 Factor diet plan.
Jessica Simpson Diet Plan
Jessica was keen like anything to melt unsolicited pounds promptly from her body, which actually was giving her sleepless and dreary nights. Without ado, she embarked on low carb weight watchers diet program, and Harley Pasternak's 5-Factor workout. Under the diet plan, she is allowed to have five small meals in a day. Low fat dairy products, organic foods, green and fresh veggies are some of the inseparable food items of the diet program.
And the best part of the diet plan is, without making her devoid of her adored foods, the diet solution bestows her freedom to splurge her loved foods once or twice in a week. Besides that, among beverages, she is allowed to relish red wine. Being an antioxidant, one glass of red wine goes perfectly well with your physiological functions. Unlike other alcoholic beverages, red wine doesn't hamper your body functions.
Jessica Simpson Workout Routine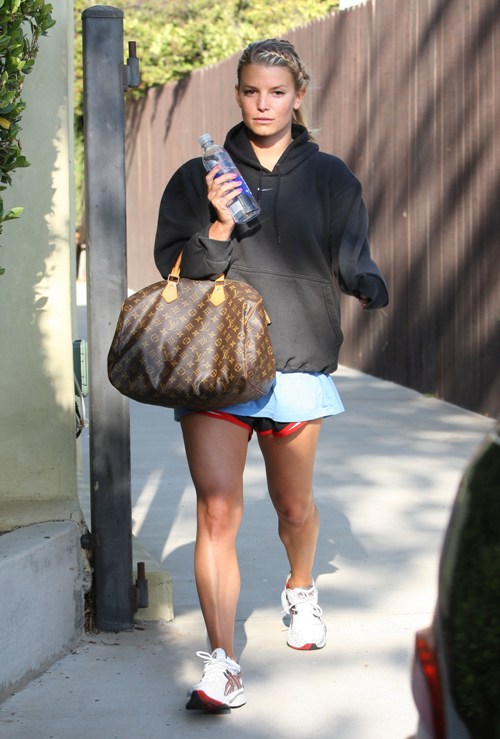 Having learnt the value of workouts from her previous pregnancy, the stunner adhered to strict workout routine. Within bunch of weeks following her pregnancy, she switched to brisk walking, and walked four to five miles, while taking 8000 to 10,000 steps in a day.
Besides that, she also embraced cardio workouts, strength training, and circuit training to scorch surplus post baby weight. Without being slothful, Jessica executed her workouts with great zeal under the supervision of her personal trainer. No matter how busy her schedule was, she somehow managed to make them three times in a week.
Her personal trainer has her do workouts, which started with cardio workouts and then instantaneously switched to targeted body parts. Peculiar thing about her workouts is, she is not supposed to rest in between her workouts. Since bust and butts are the main areas where flab in particular finds room to get piled up, her workouts are aimed to shape up both her upper and lower body parts.
And diversity being the key to propel fat burning process, she rolls back and forth among workouts such as running, stair mounting, rope jumping, side shuffles etc. She makes five reps of the exercises coming under circuit training and practices twenty five reps of each exercise. Make a point here, by perpetually doing circuit exercises without hiatus, and getting back to second circuit followed by one minute relaxation, you can have swift weight loss results.
She also incorporates yoga and Pilates in her exercise regime. Both the workouts being effective in enhancing suppleness, blood circulation, and resilience tremendously aid the blonde in torching pounds.
Healthy Recommendation For Jessica Simpson Fans
Workouts done with correct technique can inevitably get you desired results. Warm up being necessary before starting workouts should seldom be undermined. You can begin your workouts by running on treadmill for ten to fifteen minutes.
Afterwards, lift weight and as per your comfort, and do varied workouts with dumbbells. Three to five pounds of weight is mostly recommended. However, if you don't feel strain in your muscles with the intensity of weights, it means the weights picked by you are inadequate and you need heavier ones to exhaust your muscles.
Exhaustion and extended heart rate are the natural signs shown by your worked up body. However, dearth of these symbols explicitly shows that there is great scope of improvement in your workouts. So be sensitive towards the physiological reactions shown by your body while doing workouts and accordingly proceed with them.