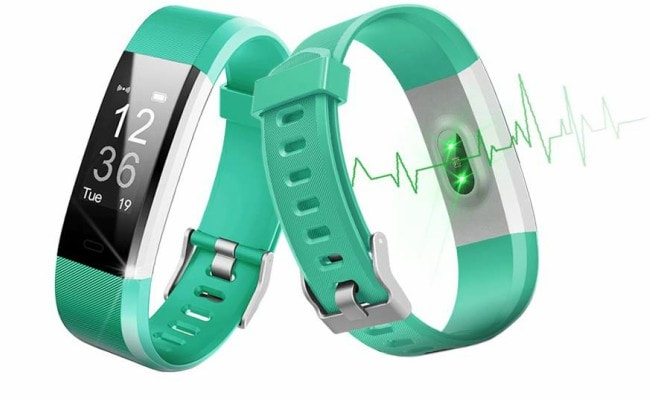 The fitness trackers have taken the market by storm. More people are now realizing the benefits of having a fitness tracker. It is a one in all device that can not only keep track of your activities but also monitor your sleep and heart rate. It will give a good insight into your health condition as well. You will find fitness trackers at various price ranges. If you are new into this and want to try out what it's like having one, then you can choose a low range tracker like the Letscom Fitness Tracker. Though it's cheap, it doesn't compromise on quality or features. Here, we are going to find out why this product has received so many positive reviews and why it is in high demand in the market today. 
Design
This slim and smart activity tracker can go with any outfit and fit any occasion. The device is just enclosed into a silicone band; the sides of the display have a hard shell. You can wear it in the office, park or any other place. It is found in different colors such as green, orange, black, purple, and more. It has an OLED touch screen and you can tap or slide the device to see different functions. The screen is bright and clear so you can read even at night without hurting your eyes. It has customization options and you can change the clock face. Navigation is very simple. It feels light and comfortable to wear. The tracker has an accelerometer and an optical heart rate sensor. You can power it with just a 65mAh battery.
Build Quality
The device is well built and sturdy. It is a Bluetooth 4.0 heart rate monitor bracelet having an IP67 waterproof touch screen and activity tracker that is compatible with iPhone and Android Smartphones. It is made of a soft rubber band that feels comfortable on the wrist. The fastening is good which makes sure that it fits your wrists properly. It has a battery life of up to 10 days which you will rarely find in any other fitness tracker. The average charging time is only 120 minutes. It has all the useful functions such as pedometer, notifications, heart rate sensor, and sleep monitoring.
It has a mobile app called the VeryFitPro app that works with the tracker and provides better visualization of your fitness data. You can get your fitness results in graphical form. You can also share your results with others using this app.
Size
The tracker is 1.5 inches long and ¾ of an inch wide. It has connectors for the wrist band on the top and bottom. Its screen resolution is 320 X 320 pixels. It has one size that will fit all; the wrist circumference is between 5.4 and 7.6 inches.
Comfort
The device is light and comfortable to wear. The silicone band feels soft to the skin. The screen is bright and so you can read everything clearly. You can tap or slide to move to different menus. The interface is simple and it is easy to switch between different modes. You can just wear it as a wristwatch. You can change the silicone straps just by pulling out from the sides of the main unit. So, you can buy multiple straps for different looks.
Effectiveness
This device can track heart rate in real-time which can help you to understand the condition of your heart. It automatically tracks your sleep and so you can get a comprehensive understanding of the quality of your sleep. It can record all activities like steps you have taken, distance covered, active time, and calories burned. It has multi-sports modes which give you lots of options. You can connect the GPS on the phone and get stats such as pace, distance, and map of the workout route. With this device, you will be able to see and receive calls and messages. It has a built-in USB plug so charging it is very convenient. The battery life is 10 days, so you will be able to wear it for a long time without charging it.
The step mode displays the number of steps you have taken, the period you have been active, and the number of calories you have burned. The heart rate mode calculates the current beats per minute. It has an alarm mode that displays your next alarm. The walk mode tracks what distance you have covered and the time you have spent. It also calculates your heart rate during the walk. This device will give you an assessment of your overall performance using an in-app report which will include your heart rate, sleep pattern, and more. 
Price
It is one of the most budget-friendly fitness trackers available in the market today. You can get it for only $28.99 at Amazon. At this price, you get a load of features that are usually present in the high-end trackers.
Pros
It has a slim and smart design.

You can find replaceable bands in various colors.

It has a responsive OLED Touch Screen which you can use by tapping or sliding.

The screen is bright and clear.

You can receive notifications of calls and texts.

It has a 24-hour accurate heart rate monitor.

It tracks various activities including the steps you have moved.

It can track the quality of your sleep.

It can calculate the calories you have burned.

It has music control and remote camera control features.

You can connect it to your phone's GPS.

It has a battery life of 10 days, so you won't have to charge it frequently.

It is water-resistant, so you can use it in the rain or when washing hands.

It is compatible with IOS 7.1 or above and Android 4.4 or above.

It is affordable.

It has an impressive battery life of up to 10 days.

It has a USB charging.

It has a well-made app.

It has Bluetooth 4.0 for connecting to the mobile app.
Cons
The screen is not bright enough to see clearly in full sunlight.

It doesn't provide accurate results like the double sensor trackers.

It doesn't have a built-in GPS.

It is not completely waterproof. You can wear it in the rain but not in the shower or swimming pool.
Final Verdict
Though this tracker is not as popular as the Fitbit or Garmin products, it has features of these high-end trackers at a much lower price. That's why there is so much demand for this product today. It has everything from counting steps, distance, and calories to monitoring heart rate, activities, and sleep. You can even connect it to the GPS of your smartphone to get detailed tracking of your outdoor exercise.
This activity tracker looks great on the wrist and feels comfortable as well. It has a multitude of features that help to get a detailed analysis of your fitness and health. So, if you are looking for a great fitness tracker at a low price, then you should buy the Letscom Fitness Tracker.