When Chris Hemsworth names someone as a legend or the best trainer in the world, it becomes rather obvious that his fans would be curious to know more about that person and his fitness philosophy. If you are also a Hemsworth fan and want to know about the person we are talking about, i.e. Luke Zocchi (Hemsworth's trainer), then you are in luck. Here, you can read some awesome fitness tips and diet plan shared by Luke Zocchi that you can implement from today.
Consistency Gets Results
The biggest fitness secret shared by Luke is that you need to be consistent with your training if you want to see the results. You should know that even 20 minutes of HIIT or weight training before work can do wonders for you. You just need to commit 20 minutes, 3 times a week and you will get to see the results. To be fit, you don't need to spend hours in the gym or try any fad diet. You don't even need to buy any superfoods if you center your diet around whole foods and train smart rather than training hard.
Training Chris
Luke has also described his experience of training Chris for multiple roles like Thor (2011) and In the Heart of Sea (2015). For the former, they focused on 5 a.m. boxing sessions, running, and weight training. For the latter, the focus was on slimming down. Training the talented actor was a turning point in the trainer's career. For all the roles, the method was the same, using basic principles needed to build muscles. The transition from Thor: The Dark World (2013) to In the Heart of the Sea (2015) was quite complicated because, for Thor: The Dark World, the focus was on building muscles while for In the Heart of the Sea, there was a need to drop a lot of weight.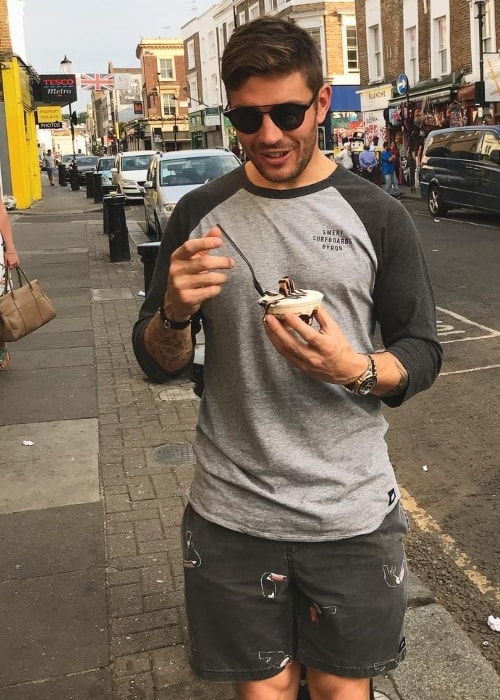 The Plan
The fitness expert released a book in 2018 that provides information on different high-intensity workouts and shares a 12-week plan of recipes. The workouts include the basic and effective exercises like lunges, crunches, burpees, and crawls. As these workouts need little to no equipment, you can do them anywhere and at any time. The meals are also categorized into sections, post workout meals that include meals high in carbohydrate that you need to have after a workout session and core meals that are for rest days or times when you haven't got a workout in the last few hours.
Love for Crawls
Zocchi thinks that crawls are the best fat loss exercise. They are a low impact exercise option that works on the entire body.
Fitness Advice
You should try to get a workout as the first thing in the morning because it will encourage your body to burn fat at a rapid pace. You should also have clean organic whole foods. The number of meals you should take in a day depends on your fitness goals. Some people can do with just 3 meals a day while some can have up to 7 meals a day.
Diet Plan
Breakfast
You should start your day with a vegetable omelet.
Lunch
The lunch should include a roasted vegetable salad.
Dinner
You can have grilled fish with salad and rice.
Dessert
After dinner, you can have some squares of dark chocolate.
Foods to Avoid
The fitness expert thinks that you should not place diet restrictions that make you feel uncomfortable. You should learn to make smart and well-informed choices by avoiding alcohol, sugar, and processed foods. Your diet should include a lot of protein, fresh fruits & vegetables, unprocessed food, and whole grains.
The 21 Day Rule
When you start your fitness journey, you should remember that it will not be an easy task. It will be a challenge to change your lifestyle both physically and mentally. In such a situation, you should remember that it takes 21 days to develop a new habit. If you control yourself for 21 days, for example, if you avoid sugar for 21 days, you will stop craving sugar and your diet will become healthier.
Featured Image by Luke Zocchi / Instagram