Maggie Atcheson Quick Info
Height
5 ft 7.5 in
Weight
63 kg
Date of Birth
May 29, 2000
Zodiac Sign
Gemini
Boyfriend
Sam Farrell
Maggie Atcheson is an American social media star best known as one of the 3 members and founders of the YouTube channel, The Cheernastics2, later shortened to TC2, alongside her cousins and twins, Ciera Stitz and Megan Stitz. They started the channel on October 16, 2011, and uploaded their 1st video on the same day titled How to do a Front Hip Circle. Their content remained in a similar fashion, primarily focusing on demonstrating various exercises, gymnastics obstacle courses, cheerleading routines, with occasional vlogs regarding gymnastics meets they attended. Around 2016, the 3 began to incorporate more discussion-type videos, tested weird products or gymnastics, flexibility, and cheerleading hacks.
They also tried out various gymnastics and cheerleading challenges inquired about by their fanbase, made comedy skits, and discussed health, fitness, and fashion. On July 10, 2014, Maggie decided to create her own YouTube channel under her real name, while the twins already had their separate channel, Megan and Ciera, starting on November 11, 2012. Her channel, which has amassed a fanbase of more than 100k subscribers, solely focused on vlogging her day-to-day life and allowed her fanbase to get to know both her and her family better. Maggie has also amassed a large social fanbase online with more than 200k followers on Instagram.
Born Name
Maggie Atcheson
Nick Name
Maggie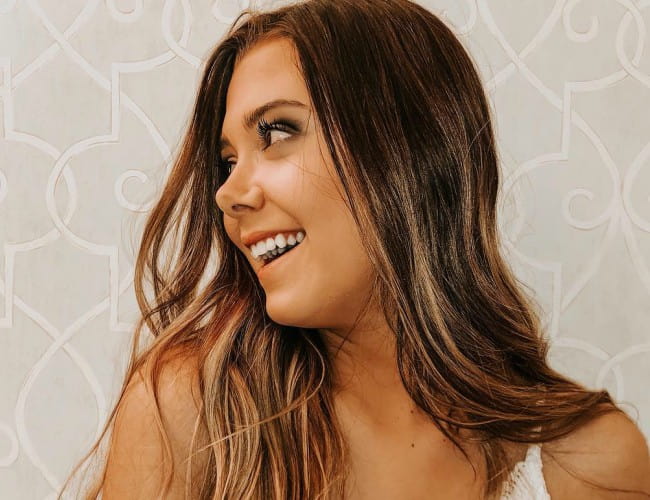 Sun Sign
Gemini
Born Place
Iowa, United States
Residence
Johnston, Iowa, United States
Ames, Iowa, United States
Nationality
Education
Maggie was an advertising major and finished her freshman year at the Iowa State University in Ames, Iowa, United States, in 2019.
Occupation
Social Media Star
Family
Father – Jerry Atcheson
Mother – Ginger née Hamer Atcheson
Siblings – Ellie Atcheson (Younger Sister), Brock Daniel Atcheson (Older Brother), Maverick Joseph Lee Atcheson (Younger Brother)
Others – Ciera Stitz (Cousin), Megan Stitz (Cousin)
Build
Athletic
Height
5 ft 7.5 in or 171.5 cm
Weight
63 kg or 139 lbs
Boyfriend / Spouse
Maggie Atcheson has dated –
Sam Farrell (2018-Present) – She began dating the student of Kinesiology at the Iowa State University in Ames, Iowa, United States, on May 16, 2018. Maggie and Sam knew each other since kindergarten technically but never really got to know each other on a personal level. They also hung out within the same friend groups but had separate boyfriends/girlfriends and weren't really interested in anything more at the time. For around 9 months before they started dating officially, she started growing closer with Sam and around May 2018, each of them broke up with their respective partners. Sam and Maggie also underwent wisdom teeth removal surgeries at the same time in mid-2018, which made for a funny conversation via FaceTime afterward. Since they've never been on a vacation as of July 2019, they both wished they could go to either Bora Bora or Australia together. Furthermore, Sam has never flown by airplane and traveling to a Lollapalooza festival in Chicago, Illinois, in August 2019 together was also an experience Maggie couldn't wait to experience with him. A thing they both also loved was that they lived around 5 minutes from each other, so distance was never an issue. However, they limited their time together to every ether day because they were both busy. Sam was also not worried about her being a well-known personality on YouTube and jokingly said that he was glad she was as she bought him Apple AirPods headphones from the money she earned. The only problem in their relationship is that they are both stubborn and neither one admits when they are wrong, which leads them to argue about minor, irrelevant things.
Race / Ethnicity
White
She is of American descent.
Hair Color
'Ombre' with 'Blonde' hair ends.
She has also dyed her hair 'Light Brown', 'Dark Brown', 'Black', and 'Pink' in the past.
Eye Color
Dark Brown
Sexual Orientation
Straight
Distinctive Features
Dimpled smile
Brand Endorsements
Maggie Atcheson has endorsed brands such as State Style, custom apparel designed for members of her university.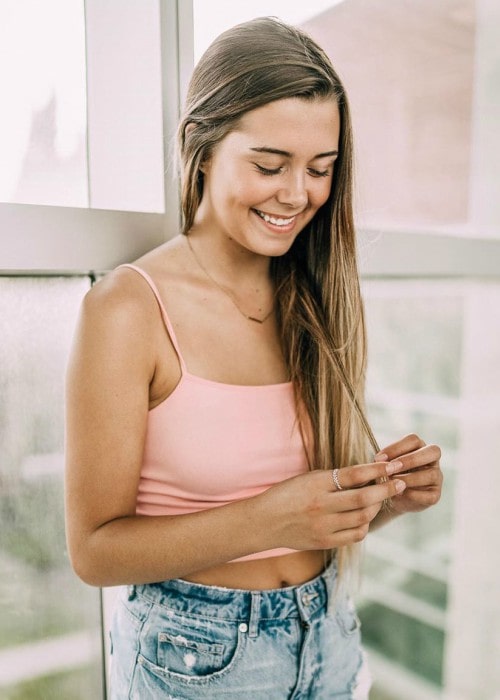 Best Known For
Her social media fanbase with more than 200k followers on Instagram, more than 100k subscribers on her personal YouTube channel, and more than 2 million subscribers on her collaborative YouTube channel, TheCheernastics2
Personal Trainer
In the past, Maggie was a part of the high school cheerleading team and a Level 5 all-star cheerleading team and went through 16 to 18 hours of training per week. She also did gymnastics as well as a mix of cheerleading and gymnastics for her YouTube channel. Maggie actually quit cheerleading in 2015 mainly due to time constraints with her YouTube channel and being very tired from working out so much. She also started going to the new gym and focused on gymnastics and athletics more, which played a large role. However, she came back to competing in 2018 before quitting again.
In January 2019, Maggie and her Cousins started a 4-week series they titled New Year-New Maggie. The goal was for her to build healthy habits, have a steady workout schedule, and spring back to action after quitting cheerleading and losing a lot of muscle through summer. Her weight also dropped from around 63 kg or 139 lbs to 131 lbs or 59.5 kg. Her main goal was to do exercises with lighter weights, but lots of repetitions, which was the best way to induce muscle hypertrophy.
She focused on lower-body exercises such as bodyweight squats, side squats, and goblet squats, as well as using leg machines to do leg curls and leg extensions. She also added running on a treadmill and Nordic skiing on a machine for cardio.
Dumbbell step-ups
Barbell back squats/front squats
Good mornings
Each of the exercises was done for about 1 to 2 minutes with 30 second breaks in-between 4 to 8 cycles. After the workout was done, she measured her fat and muscle percentage on a dedicated scale. Maggie found out that she lost a couple of pounds of fat and had no changes in her muscle mass. This motivated her to start a regular gym workout routine, which she upheld as of September 2019 and slowly came back to her regular weight of 63 kg or 139 lbs.
Maggie has also never gone on a diet and always just tried to eat healthily. She feels like whenever she's not supposed to be eating something, it's all that she thinks about and craves. Maggie also experimented with being vegan for 24 hours in March 2019 but struggled with it. She really wanted to eat cheese and eggs for breakfast but couldn't figure out a vegan replacement and had to skip the morning meal entirely as she was in a rush. She later ate Chinese noodles and salsa sauce and had Boom Chicka Pop sea salt popcorns for a snack.
Maggie Atcheson Favorite Things
Grade At School – 6th
Snapchat Filters – Dog, Crying Fish
Beaches – Galveston, Clearwater
Colors – Purple, Yellow
Soda – Dr Pepper
Holiday – 4th of July
Source – YouTube, YouTube, YouTube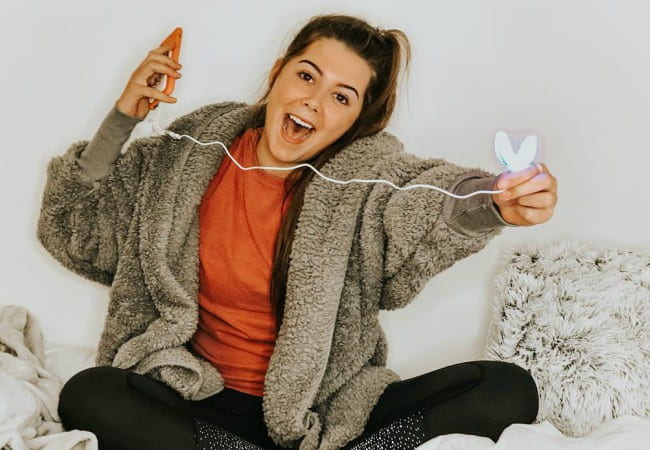 Maggie Atcheson Facts
She was a cheerleader for around 5 years before she created a collaborative channel with her cousins in October 2011.
She used to play soccer as a kid.
In her youth, she was running from her dad and he accidentally slammed the door over her finger. The fingernail fell off and her dad kept it.
Doctors diagnosed her with anxiety and depression at the age of 9.
Collaborating with another YouTube channel, AwesomenessTV, allowed Maggie and her cousins to attend VidCon 2015.
Her collaborative YouTube channel, TC2 reached a milestone of more than 1 million subscribers on August 6, 2016.
One of the most annoying things for Maggie is people that are walking slow on the sidewalk but don't move aside to let other people pass. Both she and Megan and Ciera are very fast walkers.
Maggie remembers the 1st time she met a fan distinctly. It happened in 2013 when she was getting Dippin' Dots at the Indie Gym Fest.
She had her driving license suspended for 6 months in January 2016 on her way to school. She was rear-ended by someone else, which led her car to rear-end someone else's, making her technically responsible for a car crash.
Maggie used to think that rugby was lacrosse when she watched it on TV.
She's a big fan of football.
Maggie didn't have a favorite movie in 2016.
She suffers from 2 diseases – TMJ (temporomandibular joint) and trichotillomania.
She calls her friend group "5 pack".
Her biggest pet peeve is people chewing too loud with their mouth open.
As of October 2019, she would like to move to 2 states in the future – Colorado, and California.
If Maggie could change 1 thing about her appearance, it would be her teeth as she wants veneers. Her boyfriend thought she would pick her leg size as she hates how fat they look sometimes.
She's a member of the Alpha Phi sisterhood/sorority.
One of the scariest moments in her life happened in June 2016 when she rode a motorcycle with her friend and stumbled upon an abandoned camper. As they were riding and speculating whether someone lived there, her friend's sister jumped out on the road leading Maggie to panic, swerve, and start breathing heavily out of fear.
In December 2018, Maggie decided to move out of her dorm room to a sorority house. Maggie didn't have any problems with her dorm roommate, she only thought living in a sorority would be more fun.
She once tried to microwave a metal cup filled with her drink and almost burned down the dorm room. Luckily, her mom stopped her on time.
Maggie bought a pet goldfish in June 2018 and named it Pebbles.
Maggie has a triangle tattooed in an area between her armpits and ribs. When she told her dad, he somehow already knew and even mocked her for having a triangle tattooed. There are 3 meanings behind it – mental health – "don't press pause on your life", YouTube sign, and also that her mom has the same tattoo.
She appeared in an episode titled What it's Like Growing Up On YouTube of Megan and Ciera's podcast, According Two, on July 4, 2019.
She had a kidney infection in September 2019 and stayed in the hospital for a few days.
Featured Image by Maggie Atcheson / Instagram