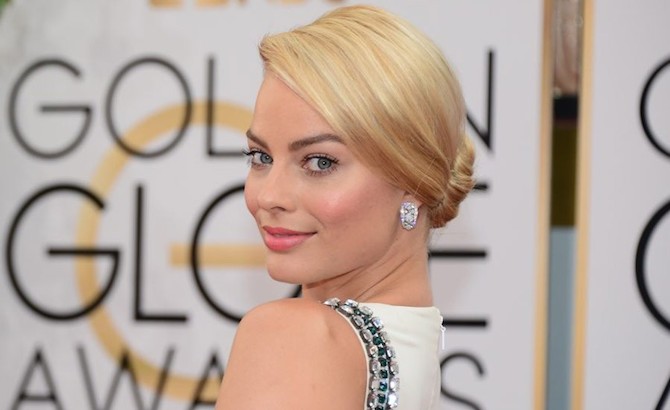 Jaw dropping beauty, Margot Robbie is one of the young actresses who got the honor to work with the iconic actor, Leonardo DiCaprio in The Wolf of Wall Street (2013). The lady who performed numerous kissing and n*de scenes in the movie without being nerved truly possesses incredible panache.
The bombshell not only has assassin hot body but also has immense confidence in her. Margot dishes out some of her diet and workout secrets which uphold her in great shape.
Margot Robbie 2014 Workout and Diet
No Compromise With Foods
Margot contends, she does feel flattered with her curvy figure but she doesn't feel like compromising with her affection for foods to strip off calories. The young actress being in love with beer, burgers, fries etc. often indulges herself in them. However, when she has to look fit and slender particularly before shoots, she switches over to extreme diet i.e. carrot sticks. In addition to that, she also brings some moderation in her eating habits. Although eating with restrained mindset feels like immense pressure to the stunner but she does it only when she is left with no other alternative.
Her Favorite Cardio Workouts
Running – The Goddess of perfect hourglass figure simply loves to run or jog for numerous hours in a day. The cardio workout being credited with plentiful benefits improves the health of your heart, frees you from stress, and imparts you numerous health benefits.
Cycling – Cycling is yet another cardio workout which allures Margot the most. Without putting undue strain on her joints, the workout renders great exercise to her lower bottom.
Ice–Hockey – The Aussie beauty adores playing ice hockey which is an awesome cardio workout. The workout being involving your entire body engages major muscles of your body in the activity. Aside from burning myriad calories, the activity keeps you from harmful diseases. Aside from shaping up your muscles, the sport activity also enhances your bone density.
Other Workouts
Crunches – Margot performs varied crunches to tone and sculpt mainly her abs. Crunches don't let surplus fat or calories remain in her body and keep her in fab shape.
Yoga and Stretching – Sylphlike figure of the hot babe testifies her adherence to yoga and stretching. She executes myriad postures of yoga in routine which indeed relax her body and mind. Besides that, stretching postures weed out tension from her muscles and rev up blood circulation in her body.
Healthy Tips for Fans
Losing weight is not as difficult as it is usually referred to by many of us. If you pay heed to small things in your life and make little lifestyle changes, you surely can ensure dramatic change in your body equation.
Don't Overlook Food Labels
You can stay immune from plentiful of unwholesome foods if you simply don't overlook the food labels indicating the nutrient density of foods. Set your alarm in ringing mode if you witness any of these ingredients namely high fructose corn syrup, sugar (bleached or refined sugar), saturated fat, trans fat (hydrogenated vegetable oil) etc. in the food items. Not only does the consumption of foods with these ingredients make you look obese, they also make room for ailments and health issues in your body.
Pick Unsaturated Fat Over Saturated Fat
While making choice of fat, always pick food items having opulent content of unsaturated fat. Foods containing saturated fat trigger lower production of leptin than foods with unsaturated fat. Resultantly, in spite of eating a good amount of food, you remain hungry and unfulfilled. By cutting back the consumption of sausage, whole-milk dairy products, baked goods etc., you can refrain from the intake of saturated fat.
Satisfy Your Thirst
Many times people do the mistake of taking satiety centers as appetite centers. After you eat foods, you feel thirsty because as a response to chemical reactions in your body, food enhances the thickness of blood. When your body actually requires water to dilute the thick blood, you shall try to quench your thirst by drinking plain water over calorie-laden soft drinks or alcoholic beverages.
Prefer Eating Complex Carbs
Consumption of high carb foods fosters the release of protein namely "neuropeptide Y" which slows down your metabolism and enhances your appetite. Preferably, avoid the intake of high carb foods and make sure they don't contribute more than fifty percent to your daily diet regime. Trim down the consumption of processed snacks and baked goods for they are opulent sources of high carbs.
Be Prepared for Contingency Cravings
Always be prepared with food items which can fulfill your contingency cravings because you never know when your unanticipated cravings hit you and make you splurge on foods. Always keep healthy foods such as nuts, fruits, veggies etc. in store to satisfy the mountain size cravings.
These simple tips shall keep you from bulking up extra pounds and thus, will help you in maintaining the slender shape.