Academy Award 2014 winner, Matthew McConaughey is one of the most handsome and dashing actors of Hollywood. Long time fitness fanatic has incredibly lean and muscular body which bestow him nerve to display his killer six pack abs in shirtless shoots. The actor with less than 10% body fat and athletic body lives in the hearts of millions of stunning girls. The hot actor dishes out his workout and diet secrets.
Starvation Diet to Shed Massive Weight
The stud has been through an array of oscillation in weight to get him ready for varied roles in the movies. 6 ft tall, McConaughey dropped huge weight for his role in the 2013 movie, "Dallas Buyers Club" wherein he has played the role of sunken HIV patient. He followed restrictive and low calorie diet to shed fifty pounds. While eating meals twice in a day, he relied on starvation diet which included meager foods such as egg whites, small portion size of chicken, two diet cokes, small pudding, veggies, and little wine in the evening. With the depriving diet, he lost thirty pounds in four weeks.
Extreme weight loss not only made his body look emaciated, his mind too had to the pay the toll for it, for he couldn't focus on anything and became absent minded. After been through drastic weight loss, McConaughey himself believes that shedding weight is even more pathetic than gaining pounds. No matter what, you shall not allow your body to go into such horrifying situation because its long term impacts can really be awful.
Attention Deficit Disorder (ADD) Cardio
Renowned celebrity trainer, Gunnar Peterson who is his personal trainer has him do ADD cardio over "intervals with weight training" to speed up the outcomes. His workouts are like 4 minutes for one cardio modality, 5 minutes for another cardio, 6 minutes for yet another cardio modality, and then in reverse i.e. 6, 5, and 4 for half an hour. While relying on 4, 5, 6, 5, 4 series, he heavily banks on squat presses. Aside from firing up his metabolism, the workout widens his shoulders, shrinks the size of his waist, and thus renders him V-shaped body.
The workout being emotional teaser keeps your brain busy and thus perks up your efficiency. With diverted attention, people can execute same workout perpetually for fifteen minutes. Aside from gym workouts, the actor also adores running on beach, and biking for several miles, swimming, doing pull ups at park etc.
Workouts With Personal Trainer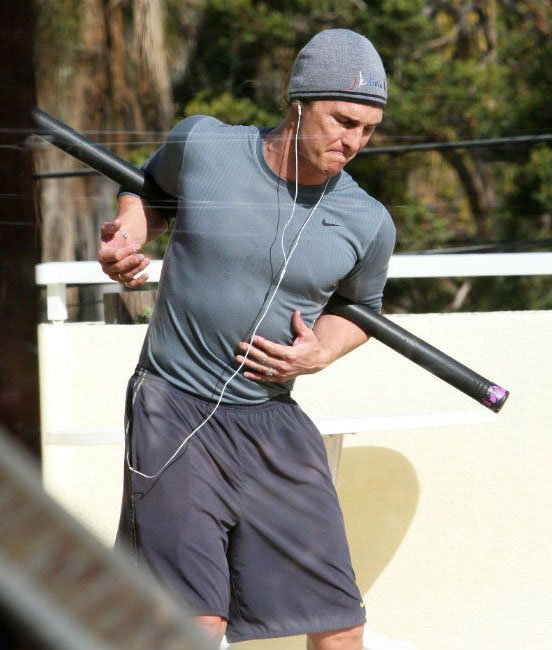 Magic Mike (2012) star performs circuit training, cardio, and other grueling workouts under the supervision of his fitness instructor. When Matthew does not have his trainer around him, he performs dance to condition his body parts. He reckons, to keep up your body in superb shape, you have to continually hone your body with workouts. The moment you stop working out, it doesn't take your body long to go out of shape. He usually prefers doing his workouts in circuits, mostly without any rest in between the exercises.
To groom his body for challenging roles, which require him to look resilient and powerful; he doesn't step away even from working out twice in a day with his personal trainer. His workout objective while endeavoring to shed pounds for the movie, "Dallas Buyers Club" was to burn 1800 calories in a day. However, after being bruised when he couldn't work out, he figured out that just by being on strict low calorie diet, he can uphold his skinny body.
If you are aspiring to acquire swift results without lifting heavy weights, prefer doing workouts in supersets in which you are supposed to do two or more exercises persistently without any rest. Workouts performed in supersets builds up your strength, revs up the functioning of your cardiac system, cuts your chances of being injured, and magnifies your muscle mass. However, make sure that you keep varying the exercises of supersets and don't repeat same exercises on daily basis. Here are some superset workouts, the heartthrob actor performs in routine.
Superset 1
Decline Dumbbell Fly – 2 sets, 8 reps, with no rest
Incline Bench Press – 2 sets, 8 reps, 1 min rest
Superset 2
Weighted Swiss Ball Crunch – 2 sets, 8 reps, 1 min rest
Crossover Chin-up – 2 sets, 10 reps, 1 min rest
Elliptical Trainer – For two minutes
Superset 3
Bench Dip – 2 sets, 8 reps, with no rest
Overhead Rope Tricep Extension – 2 sets, 8 reps, 1 min rest
Superset 4
Side Lunge – 2 sets, 8 reps, one min rest
Medicine Ball Slam – 2 sets, 10 reps, 1 min rest
Jump Rope – 2 sets, for 1 min
Superset 5
Barbell Jump Squat – 2 sets, 8 reps, no rest
Swiss Ball Dumbbell Military Press – 2 sets, 8 reps, 1 min rest
Superset 6
Medicine Ball Squat to Raise – 2 sets, 10 reps, 1 min rest
Stationary Bicycling – For two minutes, no rest
Stair Stepper – For five minutes with one min rest