Among epic transformation stories of Bollywood, we have got one more name added and that is of bubbly Bollywood actress, Parineeti Chopra, who earned fame very quickly with her debut film itself. Charming and vivacious actress has joined the league of sexy and curvy actresses after shedding a load of weight. The hot babe candidly admits that she was being overweight when she entered into Bollywood. However, she was highly uncomfortable with her weight because she could not wear sexy and skinny clothes of her choice. Sleeveless and belly revealing clothes were off of her list only because she didn't wish to put her flabby arms and belly on display. Moreover, her profession being linked with looks and personality urged her to shed unsolicited weight. Having made her mind to become slim, the stunner decided to bring changes in her workout and diet routine. Let's have a look at the alterations she did, which brought her in slender shape.
Pruned Consumption of Junk Food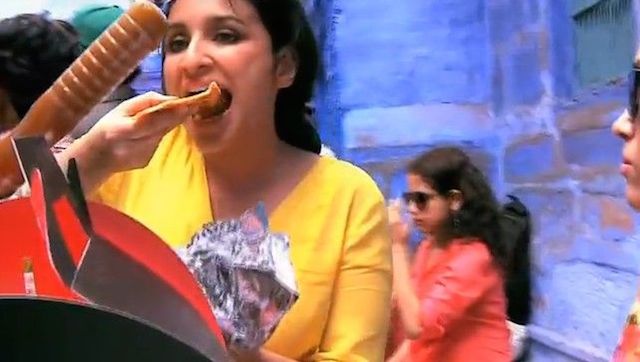 Parineeti being a foodie would splurge on foods of all kinds and due to weak metabolism, her body didn't take long to reflect the foods consumed by her. She herself admits that her love for pizza, burger etc. was so much that she could not even think of living without them. However, having witnessed the impact of foods on body, Parineeti was left with no other way but to cut back the consumption of pizza and other junk foods. While embracing healthy eating habits, the youthful star added myriad nutrient dense foods in her diet. Here is a sample of one of the typical diet regimes of Parineeti.
Breakfast – Brown bread with butter, sugar-free milk, two egg whites etc.
Lunch – Brown rice, dal, roti, green veggies etc.
Dinner – Low fat foods cooked in little oil, sugar-free milk, chocolate shake etc.
Self-Motivation is the Key
Instead of being inspired by bullying comments made by people, self-motivation was far more important to Parineeti. She contends that she being young shall not be bulky at an age (mid twenty), which actually is meant to flaunt her youthful figure. Unlike some of the Bollywood celebs such as Vidya Balan, she was not in favor of developing peace with her weight and henceforth decided to turn slim.
Although Parineeti has already shed tremendous weight but she is still far from bikini figure. She still wishes to acquire svelte bikini figure and with her determined mind, that too does not seem like taking too long to turn into reality. That said, Parineeti mockingly pricks that even if she completely stops eating foods, she cannot grow rail thin.
Regular and Intense Workouts
After having faced the stigma of being obese, Parineeti didn't want to look like a sorry figure in the glam industry, so in spite of having utter despise for workouts, she embarked on them to strip away surplus kilos. It was the result of her regular and arduous workouts, that she transformed her jeans size from size 38 to size 30. Rather than relying on one particular form of exercise, the sultry actress incorporated variety of exercise such as jogging, running, dancing, swimming, horse riding, yoga etc. in her workout routine. Apart from them, she also embraced meditation and practiced it for fifteen to twenty minutes in a day. Meditation removes stress from her mind and helps her develop positive and wholesome attitude towards life.
Healthy Tips for Fans
Being overweight certainly is not flattering for anyone, however to get rid of those surplus pounds might really put you in exhausting situations. If you too wish to drop weight but you don't have extra money to be spent on nutrition experts or personal trainers, you can embrace some easy to follow tips.
Use Available Inventory
If taking expensive gym membership is off of your list, you can put your available inventories into use. For example, you can do bicycle riding, rope skipping, climbing trees, flipping old tires, pulling chains, stair climbing etc. For getting in better shape, all you need to have is one resolved mind and keenness to give way to your creative ideas.
Pick Watery Foods
While making your choice of low carb foods, prefer picking watery foods such as cucumber, asparagus, spinach etc. Apart from making you feel fuller, these foods also render fourth macronutrient to your body. Moreover, since at times, you don't feel like hydrating you with tasteless water, these food items will cover up the water deficit.
Get Out of Your Comfort Zone
The most imperative thing needed to strip off extra calories is to allow yourself come out of your comfort zone. Be prepared to challenge yourself on a daily basis to do grueling sweaty workouts. Usually nothing else but your self-made comfort zone holds you back. When you will learn to triumph the nagging feelings, you will feel like warrior, and before late, you will turn into a slender and fit person.