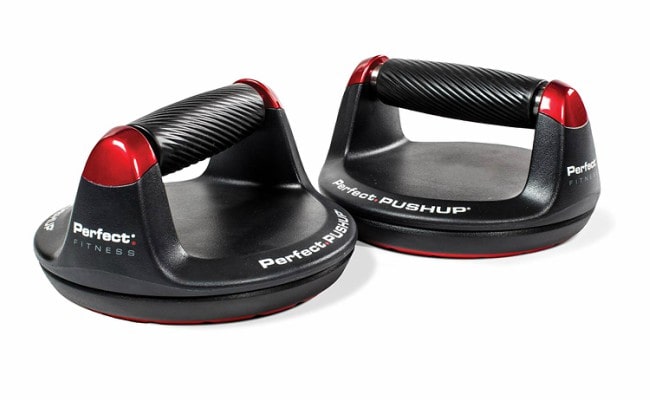 Many people think that only gym freaks are after equipment like a pull-up bar, push-up bar, and others. However, the truth is that general fitness enthusiasts also use this equipment to get into shape. A Push-up bar is very simple equipment that can tone your upper body. You don't need to go to a gym to workout with push-up bars. You can buy one for your home. These bars are compact and you can carry it anywhere you go. They are also easy to store. It's inexpensive and it will be a good investment if you are serious about fitness. There are countless options available when it comes to push-up bars. Here, we are going to review the Perfect Fitness 31001 Push Up Bar.
Design
It has a sporty design with a swiveling base. Unlike other pushup bars, this equipment has a wide handle with a grooved and textured grip which gives you extra comfort and grip when performing pushups. This equipment is a great addition for fitness lovers to enhance and take pushups to a new level. As the equipment is easier on your budget, our recommendation is to go for it and it surely won't disappoint you.
These push-up bars are designed to rotate so that they can engage more muscles and improve the strength of the arms, chest, shoulders, abs, and back. It has ergonomic grips that distribute weight evenly. As a result, it reduces pressure points and joint strain on elbows and wrists. The push-up stand has a stable and round surface that turns easily, allowing you to work out comfortably.
The base is non-slip and has a protector to provide a secure grip with any floor surface. So, you will never lose balance when exercising. The size and shape of the handles are just perfect enough to perform exercises comfortably. It is compact, so you will be able to carry it with you wherever you go. The smooth pivot configuration along with the steel metal roller framework will let you work out effectively and safely.
Build Quality
These push-up bars have sturdy construction. It has a steel ball-bearing system that makes it durable. They allow smooth rotation and so won't cause in strain on your wrists. They have treads at the bottom of the handles that securely grip different floor surfaces. They have 400-pound weight capacity which makes them ideal for both the beginners and advanced users. These push-up bars are reliable and you can add additional weight, like weight vest, if you want to.
Size
Each push-up bar has dimensions 10 inches by 8.25 inches by 6.2 inches and weighs only 4 pounds. This makes them lightweight and so comfortable to carry around.
Comfort
The handles are ergonomically designed to lower joint strain in the elbows and wrists. This makes workouts comfortable. There is a spiral gripping rubber pattern under each handle that prevents it from sliding or slipping on the floor. The ergonomic grips distribute weight evenly, thus reducing pressure points. The handles provide a wide range of motion for the arms and chest. You can change your wrist positions without moving the handles. Their off-road-type tread grips to all floor surfaces securely. So, you will be able to work out in confidence without worrying about slipping.
Ease of Use
The ergonomically designed handles allow you to work out comfortably. You will have a natural arm movement and it won't cause any strain on your arms. You can add extra weight if you want to. When exercising you can use the different settings of the hands. You can use wider to train your chest muscles and narrower for developing your triceps. You should start with less number of push-ups and slowly increase the number of sets.
Effectiveness
You will be able to enhance your push-up workouts and get better results with the Perfect Fitness 31001 Push-Up Bars. They are designed to rotate which increases muscle activation by moving the arms naturally. This results in more muscle strength and definition in the shoulders, arms, chest, back, and abs. They maximize the upper body strength without causing joint strain. As the grip design ensures even distribution of body weight, pressure points are reduced which lets users workout comfortably for long hours.
The steel ball-bearing system and smooth rotation allow fluid motion when you do push-ups. The treads on the bottom of the handles grip the floor surfaces securely, allowing you to work out on any surface of your preference, whether its carpet or hardwood floors. You will be able to customize these push-up bars by adjusting the difficulty levels. You can use a weighted vest to intensify your workout sessions.
Pros
It is ideal for both beginners and advanced users.
You can customize your workouts.
It has a maximum weight capacity of 400 lbs which is more than that of most of the push-up bars in the market.
It is durable and reliable.
The rotating handles increase muscle activation and provide faster results.
The weight is evenly distributed, reducing pressure points and strain on the arms.
There is no unpleasant odor like the other push-up bars in the market.
It allows smooth rotation.
A 21-day workout chart is provided to motivate users to work hard.
Cons
As the shape of the handle is round, hands may slide on it.
The number of exercises you can perform are limited.
Final Verdict
With these push-up handles, you can take your workout to the next level. The handles of these push-up bars rotate slightly to increase the muscle activation when you dip lower. So, you can increase your muscle strength. They are ergonomically designed and so will reduce the strain on your elbows and wrists by allowing natural movement. They evenly distribute the weight to reduce pressure points and allow comfortable movements. These push-up bars engage a lot of muscles and provide faster results. So, it is worth buying these push-up bars.