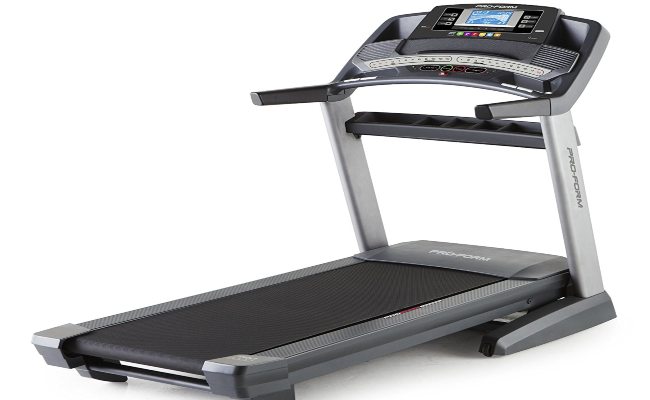 If you want to lead a healthy life, you should follow a good lifestyle. One of the best ways to achieve it is by doing regular exercise. As life is hectic, it can be difficult to make time to go to a gym for a workout. Buying a treadmill instead can be a smart move. A treadmill is a very popular exercise equipment both at home and in the gym. You can walk, jog or run on this machine and easily achieve your exercise goals.
The modern treadmills are equipped with lots of interesting features that make the exercises more interesting. You will be able to keep your body fit just by exercising on the treadmill regularly. Here we are going to review one of the best sellers in the market, the ProForm Pro 2000 Treadmill and find out why people like this machine so much.
Design
Whether you are buying the treadmill for your home or gym, the design must be nice to fit into the overall décor. The manufacturers have kept this in mind while designing this treadmill. It has a powerful 3.5 CHP Mach ZTM motor and a great running deck that has a dimension of 22'' by 60'' supporting users of up to 300 lbs. It is perfect for runners looking for intense training.
It has a foldable design that makes it easy to store. It is operated by a 3.5 CHP motor. You can vary the speed of the motor from 0 to 12 mph. You can also adjust the angle of the deck from -3% to +15%. This quick incline/decline setting can target different muscle groups and help you to burn calories quickly. As it has built-in iFit, you will be able to enjoy great workout videos that are made by famous fitness trainers like Jillian Michaels. Using this technology, you will be able to exercise virtually with celebrity trainers and compete with other iFit members as well. You can also get personalized diet advice and make personalized workouts as well.
It comes with a 7'' HD display that can keep track of your workout data and monitor information such as distance covered, speed, calories burned, the time elapsed and heart rate. It has an MP3/iPod compatible sound system along with speakers for entertainment.
Build Quality
It is a very powerful, well-engineered treadmill that comes with great technology. ProForma has been quite popular in the fitness industry for manufacturing outstanding fitness equipment for home use. This treadmill is programmed in a way to provide a smooth training experience. It operates with the strong 3.5 CHP Mach Z Commercial Pro Motor that works without making any noise. You can use the incline and decline settings to vary the angle of the surface from -3% to 15%.
You can also vary the speed from 0 to 12 MPH which makes it suitable for walkers, joggers, and runners. You can choose from 50 different pre-programmed workouts and add variations to your workout routine. The touchscreen display can keep track of your heartbeat, calories burned, distance traveled and other vital information while you workout. It has two hand-grip sensors in the handlebars which will monitor your heart rate.
The built-in iFit technology will give you a very pleasant training experience. You will be able to exercise virtually with the top trainers in the world and also run virtually in different places of the world using Google Map. It has CoolAire Workout Fan to keep you cool during exercise. Overall, you will be able to do intense exercises for many years comfortably if you buy this treadmill.
Size
It has dimensions 79'' X 39.15'' X 71.4'' which is ideal for home use. It has a running surface of 60'' X 22'' giving enough space for intense workouts. It can handle users of up to 300 lbs. It has a foldable design which lets you fold and store it when not in use. With the EasyLift Assist technology, you will be able to lift the deck with just an easy push and release the deck smoothly as well.
Comfort
It has a ProShoxTM cushioning system that will lower the impact on training on your joints, knees, and back. So, you will feel comfortable while working out on the treadmill and feel less pain.
Effectiveness
You can consider it to be the best machine for toning up your body and building up muscles. It has many interesting features that will give you a great workout experience. The powerful motor allows you to work for long hours without any trouble. The incline and decline option lets you vary your workout. You can vary the speed and decide to walk, jog or run. You get a free one-year iFit Coach membership which will make your workouts even more effective as you will be exercising with the top trainers in the world. You will also be able to compete with the other iFit members and challenge yourself to reach new levels. You will be able to workout virtually on any part of the world. These features make the exercises more challenging and fun and help you to reach your fitness goal quickly.
Price
You can get this treadmill for less than $1,500. You can also get 18-month financing with zero percent interest which is a great deal.
Pros
You will get great features at a great price.
It is ideal for walking, jogging, and running.
It has 3.5 CHP Mach Z Commercial motor so that you can do lengthy and challenging workouts without getting overheated.
It has a spacious and thick belt that makes it ideal for all types of users.
There is a 7'' touchscreen monitor with a built-in iFit coach. You get one-year free iFit membership.
It has a large running surface and ProForm's ProShoxTM cushioning giving you the ultimate comfort.
It can decline -3% and incline 15% for bringing variation to the workouts.
There are 50 pre-installed workouts which will help to achieve your fitness goal.
You can easily raise it when not in use and store it somewhere and lower it again smoothly before use.
It can monitor your heart rate, calories burned, distance traveled and other statistics.
It comes with a Bluetooth speaker system so that you can listen to songs while working out.
There is a cooling fan to keep you fresh and cool even during intense exercises.
You get a lifetime warranty for frame and motor, 5-years warranty for parts and 2-years warranty for labor.
Cons
The screen is too small and you will need to upgrade to the Pro5000 if you want a larger touch screen.
The cushioning is not as good as the other treadmills in the market.
The customer service may not be the best.
Final Verdict
This treadmill offers an unlimited number of programs and features. You will be able to walk, jog or run by adjusting the incline and decline settings and the speed. The LCD screen can display the distance you have covered, calories you have burned, and other statistics. It has a very powerful motor that lets you do intense exercise.
It has ProShox cushioning, a workout fan, touchscreen display, heart rate monitor, Bluetooth sound system and iFit coach which will make exercises comfortable, effective and more fun. You will really benefit from buying this treadmill.