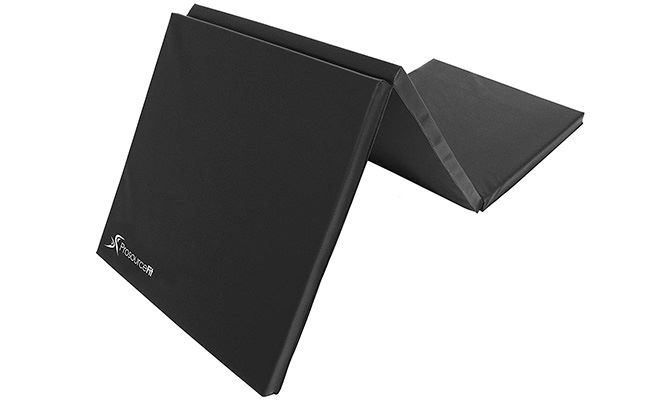 Whether you are doing exercise, yoga or gymnastics, having the right protection is necessary. Buying an exercise mat can be very helpful in protecting yourself from injuries during exercise. It gives you a personal space to carry out the activities. Some of the exercises require you to fall hard on the surface and there is a chance that you may hurt yourself. An exercise mat can act as a cushion and protect you from such injuries.
If you are suffering from knee pain or back pain, then, a thick padded exercise mat can give you comfort while exercising. Even if you are recovering from an injury and need to get physical therapy, these mats can help. When buying an exercise mat, you should first know your purpose of buying it. If you want to do yoga, for example, you will have to buy a thin mat as it will be necessary to keep balance and staying close to the ground will be helpful in this case. For gymnastics, on the other hand, you need to buy a well-padded exercise mat as you will fall hard on the ground most of the time.
You will need to consider the various features of the exercise mat before buying it. You should check the quality, price, comfort level, size, etc. so that you can choose one according to your need. Here we are going to review the ProsourceFit Tri-Fold Folding Thick Exercise Mat and find out why you should buy it.
Design
This exercise mat is available in black, grey, and blue color. This is 6 feet by 2 feet mat that can give your body the protection you need during exercise. This large exercise mat can fit most users. It is extra thick which gives you a comfortable surface to exercise. You can fold the mat into three small flat sections and easily store it or carry it to any place. It is mainly designed for the gymnasts but can be used for yoga, martial arts, and any exercise as well. It has a vinyl surface that is durable and easy to clean. It is fitted with high-quality foam that helps to keep the shape of the exercise mat.
Build Quality
It is made up of high-quality materials and that's why it will last for a long time. The interior padding is thick and is made of dense EPE foam which makes it suitable for gymnastics tumbling, martial arts, yoga, stretching, Pilates and other exercises as well. Its outer shell is made of vinyl which protects the internal foam. This keeps your joints safe while you exercise. The vinyl surface is easy to clean so you will be able to keep it in good condition for many years. The mat is waterproof and so moisture won't be able to damage your mat. As you can fold the mat into three small sections, storage is not a problem.
Size
The dimension of this thick exercise mat is 6 feet by 2 feet. It is a long exercise mat and will give you enough space to do all your stretches and other exercises. It is particularly helpful for the gymnasts as they need a wide surface to perform. It is extra thick and so will give you the cushioning you need.
Comfort
As the exercise mat is extra thick, it gives you comfort and support during exercise. The internal padding is of high quality and you will be able to get extra comfort by working out in this mat. The thick cushioning also protects your body from injuries. If you have knee or back pain, then, you will feel much better by exercising on this mat. When doing burpees or other jumping exercises, you won't fall hard on the surface and hurt yourself as the thick mat will provide you the proper cushion your body needs.
Price
This exercise mat will cost about $35 which is quite cheap compared to the other similar exercise mats in the market. This mat is durable and so you won't have to think about replacing it for many years. So, if you consider long term benefits, then, this mat is one of the best choices you have.
Pros
It is made of high-quality foam that makes it durable.
It has extremely thick cushioning that provides comfort and protection.
It has a vinyl surface that is durable and easy to clean as well.
You can fold it into small parts which make it easy to store.
It comes with a handle, so you can fold it and then carry it around like a bag.
It is versatile and you can use it for gymnastics or doing yoga, crunches, stretching, or any other exercise.
It is well cushioned, so in case you slip or fall, you won't hurt yourself. The cushion also doesn't sink, so provides you a flat surface to work out all the time.
It is waterproof so it won't tear or rip because of the accumulation of sweat or moisture. As it doesn't absorb sweat, you won't get any bad odor from it as well.
The high-quality foam protects your knees, elbows, wrists, and back.
You get a limited lifetime warranty with this product which will cover any manufacturing defects.
Cons
It is narrower than a typical gymnastics mat, so can be uncomfortable for some gymnasts.
As it is extra thick, it may not be appropriate for certain exercises that require you to stay close to the ground.
Final Verdict
This is a very high-quality exercise mat that is ideal for gymnastics. However, it is versatile and can be used for doing yoga, stretching, Pilates and other forms of exercises as well. It is also a great choice for mobile personal trainers as the mat is easy to carry. The tri-fold design with handles makes it comfortable to carry and store. You can fold it into smaller sections and carry it easily. It has an extra cushion that protects your body from injuries. The cushion doesn't sink even with prolonged use. So, it maintains its shape all the time and gives you a flat surface to workout.
It is made up of dense EPE foam and covered with a vinyl surface which makes it very durable. As it is 6 feet long, you can comfortably lie down and perform your exercises. It can protect your sensitive joints from getting injured while exercising. This mat is easy to clean and maintain as well.
When you exercise, it is important to provide the right cushion to your knees, elbows and other joints so that they don't hurt after the workout session. This exercise mat will protect your body parts and provide the right cushion you need for exercising safely. Sometimes, people have back pain and other issues. This mat can help to reduce such pain as well.
This mat can create the best surface for your daily exercise routine. It will be able to withstand intense workout sessions as well. So, if you are looking forward to transforming your home floor to a mini gym, then, you should buy this exercise mat.