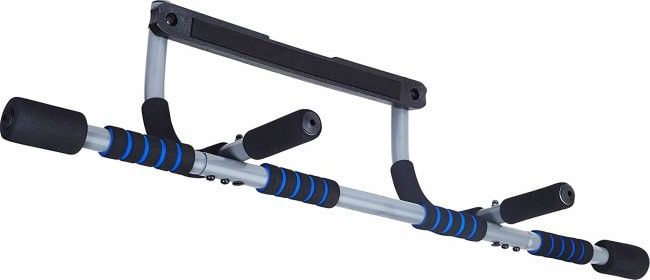 Pull-ups are full-body workouts that are great for your upper body. At first, you may find it difficult, but as you keep practicing, you will find it comfortable doing pull-ups. You can go to the gym for pull-ups, but now portable pull up bars are available that you can use at home. You can find pull up bars that you can install in doorways or mount in walls. Some pull up bars let you do other exercises like push-ups and sit-ups as well. When buying a pull-up bar, you should make sure that the bar is versatile and strong. The prices of these bars are not that much, so you should focus more on the quality. We are going to review the Pure Fitness Multi-Purpose Doorway Pull-Up Bar here. This pull-up bar is one of the best sellers at Amazon and has received very good reviews as well. 
Design
It has a simple and stylish design. This pull-up bar fits doorways that are 27 to 32 inches wide and up to 6.3 inches deep. It has an innovative no-screws design that uses leverage to stick to the doorway. Extra-thick padding is provided so that the pull-up bar doesn't damage the door when it comes in contact with the door. It has 8 different grip positions which allow you to do multiple exercises to sculpt your upper body. It is very easy to install this pull up bar. You can uninstall it easily as well when it is not in use. As it is compact and portable, you can store it in a limited space. When you travel, you can also put it inside your luggage and take it with you so that you don't miss any opportunity to exercise with it. It has non-slip rubberized feet for extra protection. Overall, it is designed to get the same fitness results you will get in the gym.   
Build Quality
It is made of premium quality heavy-duty black-coated steel. It has black cushioned grips. It can support weight up to 250 lbs. This equipment is small, yet very effective. The combination of steel and plastic makes it lightweight and strong. It will fit any standard doorways. You will be able to perform multiple exercises to trim your body and get into shape. It is perfect for pull-ups, push-ups, sit-ups, triceps dips, and hanging crunches. You will be able to do any exercise that will help you to develop a powerful upper body. This bar uses bodyweight resistance and so can deliver fast results. It is durable enough to stand up to intense repeated use.
Size
It has dimensions 38 X 17 X 6 inches and weighs only 5 pounds. It is very lightweight which makes it convenient to carry and install. Due to its compact size, you will be able to store it easily as well. This pulls up bar is very convenient for home use. 
Comfort
It provides 6 high-density foam padded grips having 8 grip positions. The padded grips always keep the users relaxed. The padded grips provide non-slip rubberized feet to hold to the doorway. This provides additional protection and makes workouts more comfortable. 
Effectiveness
This pull-up bar will help you to perform strengthening and toning workouts. It will strengthen and tone your biceps, triceps, back, shoulders, chest, and abs. Using this pull up bar, you will be able to do different types of exercises like pull-ups, chin-ups, push-ups, leg raises, crunches, and more. It can act as a support for your fit during sit-ups. You get 8 different grip positions to perform exercises; as a result, you can target specific muscle groups.
Fitness Doorway Bar is a portable, easy to use fitness bar that you can use to get a good upper body workout. The padded grip areas are padded to ensure proper grip. So, your hands won't slip during exercise even if you sweat. The steel construction makes it extremely durable. It can support a weight of up to 250 pounds. This bar is extremely stable and you will be able to work out comfortably for long hours. Unlike using heavy weights, exercising with pull up bars have less chance of injuries, thus making workouts safe. Exercising with this pull-up bar regularly will help you to burn calories and get into shape within a short time.
Price
You can buy this pull-up bar for only $15. This is a reasonably priced pull up bar that will give you great value for money.
Pros
It is made of heavy-duty steel which makes it strong and durable.

It is very competitively priced.

It is lightweight and portable.

It has a simple, yet stylish design.

It fits most standard doorways.

It is stable and secure, so you will be able to work out comfortably.

It can be used by anyone with any level of expertise.

There are 8 positions for performing different exercises including pull-ups, push-ups, chin-ups, crunches, dips, and more.

The grips are padded and don't leave any markings on the door.

You will get an instructional workout guide with it.
Cons
As it can withstand only 250 lbs of weight, it is not ideal for heavy users.

The foam cushioning is of low quality and can tear and crumple with long use.

No extra accessories come with the bar.
Final Verdict
This bar is suitable for those who want a total upper body workout without lifting those heavyweights. So, you will be able to exercise without any risk of injury. If you are looking for a pull-up bar that will give versatility and comfort, then you should buy this pull up bar. This pull up bar is perfect for pull-ups, chin-ups, crunches, push-ups, dips, and more. It allows multiple grip positions that provide flexibility during workouts. As this bar is compact, lightweight and portable, it is perfect for home use. You won't need to go to the gym anymore to build up your upper body. As it is competitively priced, the Pure Fitness Multi-Purpose Pull Up Bar is one of the best equipment you will find in the market today.