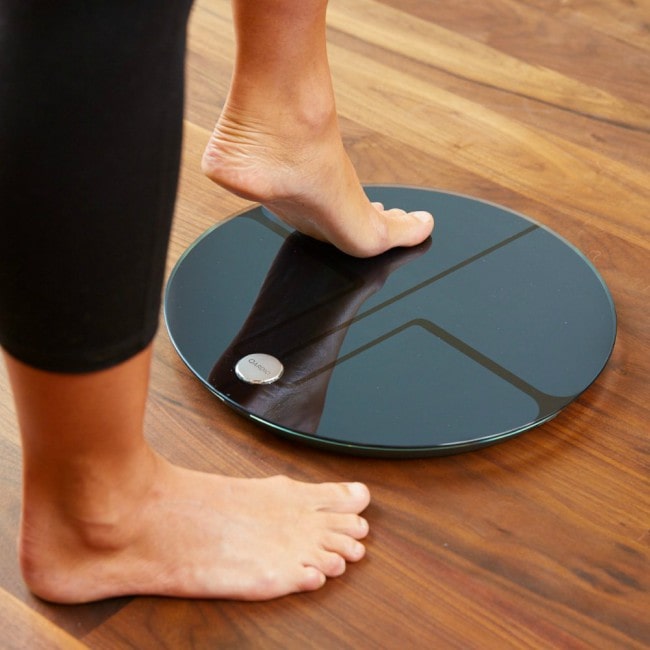 Do you know what is one of the common reasons for suffering from diseases like diabetes, heart disease, and high blood pressure? It's not maintaining the right body weight. When you gain weight, fat gets deposited in the body and your arteries may not get the space to pass on oxygen throughout the body. Consuming more sugar and carbohydrates increases your blood sugar level. All these can be prevented by controlling your weight. To measure whether you are getting overweight or not, you need a good weight machine. Today you can get smart weight machines in the market. These machines give more than just your weight reading. You can know your BMI and other health stats. Some can even tell you the heartbeat. Here, we are going to review the QardioBase 2 Smart Scale and find out what unique features it has.
Design
This machine is designed to track your weight so that you can easily meet your fitness goals. It measures your BMI and body composition like bone, fat, muscle, and water as well. It is a smart scale that will let you transfer the data to your mobile. Unlike most other smart scales, this is a circle-shaped scale found in black and white colors. The white glass top has some plain accent lines in the front. At the bottom, there is a silver Qardio logo button. Under the glass, there are lots of hidden LEDs that let the scale show the readings clearly. Both the white and black versions have black bases and rubber feet to keep the weight machine secure on the floor. It has a large base giving enough room for the users to stand.
Build Quality
It is made of high-quality materials. The glass on top is thick and won't break. So, heavy users can use the machine with confidence. There is a built-in haptic system and the scale vibrates to let you know that your readings have been taken successfully. This scale uses bioimpedance to measure body mass. The body composition is calculated by the electrical impedance. You will be able to see the health stats as a list, on a graph or a calendar. There is MicroUSB that can be used for recharging batteries or wired data transfer. 
Size
It is ultra-thin and won't take up much space. It is also lightweight, so you will be able to carry it easily from one place to another. You can keep in the bathroom or your bedroom so that you don't forget to take your weight and other measurements every day.
Ease of Use
Make sure you don't wear any socks or shoes when taking the measurement; otherwise, you won't get the body composition measurements. Just stand still for a few seconds to get an accurate measurement. It can store user information of up to 8 users. You only need to create one account for all the users. The machine can automatically identify the users and can also tell if someone whose user name is not stored steps on the machine. 
Effectiveness
You can choose different modes on this scale. There is a Normal Mode, Weight Only Mode, Smart Feedback Mode, and Pregnancy Mode. If you have implanted electronic devices, then you must use the weight only mode. The Smart Feedback Mode will display your facial expressions like happy and sad faces which will indicate how your progress towards ideal weight. The body composition and weight will be stored in the app for future reference. The Pregnancy Mode has in-app tools that help to track weight change during pregnancy. These different modes will help to keep a note of your lifestyle changes that had an impact on the weight and other measurements.
It can be used by up to 8 users. It can automatically detect different users. It uses Bluetooth and Wi-Fi to share your health stats with the Qardio app and these will be available in iOS or Android. The app will integrate with other fitness apps like MyFitnessPal, Google Fit, Apple Health, and Samsung Health. It also supports Android and Apple smartwatches. 
 Pros
It has a slim and attractive design.

It is well-built and durable.

It can track weight, muscle mass, body fat percentage, bone, water content, and BMI.

There are goal settings and reminder options.

It requires a rechargeable battery that can last for a year. You can charge the battery with a micro USB cable using the port at the side of the machine.

It relays information to the Qardio app using Wi-Fi.

It can sync with your favorite app including Apple Health, Google Fit, and more.

Results can be viewed as lists, graphs, charts and on the calendar.

It has 4 different modes including Normal Mode, Weight Only Mode, Smart Feedback Mode, and Pregnancy Mode.

It has a multiple user auto-recognition system. It welcomes each member by the name and with a smile.

You will see emojis or smileys instead of numbers to track your weight and other measurements.

You can use the machine on any surface including carpet.
Cons
It doesn't have any warranty.

It takes a little time to show the readings. 

The body composition calculations are estimates and not very accurate.

Final Verdict
The manufacturer is well known for providing high quality health-related smart products. If you are planning to lose weight, gain muscle or cut down body fat then this scale can be very helpful. You will be able to focus on your long-term progress with the help of this machine. It uses the latest technology to record your weight, body mass, and other health indicators. It uses Bluetooth or Wi-Fi connection to sync your data with different apps. As it operates in 4 different modes, you will be able to move towards your specific fitness goal easily. It has multiple-user features so it can be used by your family members as well. It is a great smart machine and you will be able to track your weight accurately with it.