Rita Ora was born on 26 November 1990 at Pristina, Yugoslavia. She received her education in England. She is singer, actress and songwriter. Her debut album by the name 'Ora' was number 1 debut album in UK in the year 2012. She was nominated in three categories in the 2013 Brit Awards. The British Albanian singer's debut album had 3 number one singles including 'how do we party', 'hot right now' and R.I.P. She was on top on UK Singles Charts in 2012 with the help of these 3 singles.
Commercial Debut
DJ Fresh and Rita released their first music video "Hot Right Now" on YouTube in December 2011. This single became number one UK singles chart. It took 2 years for Rita Ora to complete her first album.
Inspiration
Rita Ora finds her inspirations in Beyonce Knowles and Gwen Stefani. Ora and Beyonce are very close friends and Rita calls Beyonce her mentor and guide.
Rita Ora Body Stats
Rita Ora has got thin and lean body physique. Her body figure and physique closely resembles the svelte shape figure of Rihanna. The height of Rita is 5 feet and five and a half inches. Her weight is 55 kgs.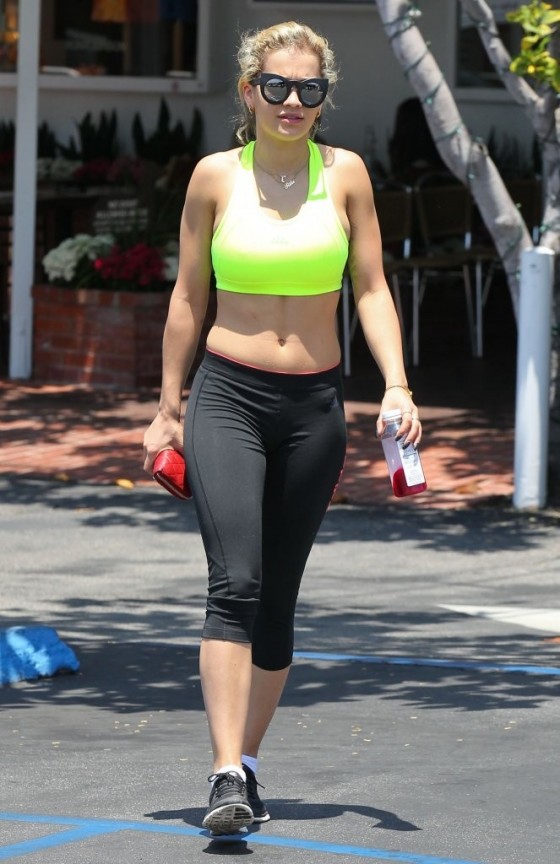 Rita Ora Workout Schedule and Diet Plan
Rita Ora is about to embark on a new summer tour. To keep herself fit for the tour and to maintain her slim figure, Rita recently joined a tough 'fat camp' in Austria. The camp is essentially for those people who want to lose weight or reduce fat. The camp follows extreme measures for fat reduction and has practices like consumption of Epsom salt. Epsom salt is a diuretic and helps in losing weight by clearing excessive water from the body. Other measures for fat reduction in the camp include feeding on broth and boiled potatoes. Rita has to chew each mouthful of food around 30 times so that she can lower her calorie intake. The workouts and exercise regimes followed at this boot camp are quite extreme as well and Rita follows a tough exercise schedule for maintaining her body weight.
All the residents of the clinic (including Rita) have to rise at 7 am in the morning. They have to take 3 liters of water a day. 1 liter of this filtered water is to be consumed in the morning itself. They are provided with a 'base powder' which they consume in order to boost and neutralize their body's metabolic processes. The name of the clinic is Viva Mayr clinic. Staying at the clinic costs 1500 pounds a night.
Rita seems to be impressed by Rihanna's figure and body shape and her efforts seem to guide her towards acquiring a Rihanna type body figure. Earlier, Rita has been said to copy Rihanna's clothing and wardrobe. She was also once called understudy of Rihanna by rapper Azealia Banks. Rita took the statement as a compliment.
Rita has to perform certain exercises in order to maintain her figure and to avoid the accumulation of fat on her lean figure. Her diet has been planned in such a way that she gets all the nutrients, vitamins and minerals while having low amount of fats and carbohydrates. Her exercises are performed in sets and aim at improving the cardiovascular and other systems of the body.
The hardcore exercises and extreme diet pattern followed by Rita at the Austrian camp will help her to get the desired shape and looks for her upcoming summer tour. Rita has got a number of fans who would like to see her looking perfect and beautiful while performing on stage or when she appears for her promos.