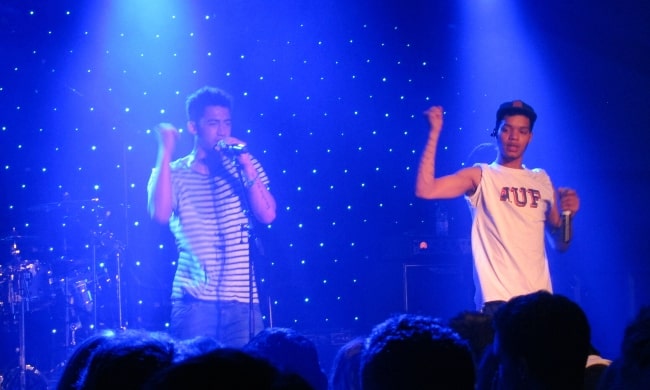 Rizzle Kicks is an English Hip Hop duo that rose to fame with the release of their album Stereo Typical that had ranked at #5 on the UK Official Albums Chart and at #1 on the UK Hip Hop and R&B Singles Chart in the past.
Members
Harley Alexander-Sule – Writer, Singer, Rapper, Actor
Jordan Stephens – Writer, Singer, Rapper, Actor
Origin
Brighton, England, United Kingdom
Genres
British Hip Hop, Alternative Hip Hop
Labels
Island Records
Formation Date
2008
Singing Portfolio
Rizzle Kicks released its debut album titled Stereo Typical on October 28, 2011. The album was compiled with a total of 14 tracks which included Traveller's Chant, Mama Do the Hump, Prophet (Better Watch It), Down with the Trumpets, When I Was a Youngster, and Dreamers. The deluxe edition included 3 additional tracks that are Perfect Day, Garden, and Nasty.
Some of the most popular singles of Rizzle Kicks are Prophet (Better Watch It), Down with the Trumpets, When I Was a Youngster, Mama Do the Hump, Traveller's Chant, Dreamers, Lost Generation, Skip to the Good Bit, Happy That You're Here, Tell Her, and Always Late.
Rizzle Kicks Facts
The hip hop duo was formed by Jordan and Harley in Brighton in 2008.
Harley's stage name until 2015, was "Sylvester" after which he changed it to "Jimi Charles Moody." Similarly, Jordan had started off with the stage name "Rizzle" and later started to go by the stage name "Wildhood" and "Al, the Native" in 2016.
Their debut album titled Stereo Typical that was released in October 2011, had sold more than 1 million singles and 600k albums in the United Kingdom until May 2012.
Jordan and Harley met one another for the first time while attending AudioActive's Hip Hop Foundation project and credit their training at AudioActive as part of their reason for success.
Some of Rizzle Kicks' favorite artists include Gorillaz, Lily Allen, and Arctic Monkeys.
Jordan's nickname "Green Rizla" was given to him by one of his football teammates. He then changed the word "Rizla" to "Rizzle". The duo then decided on "Kicks" as their suffix as they are both fans of football.
They had initially, started off by recording songs in their room, 3 of which are featured on their debut album.
Rizzle Kicks signed their first record label contract with Island Records in November 2010.
Featured Image By Cantab12 / Wikimedia / CC BY-SA 3.0