Roseanne Spaughton Quick Info
Height
5 ft 4 in
Weight
57 kg
Date of Birth
May 30, 1990
Zodiac Sign
Gemini
Spouse
Rose Ellen Dix
Roseanne Spaughton is a British social media star, model, blogger, TV personality, and author best known as one half of the duo behind the YouTube channel Rose and Rosie, alongside her spouse, Rose Ellen Dix, which has amassed an audience of more than 900k subscribers. The channel was created by Rose Ellen on June 20, 2010, around a year and a half before they went on their 1st date. At that point, Roseanne also started her own personal YouTube channel, TheRoxetera and uploaded her 1st video titled YDAHD on December 19, 2011. She was 1st featured on Rose's channel in a video titled Baffle Laffle Taffle Breakup on December 18, 2011, just 1 day earlier and the two began collaborating regularly starting in early 2012. They became known for their comedy, entertainment, and discussion videos filmed on their couch, but also challenges, guides, tags, reactions, and LGBT issues and relationship advice.
They have also collaborated with fellow social media stars such as Hannah Witton, Hannah Hart, Grace Helbig, Meghan Trainor, Cammie Scott, and Shannon Beveridge. Around 2015, they became more active on Roseanne's personal channel and the two decided to convert it into Rose and Rosie Vlogs, which quickly garnered an audience of more than 500k subscribers. In May 2016, they also branched out to showcase another mutual passion, playing video games, and created their 3rd YouTube channel, Let's Play Games, which featured games such as Days Gone, GTA V, Red Dead Redemption 2, Fortnite, Life is Strange, No Man's Sky, and others. Before she became a social media star, Rosie worked for Sunshine Radio (FM). She also appeared alongside Rose in the 2nd episode of the TV series Stupid Man, Smart Phone on BBC 3 in May 2016, where they tried to survive in arctic Norway. She and Rose have also written a book titled Overshare: Love, Laughs, Sexuality and Secrets and released it on October 4, 2018.
Born Name
Roseanne Elizabeth Spaughton
Nick Name
Rosie, Roxeterawr, A Life Full of Roses, Rosie Daughton
Sun Sign
Gemini
Born Place
Malvern, Worcestershire, England, United Kingdom
Residence
Hertford, England, United Kingdom
Nationality

Education
She attended the University of Worchester in Worcester, Worcestershire, England, United Kingdom, and graduated with a degree in media and culture in 2013.
Occupation
Social Media Star, TV Personality, Blogger, Author, Model
Family
Siblings – She has 2 older brothers.
Manager
Roseanne self-manages her career.
Build
Slim
Height
5 ft 4 in or 162.5 cm
Weight
57 kg or 125.5 lbs
Boyfriend / Girlfriend / Spouse
Roseanne Spaughton has dated –
Rose Ellen Dix (2011-Present) – A girl that she was dating in the past once showed her picture to Rose, at which moment Rose stated that she fell in love. However, they 1st met in 2007 at a Halloween party organized by her but they were in separate relationships. They didn't know each other prior to that and when she was organizing a party, she got a message from Rose that said: "Hey… You've never met me, and I'm not invited but I'm coming anyway." Upon meeting, they kissed on the cheek, chatted, and Rose left to drop off her then-girlfriend. What she later found out was that Rose already started feeling guilty that she was falling in love with her, even though she was dating someone else. The 2nd time they "met" was a very unusual situation as she was getting out of the shower in a room that had a view of the street. Rose was just passing by in a car with her girlfriend and 2 friends and saw her n*ked. She also worked in a supermarket named Lidls, where Rose came to see her at times as she had a big crush on her. Even though she had a boyfriend and even lived with him, she once told him that if they were ever to split, she would date Rose as she really fancied her. They went on their 1st date on October 20, 2011, after they were both singles at last. The date was in a theater to see a movie Paranormal Activity 3 and Rose pretended to be scared just so she could hold her hand. In the end, she simply asked Rose: "You're gonna kiss me now, aren't you?" to which she replied positively before going for it. In addition, during their 2nd date, she told her that she loved her to which Rose just awkwardly laughed. It also took more than half a year for them to make their relationship official. It happened on July 19, 2012, after she told her to stop texting other women while she was drunk and angry. In 2013, she described her as "intelligent, hysterically funny, and caring" while Rose described her as "artistic, articulate, and the cutest person". She was proposed to by Rose on May 30, 2014, on her birthday. Less than a year later, the two got married in a ceremony at Clearwell Castle, on March 20, 2015. They also decided to make a large life decision in December 2017 and bought their 1st house together. In 2019, they also stated that the YouTube income wasn't paying their bills and that they also started planning to have a "cute tiny human" since early 2016. Their plan was to talk to the fertility expert on March 20, 2019, their wedding anniversary, and discuss their options. The two have had a long-running debate about their children's names, even discussing the name Monte or Monte Carlo as a joke. She also liked the name Brooke, but Rose disliked it. In return, Rose jokingly said she would name their son Drover, after Hugh Jackman's character from the movie Australia (2008). She and Rose also decided on a joint married name on April 13, 2019, which was Daughton, combining their last names.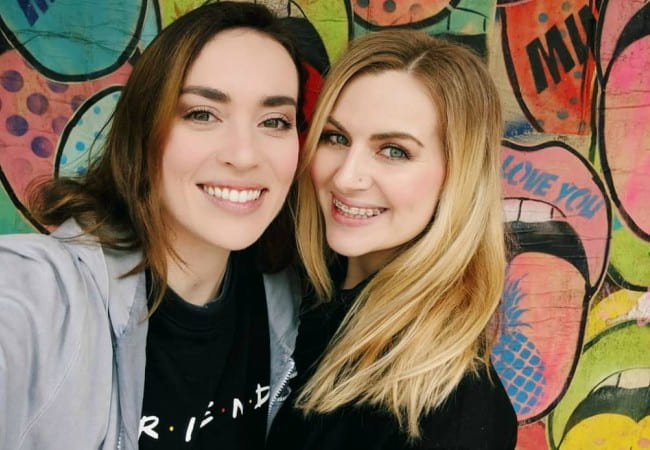 Race / Ethnicity
White
She is of English descent.
Hair Color
Blonde
She has also dyed her hair 'Dirty Blonde', 'Red', and 'Light Brown' in the past.
Eye Color
Blue
Sexual Orientation
Bisexual
Distinctive Features
Beautiful eyes
Dimpled smile
Brand Endorsements
Roseanne Elizabeth "Rosie" Spaughton has endorsed brands such as –
ASOS
Disneyland Paris
Best Fiends App
Moonpig
Badoo
She and Rose also took part in the JustGiving organization's 1-month shaving ban in September 2014, with hopes of bringing awareness to alopecia.
Best Known For
Having a prominent and influential place in the LGBT community, having been praised for positive content and open dialogue around sexuality
Her social media fanbase with more than 900k subscribers on her joint YouTube channel, Rose and Rosie, more than 500k followers on Instagram, and more than 500k subscribers on her initially personal YouTube channel, TheRoxetera, which was later converted into The Rose and Rosie Vlogs
First TV Show
She made her first TV show appearance as 'Herself' in an episode titled Norway of the reality-TV series Stupid Man, Smart Phone in May 2016.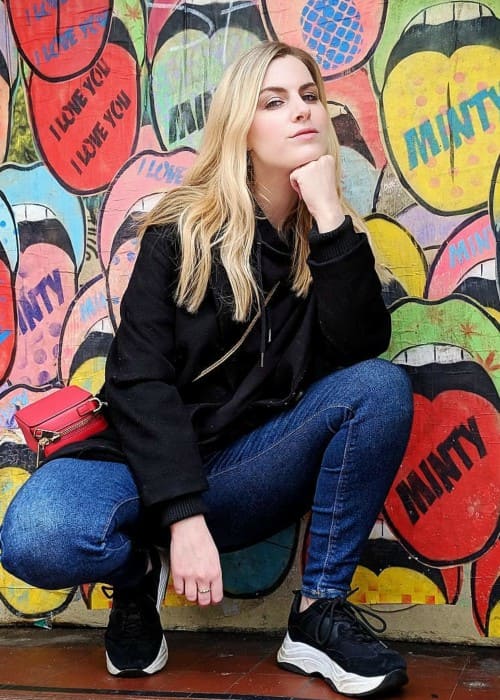 Roseanne Spaughton Facts
Both she and Rose were born in the sun sign of Gemini.
Despite being attracted to boys, Rosie thinks everyone knew she was bisexual since the early school days as she kept commenting about other girls.
Around the time she joined high school, she met a girl who was a lesbian, which led her to finally start dating a female for the 1st time when she was 14 or 15 years old. When she told her mom she liked girls, she dismissed the idea completely, telling her she didn't know what she felt yet.
During high school, Rosie once told her friend that she would like to sleep with a girl but she told her no. However, during a party, the friend changed her mind and they got drunk. After they ended up spending the night at her friends' dad's house, it dispelled all of the doubts she had.
Rosie was known for starting the 'BISEXY SERIES" on her YouTube channel before it turned into The Rose and Rosie Vlogs. After the transition, the two also created video series such as #RealTalk and VLOGMAS, the latter of which they entertained every year around Christmas festivities.
She is a massive Harry Potter fan.
She made her blog, A Life Full of Roses, during the 1st year of university. It served her as a personal diary as no one read it at the time.
Rosie and Rose have a dog named Wilma and a cat named Flynn.
She and Rose went on their 1st tour/meet & greet in 2013. During a joint tour with other YouTubers in 2014, their "ship" name was "The Roses".
She's most likely to appear in a p*rn flick, and reality-TV show out of the two. Rosie is also more likely to bring a book to a party, to catch an STD, get chased by a dog, say "I love you" and not mean it, do something weird to pay for college tuition, and get drunk at a funeral.
One thing that can always make her laugh is Rose walking funny, imitating something or someone, and falling intentionally.
In 2016, she and Rose were chosen by Sony Pictures to appear in a promotional scavenger hunt for their movies Inferno and Ghostbusters in Singapore. During that campaign, they met Tom Hanks, Ron Howard, Paul Feig, and Melissa McCarthy.
Rose and Rosie once watched a p*rn video and were so invested in the story that they had to keep looking for Part 2. The story was about a young girl trying to make her career in Los Angeles and had to sleep with her agent.
She and Rose attended their 1st London Pride event in July 2017.
Rosie and Rose won an AfterEllen Visibility Award in 2015 for "Favorite Real Life Lesbian Couple". She was rated at #23 on the "AfterEllen Hot 100" list in August 2016. That month, their joint YouTube channel also reached a milestone of 100 million views.
Both she and Rose had a celebrity crush on Camila Cabello, who was a Fifth Harmony band member. They had a chance to meet and interview Camila during the BBC Radio1's Teen Awards event in October 2017.
She once got a necklace as a gift but it was wrapped up in paper with her name spelled wrong.
Rosie once gifted something to her friend and then that friend sent her a video of throwing it in the trash.
Her morning habit is to have a cup of tea when she wakes up.
She drove a car for the 1st time in January 2019.
Rose's dad decided to make an early birthday surprise for her in May 2019 and painted a picture of her in watercolor. It also matched the painting Rose had of herself, which she got back in 2013.
Her celebrity crush is James McAvoy. She knows where he goes to the gym in London but has consciously decided not to stalk him. Rosie also really likes Britney Spears.
Visit her official website @ alifefullofroses.com.
Featured Image by Roseanne Spaughton / Instagram