Rozanna Purcell is a model turned fitness expert who works out several times a day and makes people wonder how she does it. She does different exercises, eats wisely and is not obsessed with a diet or clean eating. So, what are her fitness secrets you can try? Scroll down to find out!
Roz Purcell Workout Preferences
The former Miss Universe Ireland is a fan of different workouts. She likes boxing, she likes yoga, and she likes weight training too. She says that like most girls, she assumed that cardio exercises are the best because weight training might make you look too big. But when she started weight training, she realized that this exercise method is not only useful in keeping herself in shape, it also helps her to improve her metabolism and mental health.
Exercise Addict
The exercise addict trains about 10 to 11 times a week and varies exercises along with targeting different body parts each day. She takes a rest day every fortnight and if it isn't enough, she extends it.
Workout Motivation
Mental health is one of the biggest reasons that she is an exercise addict. When she trains, she feels energized and thinks that she can do anything. Roz also says that rest days are vital as they help her be better. So, she has found a perfect balance between training and rest days.
Participating in Triathlons
The food entrepreneur used to participate in Triathlons and even took part in the Ironman 70.3 in Austria. But, soon she realized that she wasn't made for it as she started losing a lot of muscle. So, she had to give it up. She still appreciates people who do it but thinks that it's not her cup of tea, not only because she lost muscle but also because she didn't enjoy them particularly.
Boxing is Good
The stunner says that many girls perceive that boxing and fighting are not good for them as it would lead to hurting their face or nose. But it's so not true. There are so many benefits of boxing which range from strengthening your mind to helping you stay in the present. It also helps you to learn to defend yourself and might also lift your mood if you are having a bad day.
Though the beauty warns that getting injured is the part of the package (she has been injured too many times to count) but if you master the art of boxing, you will be able to avoid injuries and defend yourself more easily. Rozanna also says that often the fear of getting hurt is more terrible than getting hurt. So, you should get rid of the fear, and you'll do fine.
Roz Purcell Diet Secrets
The Irishwoman is hooked on the plant-based diet these days. She eats whenever her body demands food rather than force-feeding herself when she is not hungry or starving herself when she is hungry. Purcell also includes fish in her diet because she is unable to give it up.
Her diet secrets also include making everything from scratch as it helps her to know what exactly goes into making a dish. She never buys pre-made or processed foods. Drinking water (at least three liters a day) is essential for her because she trains so hard and it helps her stay healthy.
Post Training Meals
After training, she likes eating right amounts of protein and carbohydrates to aid her recovery. She usually has egg white oats after a training session because it's a perfect combination of carbohydrates and lean protein. It's her go-to when she returns from the gym or class.
Healthy Portions
Her boyfriend, music promoter Zach Desmond had previously said that she eats like a bloke. Talking about this, Roz said that she has a healthy appetite because she grew up with huge portions. So, it's difficult for her to stick to small portions.
Diet Indulgence
The author says that she never restricts herself from indulging once in a while or feels guilty about the indulgence. Some of the foods she indulges in are Indian curries, banoffee pies, pizza, Nutella, and chocolates. She drinks alcohol about 6 times a year and that too mostly when she is attending a social event or partying with friends.
No Diets Now
The former model admits that she did every diet there was during her modeling days. None of the diets worked for her as she always ended up bingeing. She says that diets are a recipe for disaster and a vicious circle so you should stay away from them.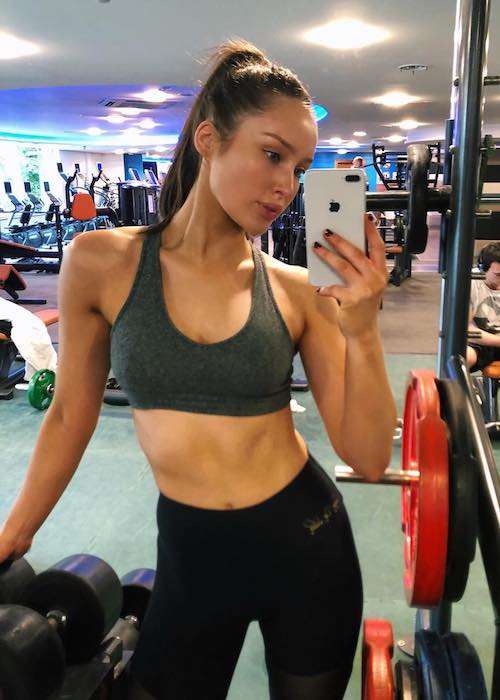 No Obsessive Clean Eating
Purcell admits that she was among the first few food bloggers who were obsessed by clean eating. There was a time when she ate only foods like kale salads, quinoa salads, avocado on toast, etc. She did it for a while and then realized that it wasn't how she needs to eat every day. She realized that healthy food must not be difficult to get but should be easily accessible. From that day, she has been making usual foods healthy and creating her own recipes.
Relaxation Technique
The fitness enthusiast relaxes by baking. In her opinion, baking is a therapeutic thing that helps her to relax completely and also makes her a bit creative.
Featured Image by Rozanna Purcell / Instagram