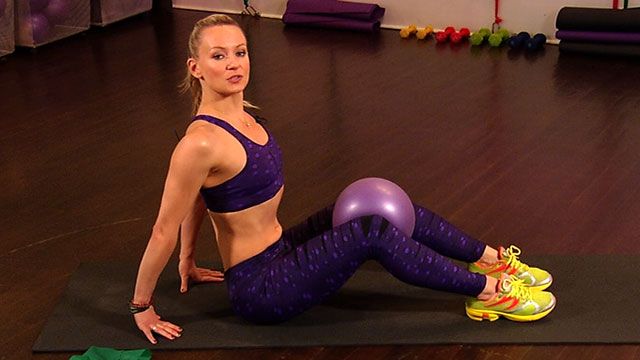 Simone De La Rue is a fitness trainer, so she has always been inclined towards fitness. She began her dance lessons when she was 3 years old while living in Australia. Then she worked as a Broadway performer and now, she has launched her first ever Body By Simone DVD named as "The Signature Classes." She has also gained popularity for being associated with various celebs. Her client list includes renowned names such as Sandra Bullock, Reese Witherspoon, Taylor Swift, Rosie Huntington-Whiteley and many more.
Now that you know who she is, let's have a look at how she motivates celebs to workout, how she helps celebs to prepare for an award ceremony, what keeps her motivated to do the job she does along with learning about many more secrets related to celeb fitness she shared recently.
Effective Celeb Workout
While talking exclusively to OK.co.uk, the great looking trainer spilled that the most effective workout for celebs is the cardio workout. She thinks it's more effective for women, who generally avoid it. Cardio exercises help you to burn off excess calories by keeping your heart rate up. When you are doing cardio, you should do it for at least an hour to get great results.
Keeping Up with the Celeb Schedules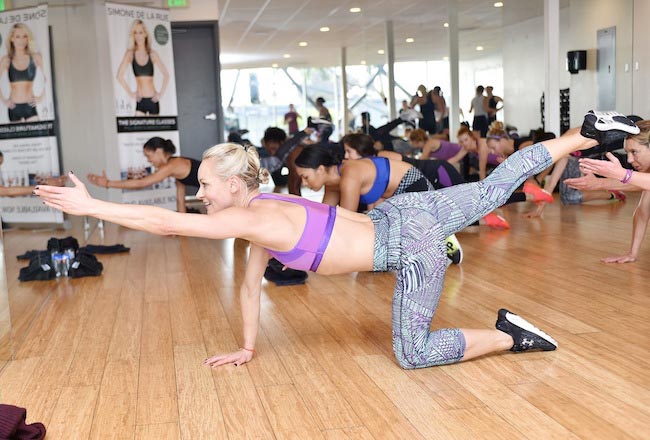 The Fitness Guru thinks her DVD is a perfect solution to the problem of keeping up with celebrity schedules. The celebs can easily use her DVD when they are traveling as she has created two signature workouts to help them. Even when the celebs are on the road, they will get the same workout (if they use the DVD) which they would have received at her studio when they were with her. (Want to buy the DVD too? Just go here.)
Key Areas Celebs Want Toned
Simone also spilled beans on what areas of their bodies do the celebs want to tone the most. She thinks women celebs focus more on keeping their abs, arms, legs, and butt toned as these areas are often showcased in the public. To make the women feel that they are getting the results, she even created a class known as hips, thighs and bums. In this class, which is an hour long, she focuses on exercises that keep the lower body toned and gets women a lifted butt without any surgery.
Her Own Motivations to do the Job
When asked about what keeps her going to keep celebs fit, the star trainer says that it's the spiritual transformation that comes in her clients along with the physical one. She likes making women feel very good about themselves and considers it a big gift of her job, which motivates her to do even better at her work.
Celeb Workout Challenges
The popular trainer also thinks that a cardio workout always poses a challenge for celebs. She always has to push them a bit more in each session to help them be their best at cardio. She also admits that cardio needs a lot of stamina already built up, so it's not easy for everyone to be good at it.
Keeping Celebs Motivated for Workouts
The Under Armour ambassador keeps the celebs motivated by setting realistic goals. She understands that they are humans too and if she can't workout every single day, neither can they. She also feels that it's okay for the celebs to not workout for a few days but she insists that they don't take the whole day off from the workout. She encourages them to do just 10 minutes of exercises because in most cases, people are only reluctant to go to the gym, once they reach it; they often start exercising and start feeling amazing due to it.
Celebrity Diet Assistance
The owner of a West Hollywood Studio thinks that a good diet is a key to fitness. She is a follower of Paleo Diet and knows that our body is 80% what we eat and 20% how much we exercise. While following Paleo diet, she stays away from caffeine, dairy, gluten, alcohol and sugar. She also guides her clients on following a healthy diet plan.
Travel Diet of Celebrities
The lovely lady admits that it's not always possible to follow a diet plan when you are traveling. So, she suggests that one should take some type of proteins and vegetables in every diet, no matter where they are. She also suggests that one should carry their healthy snacks and a water bottle everywhere with them to stay fit while traveling.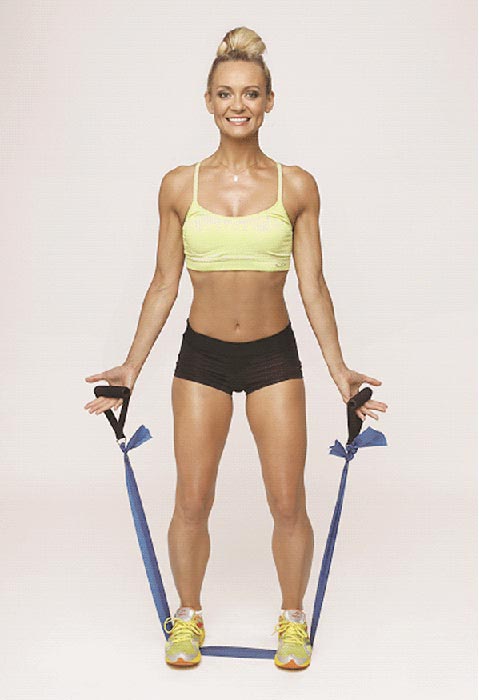 How Celebrities Prepare Before An Award Ceremony?
The beauty also spilled beans on how celebrities prepare before an award ceremony. She helps women to tone their upper body, especially arms because they often wear strapless dresses. She calls them red carpet ready arms. The renowned trainer also helps celebrities to tone their waist which allows them to wear cinched-waist dresses. Finally, she helps celebs tone up their legs before every event as celebs do like displaying their legs too. Some celebrities also wish for toning their core to look great on the day of an award ceremony.
Liked the secrets shared by Simone? Want more of them? Simply visit her over here.