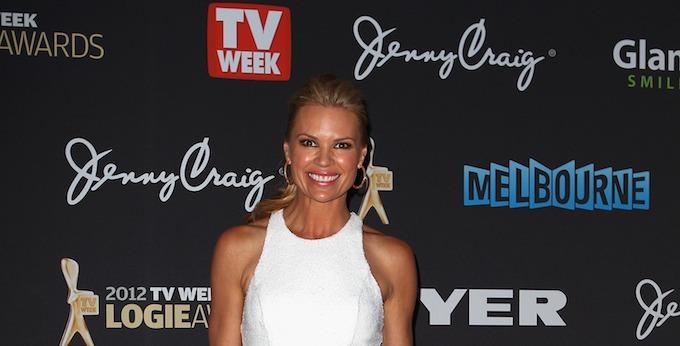 Elegant look, poised style, Sonia Kruger is an Australian TV personality. The goddess of beauty is equipped with the enviable and svelte body. Despite crossing forty-five age group, Sonia still looks two decades younger to her age. Her toned arms, legs, and flat belly are sufficient enough to make any girl in her twenties envy the well-defined hot figure of Sonia.
Filled with youthful charm, Sonia feels, she has begun feeling more confident and better about herself after joining the league of "above forty" celebs. It's not that the kickass beauty stays obsessed with workouts and diet. She, in fact, has been able to maintain her paragon figure with the aid of commendable lifestyle. She shares, she always had more of an athletic body, which actually is the most desirable physique popular among young girls. However, she being more inclined to have hourglass figure always wanted to have a more curvaceous figure. And the process of aging is actually turning her desire into the reality by rendering her fuller hips. Let's have a look at the diet plan and workout routine of Sonia Kruger.
Sonia Kruger Diet Plan
Sonia embraces healthy diet regime and eats tremendous wholesome foods in her daily routine. She admits to having craving for sugary foods in the afternoon, which she gratifies by munching sugarless gum. She contends until you feed nutrient dense and wholesome foods to your body, you don't have to stress about the accumulation of fats inside your body, for your body is well programmed to metabolize healthy foods. The problem comes only when your food consumption is based on unwholesome foods such as processed foods, fried foods, fatty foods etc. These food items put undue pressure on your digestive tract and metabolism.
Since Sonia practices tremendous dance, she is very likely to have painful joints. So to maintain good health of her joints, the glam lady consumes supplements of fish oil. The ravishing personality doesn't appreciate the idea of compromising with her taste, so she focuses on cooking wholesome meals with the use of bountiful herbs and spices. Let's have a look at one of the typical diet regimes of Sonia Kruger.
Breakfast – Sonia loves having multigrain toast with avocados, tomato, smoked salmon, scrambled egg etc. in her breakfast.
Lunch – Her lunch generally consists of tinned asparagus, beetroot, chicken, salad etc.
Dinner – She likes having bacon, veggie soup, lentil etc. in her dinner.
Sonia Kruger Workout Routine
Workout routine of Sonia is not very vigorous. The sassy star hits gym three to four times in a week and performs workouts such as boxing, strength training etc. However, she doesn't feel much enthralled by conventional and boring workouts practiced at gym. She rather favors doing outdoor workouts to indoor workouts. She loves doing Bikram yoga and practices it every now and then to detoxify her body and mind. At times when she feels down and doesn't feel like doing workouts, she executes her workouts while being accompanied by her pals. Her workouts under those circumstances are amalgam of fun and workout, which rejuvenate both her body and mind. She adores playing tennis along-with her pals. Her affection to speed has her dislike golf, which is far slower and lazy game.
The blonde stunner seldom denies the influences of workouts on her body. She shares, in her bygone days, she used to be really passionate about dance and practiced dancing for numerous hours. She used to dance until her legs started hurting. Her honed legs in-fact are the testimony of grueling dance sessions she used to have. In her routine, she also practices zumba, hip-hop, and several other dance forms to sculpt her body.
Healthy Recommendation For Sonia Kruger Fans
Having a captivating bikini-embracing figure at such an age indeed is a matter of proud for any woman on this planet. However, without being arrogant, the graceful beauty candidly talks about her body. She contends, workouts inevitably are beneficial for your body, but prior to doing them, you need to have the realization, which particular body part of your body needs special attention. Once you recognize the chubby areas in your body, you should aim to execute diverse exercises to tone those areas and purge them from extra pounds. Right approach of shedding weight will not only direct your steps, but will also get you superb and graceful body.
Not only does she stay agile in her routine activities, but while adhering to healthy lifestyle, she sleeps and gets up early. Unless you have urgency to be awake till late at night, you should not nurture the habit of being up till late at night. Even adequate eight hours sleep of late night is incapable of making you feel as fresh and lively as you feel when you wake up early in the morning. People who wake up early in the morning naturally are more sprightly and haler than late risers.