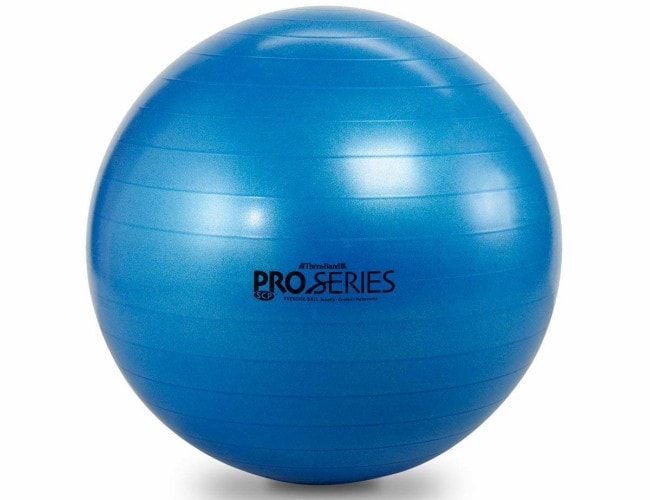 Exercise balls have become an important and effective tool for fitness today. It is called by many names like yoga balls, Pilates balls, Swiss balls, or even gym balls. By whatever name you call them, these exercise balls are great for achieving your fitness goals. The best feature of these exercise balls is that they are burst resistant, so there is hardly any chance of getting injured. Using this exercise ball, you will be able to improve your balance and posture.
If you want to buy an exercise ball that is durable and affordable, then you can buy the TheraBand Pro Series SCP Exercise Ball. This product has received an impressive number of positive reviews due to its quality and strength. If you use this ball regularly as part of your exercise routine, then you will be able to get a fit body within a short time. Here, we are going to review this product in detail.
Design
This exercise ball is designed in such a way that it retains air for a long time. This exercise ball is recommended by professionals. It is thick and durable that's why you will be able to do various kinds of exercises with it. The design is slick which facilitates movement. The surface of the ball is sticky which enhances grip and prevents slipping. This exercise ball is suitable for people of different heights. The different sized balls come in different colors including blue, green, red, silver, and yellow. It is burst-resistant and so you can sit on it and exercise using weights without worrying that the ball will puncture and you will fall to the ground. Its responsive surface design provides improved stability. The ball is easy to clean and so you will be able to keep it in good condition.
Build Quality
This exercise ball is constructed with high quality and environmentally friendly materials. It is made up of PVC Polymer and doesn't contain latex. It can withstand 2,200 pounds of weight. This ball has an anti-burst feature so even if you bounce on the ball and exert pressure on it, the ball won't burst or wear. It is sturdy and can retain air for a long time. You can get this ball in various sizes which make the ball suitable for different users. This exercise ball helps to balance, core stability, and posture. It also helps to prevent back pain. You can use this ball for improving flexibility as well. You can use the ball in both personal and professional settings. You can easily lie, kneel or sit on it while exercising your leg, shoulder, core or back muscles. You can also use it as an office chair.
Though the ball has been tested to be anti-bursting, still if it gets punctured it will deflate slowly without causing an injury to anyone. It has built-in latitudinal ridges and nice texture that provides excellent grip. The ball doesn't feel like plastic, so you will enjoy exercising using it.
Size
You will get this exercise ball in different sizes ranging from 18 inches to 33 inches. For an average user, the 22 to 30 inch balls are suitable. There is a reference chart to guide you and help you choose the ball of the right size. If you want to use the exercise ball as a replacement of your desk chair, then you need to choose a different size. In such a case, you need to measure the regular sitting position and find out the right size which can support your weight. With the 5 size options available, the ball can be a custom fit to users with heights 4'7'' to 6'8''.
Comfort
You will feel better and more secure by exercising with this exercise ball. You won't feel the excessive softness that may impede support but will feel comfortable to carry out various exercises. The surface of the ball is responsive so you will get better exercise results consistently. It has a good texture and ridges on the surface that provides outstanding grip. Therefore, you will be able to exercise comfortably all the time.
Effectiveness
You can use this exercise ball to exercise your hips, back, glutes, abs, and other muscles. It is great for flexibility and rehab. You will be able to include stability exercise into your workout routine and strengthen your core muscles. The ball has been designed to deflate slowly in case it gets punctured which reduces the chance of injury. So, the ball is safer to use compared to the other exercise balls in the market.
The TheraBand Pro Series SCP Exercise Ball is designed to improve performance due to its responsive surface design. You can improve your performance by following the exercise guide you get with it. This guide contains 24 exercises that can help you to improve your muscles, balance, and posture.
Price
It is a very affordable exercise ball and you will be able to buy it for $23.99 to $49.99. The price varies according to the size of the ball. You should choose the height according to your height and weight. You get hand pump, an exercise guide, and other accessories for free when you buy this exercise ball.
Pros
It is made of high-quality polymer and doesn't contain any latex which makes it environmentally friendly.
It comes in 5 different sizes and colors.
You will be able to use it in different fitness and rehabilitation settings.
You can use this exercise ball to improve your posture and core stability.
Many physicians suggest this ball for relieving back pain.
It provides improved stability where the body touches the ball, and this leads to better performance.
The ridges and textured surface ensures a better grip.
It deflates slowly if punctured and thus prevents injury.
It is easy to clean.
You can use it as an office chair.
You get 2 plugs, an inflation adapter and an exercise guide that details 24 exercises.
Cons
It takes a long time to inflate.
You cannot choose the color as the color according to your preference as it depends on the size.
Final Verdict
Exercise balls have become very popular recently due to the different fitness and health benefits it provides. By incorporating this exercise ball in your daily routine, you will be able to improve your posture, balance, core stability, and strengthen your muscles as well. You can use it while doing yoga, Pilates, Cross-fit or other exercises.
However, you should be cautious while using an exercise ball. If you had any past injuries or spinal cord problems, then it's better to speak to your doctor first before you start using this ball. When using it, you should make sure that you inflate it to the exact level the manufacturer has instructed you to do so. If you over or under inflate the ball, then it may lead to premature bursts and cause injuries. You will also not get better results from your performance.
The TheraBand Pro Series SCP Exercise Ball has been designed for both personal and professional use. You can also use it as a desk chair in your office. It is safe to use this ball and you can kneel, lie or sit on it without feeling any discomfort. It will help you to build up your muscles and perform various exercises to improve your fitness. It is one of the best-rated exercise balls in the market today and is worth buying it.