A man with Mongolian look and remarkable cheekbones, Tiger Shroff is a dashing son of famed Bollywood celeb, Jackie Shroff. With his debut movie, Heropanti, Tiger recently has made his entry in Bollywood. Despite being mainly actress dominated movie, Tiger indeed has been able to leave an ever-lasting influence on his fans with his jaw-dropping difficult and audacious stunts.
Considering Bruce Lee as his deity, the fitness freak, Tiger also came into the glare of publicity when he trained legendary Indian actor, Aamir Khan for Dhoom 3. Equipped with six pack abs and muscular body, the actor is an avid football player, proficient in martial arts, and passionate dancer since his childhood. However, since there is no apparent future for football players in India, the lad diverted his interest from football to acting. His fervor for martial training had him succumb to it at the age of four. And as a grown up boy, he is religiously getting gymnastics training from Ziley Mawai from last four years. However, his purpose of nurturing his body with workouts and diet is not to look fit and slender in movies, it rather gratifies him when he works hard to look awesome.
Tiger shares that at the age of fifteen, he was mere 5 ft 3 in, emaciated poor kid, which indeed embarrassed him like crazy. Overly concerned about his vital stats, he dwelled on Men's Health magazine. And from there he discovered strength training. After getting a way, he reached the fitness center and got proper training of weight lifting workouts which were apt for him, according to his age. And from that time on, he never turned back. Not only did he start getting strong and muscular body, he also gained enormous resilience required for playing football.
Tiger Shroff Diet Plan
The young boy being following healthy eating from his childhood eats very discreetly. Having cultivated healthy taste, the actor naturally doesn't feel captivated towards unwholesome foods. No matter what, he doesn't go out of track and dedicatedly swears by his diet. Mostly refraining from carb containing foods, the actor seldom consumes carb containing foods past five in the evening. Prior to preparing himself for his role in the movie, he allowed himself to relish one cheat day in a week.
However, to sculpt and tone his body for the role, he followed restrictive and nutrient dense diet for all the seven days. While comprehending the hostile impacts of high sodium foods, he prefers eating low sodium homemade foods. Apart from steering clear from alcohol and cigarettes, the guy also doesn't believe in supplements. He reckons, if you render adequate nourishment to your body through organic foods, you don't need any supplement. And not to mention, the guy drinks tons of water in a day to hydrate his body and boost its functioning.
Tiger Shroff Workout Routine
Having impressed his personal trainer, Jay Chauhan with his sheer commitment and regularity to workouts, Tiger hits gym seven days in a week. While being watched by his personal trainer, Tiger executes gymnastics, martial arts, strength training, push-ups splits, high kicks, punches etc. for one and a half hour. He reckons indolence and sculpted body are unlikely to reside in the same room. So, he always prefers chiseled body over slothfulness. His supple body certainly testifies his passion for workouts. The bashful boy being big fan of Michael Jackson tried to copy every tiny aspect of his dance in his childhood.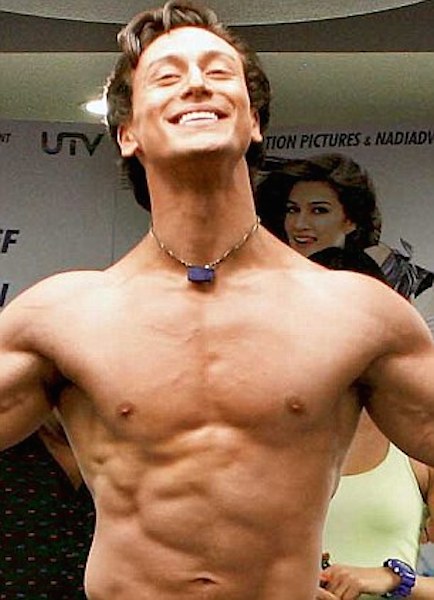 To save him from weight loss plateau and boredom, his personal trainer keeps altering his workouts after one month or so. Besides that, he has allocated his days of workouts on the basis of specific body parts. For example, Mondays are for chest and pectoral, Tuesdays for back, Wednesdays for legs, Thursdays for shoulders, Fridays for arms, Saturdays for joints, and Sundays for abs and calves. The chap banks on cardio workouts for revving up his agility and endurance, strength training to magnify his muscle mass and martial training for suppleness.
Healthy Recommendation For Tiger Shroff Fans
Here comes one healthy recommendation for Tiger Shroff fans who wish to acquire muscular yet slender physique like him. You can speed up your fat burning process, if you start eating healthy and nutrient packed snacks post workouts. Since there are numerous opinions and choices of post workout snacks available over internet, making right choices among them is really tricky.
You can trim down the long list of food items baffling you, should you eradicate fat opulent food items from the snacks. That being said, it doesn't imply that you cut fat from your diet regime itself. You rather have to avoid it after workouts. Since fat (good or bad) slows down your digestion, you don't get quick energy which is the main objective of snacks after workouts. Aside from that, be sensible about the protein you are up to consume after workouts. Solid protein not being easy to digest should be purged. Always pick liquid protein such as protein smoothies.