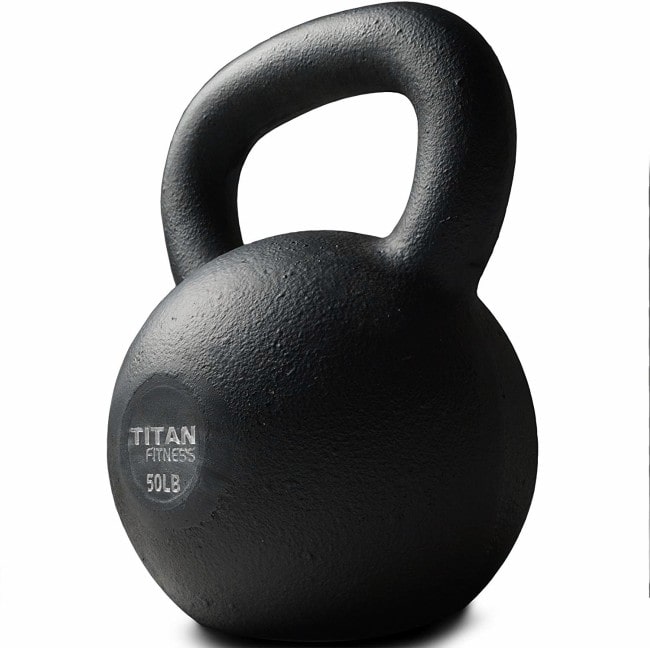 Unlike the other gym equipment like dumbbell or barbell, the kettlebell is not much talked about. However, it can be a very important addition to your daily workout routine. It is versatile and you will be able to perform different types of exercises with it. It can help to strengthen your core muscles like the lower back, abs, glutes, and even leg muscles. Kettlebells can range from very low weight to high weight. You should choose the weight according to your fitness level and slowly increment the weight.
A kettlebell is usually made of cast iron or concrete which makes them strong and almost unbreakable. It has a wide handle which you can hold with 1 or 2 hands and perform the different exercises. One of the biggest benefits of using kettlebell is that it helps in strength training. If your goal is to build muscles, then you must use a kettlebell. It is also perfect for a total body workout because when you lift a kettlebell you use every group of muscle from arms, shoulders, abs, back, core, and legs. Kettlebell also plays an important role in cross-training. It is good for your cardiovascular health too. With so many benefits, it is a smart decision to buy a kettlebell. Different brands have come up with different types of kettlebells. Here, we are going to review the Titan Fitness Cast Iron Kettlebell 5 to 100 lb and see whether it is worth buying or not.
Design
This kettlebell is best suited for the beginners and the intermediate users. It is constructed with high-quality material which makes it solid and comfortable to use. You will find everything you need in a kettlebell here. Though this kettlebell doesn't have a fancy design, it's simplicity will attract you. It has an extra-wide handle that lets you hold the kettlebell comfortably. You can hold it either with 1 or 2 hands. The handle has a neat texture that provides a superior grip, so it is highly unlikely that you will drop it. It has a flat bottom that will stay stable on the ground when not in use. So, you can store them easily.
Build Quality
The kettlebell is built with solid drop cast iron which is very strong and durable. It is gravity cast in a single piece and so it has no weak points. Even after a daily intense workout, the kettlebell won't break. It will also no degrade in shape or form over time. This kettlebell is ergonomically designed that will give you non-stop no drop action without causing any strain to your wrists or arms.
If you compare it with other brands, you will notice that it has a professional quality design and the weight is accurate. As it is made of cast iron, it won't break or tear. The texture prevents your hands from slipping even during intense workouts. The finish of the kettlebell is so perfect that it won't hurt your hands.
Size
The width of the kettlebell is 1.25'' which is compact and allows for easy storage and convenient use. You can choose from different weights from 5 lbs to 100 lbs. The weights are perfect and will help you to work out your specific muscle groups.
Comfort
This kettlebell is ergonomically built and so provides comfort during workouts. The handle is wide and so you can hold it comfortably. The texture allows non-slip actions even if you sweat. You won't feel any pain on your arms or wrists after workouts. It has a flat bottom that prevents rolling and reduces any injuries during exercise. The compact size and flat bottom also make it easy to store the kettlebell.
Effectiveness
With this kettlebell, you will be able to work your major muscles, burn fat and build power. You can perform different exercises like basic swings, squats, clean and press, and more. You can use it with one or both hands, so it is perfect for unilateral training when you have to train only one part of your body. This kettlebell is great for strength training, cross-fit training, and cardiovascular training as well. So, if you exercise with this kettlebell, your heart will remain in good condition.
The exercises that you do with this kettlebell are simple and convenient. You can watch some exercise videos to know the perfect way to exercise. This kettlebell is so perfectly designed that you will have excellent grip and your hands won't slip off during exercise. Your arms or wrists won't hurt after exercising. You can easily incorporate this kettlebell in your daily workout routine and achieve your fitness goals quickly.
Price
It is an affordable kettlebell that will give you great value for money. With this kettlebell, you will get everything you need from your daily exercise routine. The price of the kettlebell varies according to the weight. You can get this kettlebell from 5 lbs to 100 lbs. The cost of 35 lbs, for example, is $39.60 and that of 65 lbs is $91.99. So, the other weights will cost something in between. If you compare other brands, you will find that the price of this kettlebell is reasonable.
Pros
It has a simple yet attractive design.

It is compact, so easy to store and use.

It is made of high-quality solid drop cast iron that makes it extremely durable.

It has no weak spots and it is flawless as it is gravity cast in one piece.  

The handles are ergonomically designed that provides good grip.

It has a flat bottom that makes it easy to store and prevents rolling.

You can choose from different weights from 5 lbs to 100 lbs.

It is affordable and provides excellent value for money.

You can use it for different exercises that will work on different muscle groups and body parts.

It is great for strength training, cross-fit exercises, and cardiovascular training.
Cons
It is not ideal for people with small hands.

It doesn't have any vinyl coating.

You don't get any exercise guide with it.
Final Verdict
The best thing about this kettlebell is that it is made of one piece of cast iron. So, nothing has been welded on later that increases the chance of breaking or tearing. This kettlebell is extremely durable and will last you for years even if you use it regularly for intense workouts.
The black compact kettlebell looks very attractive. You can easily store it which makes it ideal for home use. The flat bottom ensures that it won't roll and cause any injury. The handle is wide, so you can hold it comfortably and lift it to do various types of exercises. As the kettlebell is versatile, you can use it to perform swings, squat, press, and other types of exercises.
Considering the other brands in the market, this kettlebell is priced reasonably. So, you will be able to include it in your everyday workout routine without spending much money. This kettlebell has received a lot of positive reviews from users and you can buy it to improve your fitness.