Victoria's Secret Angel and Australian bombshell, Miranda Kerr is a mom and still looks awesome. She has maintained her body and figure so much that she does not look like a mom. By just watching her, it is not easy to tell her exact age. We need to read her statistics and profile to get that knowledge.
It all depends on her exercise and eating habits. She is paying attention to ballet and Pilates these days. Andie Hecker is training her ballet for the same. Kerr, who is so passionate about the health and wellness that she would have been naturopath or nutritionist, if she weren't a model. She told to Harper's Bazaar in September 2012 issue.
"Beauty starts from within and I make a conscious effort to fill my body with nutrients through the food I eat."
After becoming a mom, she has gain more exposure to health and this has resulted her to be a certified health coach practitioner.
She follows Blood Type Diet, which has been advocated by Dr. Peter D'Adamo, who is a naturopathic physician. He has released a book Eat Right 4 Your Type which outlines the things related to his idea of Blood Type Diet. According to him, you are required to eat, based on your blood group.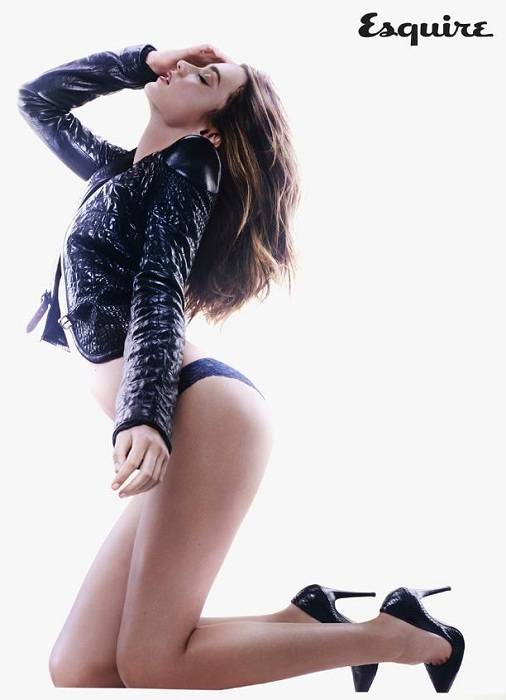 He claims that ABO blood type is most important factor in determining one's diet or what food to eat. Because the food which we consume contains lectins (sugar binding proteins) and when the food enters the body, the lectins react with the different ABO blood type antigens and produce harmful results. So to minimize the incompatibility of these reactions, we need to take care of the food which we intake. Hence, this diet comes into picture.
So, depending upon the blood type, there are different and unique suggestions to an individual.
Blood Group A – Miranda is of A blood group. So, people with this group are advised to eat more of a vegetarian food like vegetables and avoid red meat. This is what this Australian beauty follows. Such people are called agrarian or cultivator by D'Adamo. This blood type came around 20,000 years before.
Blood Group B – People with blood type B are known as nomad and can develop well on dairy products. He believes that these people have strong immune system and flexible digestive system. This blood group is arrived 10,000 years ago.
Blood Group O – This is the oldest blood group which came into existence nearly 30,000 years ago. Such people are called hunter by Dr. Peter D'Adamo. He emphasizes to eat a high protein diet as this works best for them.
Blood Group AB – This one is the most recent blood type and is just 1,000 years old. These people are best called enigma by D'Adamo. For dietary needs, he says that this one comes in between blood group A and B.
So, now you know which diet suits you most. It is up to you that you want to follow this diet or not. But, Kerr says that it is doing wonders for her (and you can also see the results). The only thing, she faces is the deficiency of iron. The heme iron is available in great amounts for absorption in case of non-vegetarian foods. Whereas in veggies, you can't get most out of them.
Please make sure that this diet will be helpful for you also. Because the critics consider that there is not enough science to support the recommendations. Due to lack of evidence, as of now, it is not advised for you to blindly accept this diet without any consultation from your physician.
For more information on this diet, you can also visit Peter D'Adamo's website.
Additionally, Orlando Bloom's wife, Miranda Kerr also practices the funda of 80-20 rule. That means she eats 80% healthy and 20% whatever she wants to have. She credits her family for this.
There are other Victoria's Secret models, who have shared there fitness secrets. Read out more here.