The SAG Awards held on March 8, 2015 at the Los Angeles Shrine Auditorium, have been the talk of town for many reasons. With some mesmerizing dresses and great suits visibly heightening the fashion quotient at the red carpet, the spectacle was worth it. But amid all the glamour and opulence, were some oops moments too. Well, we are talking about the glitterati who wore it all wrong, mismatched, goofed up the look or wore a size too small at the Screen Actors Guild Awards.
Reality bites! But the truth is that there were some great fashion disasters at the event that forced us to come up with a top 10 list of the worst dressed celebrities at the SAG Awards. Have a look and we are sure you would agree too.
Rosamund did a wonderful job in the movie Gone Girl, but she failed to impress at the SAG Awards. She was wearing a Dior dress that covered a huge portion of her body. The feel of so much fabric on her skin also makes this an unfit dress that should have been avoided by the actress. Also, we can't forget that it is black and so makes her look smaller. Many people think that she could have worn a much better dress at the red carpet.
Women with curves should be more careful when it comes to choosing a dress. It is easy to make a mistake and go for a dress that is not suitable for your body. Dascha's choice can definitely not be called good this time. It is a white dress that will remind you of the drapes that your grandma hung on the windows of her room. Curvy women should avoid white color as much as possible.
Sarah's body was not prepared for this Vera Wang gown. A smaller dress would have made her look perfect. It is great from the waist and above, but the sheer skirt doesn't look good at all. The top of the dress should be the focus, but the skirt makes the whole picture go wrong.
Sometimes avoiding a dress for the red carpet is a great thing to do. But, it doesn't turn out to be the right move for Julia. A jumpsuit requires a specific body and character. Maybe it could've been designed better, but it is still not suitable for such an actress. The wrinkles on the waist aren't going to make the look much more pleasant, and the shoes can be better, too.
It doesn't matter how much time you spent on the dress, because the fashion critics just don't care. This dress doesn't look good at all. It is too shiny for Laverne's curvy body and the hair is also not looking too good. Maybe Cox needs to pick another color next time.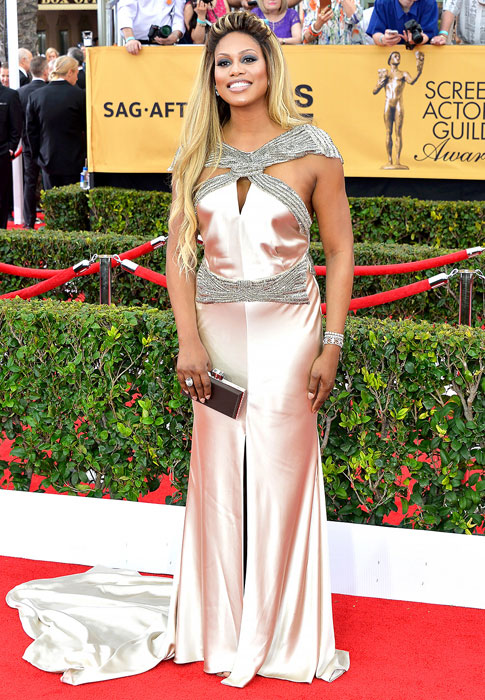 Barbara Rosenblat
Rosenblat's choice for the Red Carpet at the SAG Awards was a total fashion disaster. Firstly, it doesn't suit her figure as a dress would do a much better job when it comes to showcasing her classy look. The velvet jacket with the silver blouse is a combination that no one should prefer to wear. It offers the fashion world her manly side, and not the majestic look that she could have carried off.
Lorelei has a beautiful smile but this couldn't hide the fact that she was not dressed appropriately for the Awards. Women without enormous curves should avoid so much material in their dresses for an occasion such as this. There are also some baggy lace inserts that don't work with her body and face. Linklater, you should pick wisely next time.
Wearing a dress with a zebra-print will never make you look good at the red carpet. Laura has disappointed with her choice because the crossover bodice doesn't go along with the skirt. Also, she doesn't have the curves to make the dress better, so there isn't a reason why she should be proud of wearing it. We hope that Carmichael will surprise us at the next red carpet with a charming and unique dress.
British actresses are always picky when it comes to their choice of dress. Many of them never disappoint to surprise us positively on the red carpet. But, that wasn't the case with Andrea. She made a terrible choice to show us the baggy green suit. The color looks horrible on her and there is no reason to like it. The SAG Awards deserves better from Riseborough.
Uzo Aduba is a charming lady who has worked hard to achieve her goals as an actress. She definitely deserves to walk the red carpet, but not in the yellow dress characterized by black circles. The mesh-like dress is not suitable for Uzo's body and the fashion critics will confirm that too. Always be careful of what you are choosing to wear.