Eating right and well can do wonders to your look. Not only it can trim your waistline, but will also give your skin the natural glow and your hair shiny luster that can drop years of your face. Yes, that is right. Eating healthy can deliver far better results than your hundreds of dollars worth cosmetics can. It can smooth out the wrinkles and can strengthen your flimsy nails. Also, the food plays a key role in your aging process.
To look younger, you need to create an eating plan that is built around the consumption of amino acids, nutrients and fatty acids, which will protect your body from damaging environmental stress. Also, you need to ensure that your daily dietary intake is giving your body a steady supply of natural antioxidants. So, here are 10 edibles that can improve your looks and can help you age gracefully and elegantly.
The recent study published in The Journal of the National Cancer Institute found that drinking caffeinated coffee can reduce the risk of melanoma. Melanoma is a malignant skin cancer, which is often caused by the exposure to the UV rays. In fact, it is the fifth most common cancer in the United States. The researchers found that the more coffee people drank, the less likely they were to suffer from this disease. To be precise, those who consumed four cups of coffee daily had a 20 percent lower risk of developing malignant melanoma over the period of ten years in comparison to the non-coffee drinkers.
Caffeine from coffee is used in several skin care products, especially in cosmetics that get rid of cellulite or at least the appearance of it. Caffeine is a natural stimulant that stimulates the brain and nervous system. This indirectly will make you feel more energetic and could lead you to do more exercise, which is beneficial to the skin. Caffeine can also be used as a gentle exfoliator. The coffee grounds can help to pull water from the fat layers of the skin, which will reduce the appearance of cellulite. Plus, caffeine is loaded with antioxidants that can reduce inflammation and can tackle the free radicals that often cause bloating and are responsible for dull skin.
Watermelon is much more than a refreshing fruit which will quench your thirst in the summer. It has vitamin A, C and antioxidants, which are beneficial for your skin health. Also, it has a high water content that hydrates your skin and makes it look radiant.
The free radicals are biggest culprits for causing signs of aging such as fine lines, wrinkles and age spots. And, watermelon is a rich source of antioxidants like lycopene, vitamin A and C, which help to reduce free radicals in the body. Also, watermelon is a natural astringent that can improve the appearance of our skin by acting as a natural toner. For this, you can massage your skin with a fresh watermelon slice or blend it with honey (which can also help keep your dry skin properly moisturized and hydrated). It can also help you deal with the oily skin. Mix hazelnut powder with watermelon juice extract and apply it on your face and neck. This will keep your skin well-hydrated.
Plus, watermelon is one of the best natural remedies for acne. If you regularly suffer from acne or pimple problem, just massage your skin daily with watermelon juice. Also, as it is a rich source of vitamin A, it can help you deal with excess oil problem. The vitamin A reduces the diameter of the skin pores, which minimizes the oil secretion by the sebaceous glands.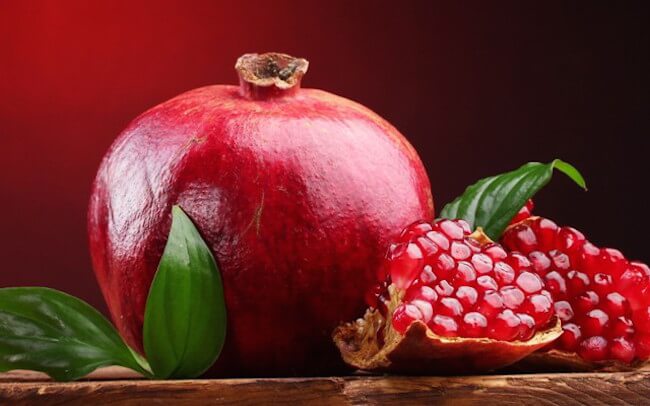 From centuries, pomegranate has been well known for its health benefits. But, did you know that it has several skin benefits that will slow down aging and will make you look younger? This red bellied fruit is loaded with powerful antioxidants that tackle signs of aging by preventing the damage caused by free radicals. Also, it has anti-inflammatory properties and is high in essential fatty acids, which are fundamental to skin regeneration and skin health. These anti-aging compounds stimulate the keratinocyte cells (skin cells), which further aids in cellular regeneration.
Also, the pomegranate is rich in vitamin C that plays a key role in formation of collagen, which is one of the building blocks of your skin. It enables and stimulates various proteins responsible for making healthy and stronger skin. In fact, one pomegranate can fulfill 48 percent of daily vitamin C intake.
Plus, the pomegranate juice can be highly beneficial for your skin. Not only it cleanses your skin, but also moisturizes it with micronutrients and phytochemicals. Also, the crushed pomegranate seeds can be used for exfoliating dead cells present in the skin. And, the pomegranate seed oil can protect your skin from the damaging effects of sunlight. This oil contains large amounts of ellagic acid, which is an antioxidant that the studies have found can inhibit the growth of skin tumors.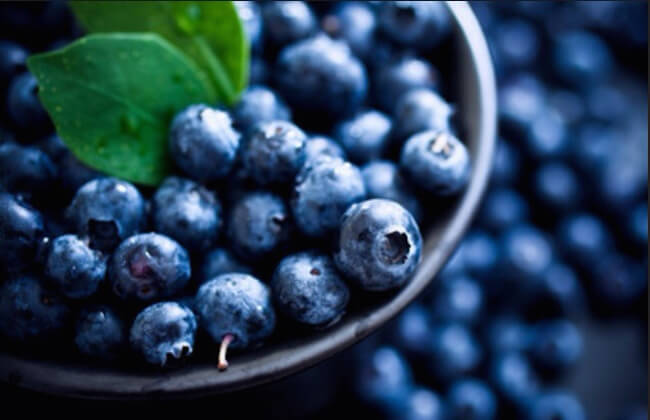 Regularly eating blueberries can give you a youthful skin and brighten up the dull and damaged skin. They are rich source of Vitamin A, Vitamin B complex and Vitamin C, which makes them an excellent choice to deal with splotchy skin, broken capillaries and acne. Also, it has high fiber content and is low on calories, so you don't have to worry about your dieting.
As it has been for other food items in this list, the antioxidants and phytochemicals in the blueberries neutralize the impact of free radicals, which in turn makes your skin look younger and softer. Often, skin looks blotchy due to weakened vessel walls. This could lead to the formation of tiny white lines that becomes visible on the skin. These broken capillaries that are often caused by long exposure to sun can take a long time to heal on their own. The anti-inflammatory chemicals present in blueberries can speed up the process. Also, the blueberries are helpful in strengthening these blood vessels.
Plus, the presence of fiber in this tiny fruit can indirectly help to make your skin appear fresh and healthy. The fiber plays a prominent role in the regulation of your digestive system and bowels. The proper digestion means regular removal of waste and toxins from your body. And, the absence of toxins, makes your skin look livelier and healthier. Coarsely mashed blueberries mixed with grounded almonds and yogurt can be used as a scrub to exfoliate the skin and helps the skin to absorb the antioxidants properly.
The shellfish is a rich source of zinc, which is fundamental for skin regeneration. It accelerates the renewal of skin cells. It also plays an important role in gene expression, cell growth and cell replication. In fact, dry skin is a symptom of a zinc deficiency. The lobster has anti-inflammatory properties that can help treat several different skin problems. These anti-inflammatory properties and zinc can help in treating acne as well.
Also, it has an antioxidant astaxanthin, which is a type of carotenoid that improves the elasticity of skin. These types of carotenoids also give skin the appearance of a healthy glow.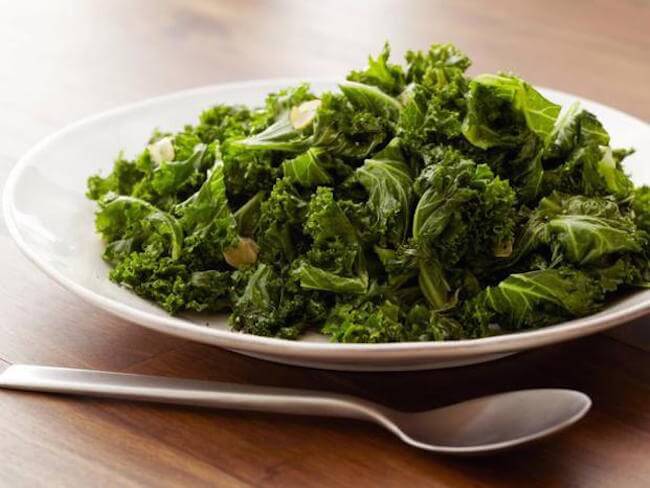 Kale is one of the finest health foods. It is notoriously low on calories and is loaded with essential nutrients. A single serving of kale has 33 calories and provides all the vitamin K, you need for the day. In fact, vitamin K is known for its ability to get rid of dark circles under your eyes and is an ingredient in many skin care products. Due to its vitamin C content, kale boosts the health of your skin. Vitamin C helps your body make collagen needed for skin strength. For uninitiated, let me explain that your skin contains collagen fibers, which are long strands of protein. These fibers form a network that holds your skin cells together. Vitamin C also has antioxidant properties, due to which it provides natural protection from the sun and prevents skin damage caused by exposure to the sun's rays.
Kale is also packed with copper that among other things boosts the synthesis of melanin, which is a pigment that protects your skin from the sun damage. It also controls inflammation and its anti-inflammatory properties can be beneficial for the skin.
Lastly, kale improves the health of your skin by increasing your vitamin A intake. Vitamin A enhances the growth of cells that make up the dermis and epidermis of your skin. The vitamin A deficiency would lead to healthy skin being replaced by dead cells and can also negatively affect the working of sweat and oil glands.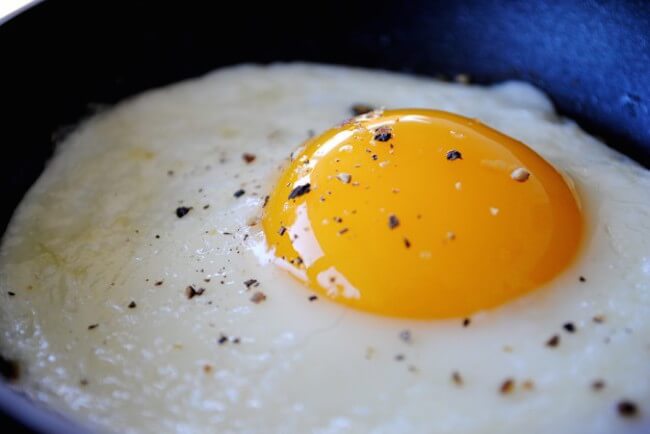 Due to the high protein content, the eggs play an important role in skin health by producing a steady supply of amino acids. These amino acids are used to create new protein within your skin cells. And, these proteins include collagen and elastin that lends strength to your skin tissue and melanin that contributes to healthy skin color. Apart from protein, the eggs also have skin friendly vitamin A and vitamin D. The skin benefits of vitamin A have been discussed in details throughout this article, so there is no need of any more elaboration. However, the benefits of vitamin D haven't been discussed enough. The vitamin D controls the growth of keratinocytes, which are protein-rich cells that make up the outermost layers of your skin tissue. Also, it supports the functioning of hair follicles, helps fight baldness and ensures healthy hair growth. Plus, the eggs contain selenium, which activates enzymes in your skin cells and these enzymes protect your skin from damage.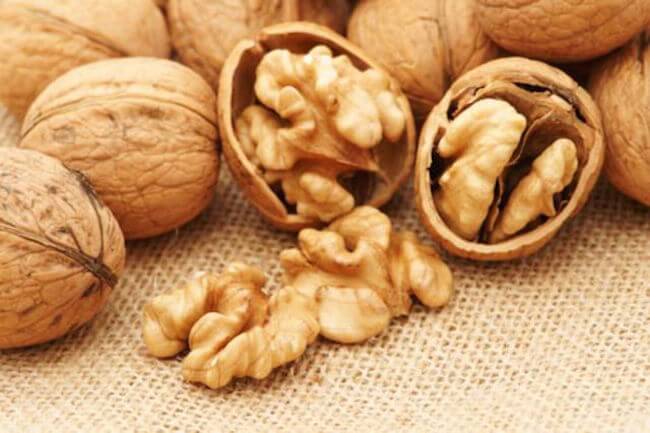 Walnuts are packed with vitamin B, which makes them great for skin health. The vitamin B reduces the stress levels and lower stress levels mean better skin. The higher stress levels are linked with premature aging signs such as wrinkles and fine lines. Walnuts also contain vitamin E, which is a natural antioxidant and helps in fighting the free radicals induced due to stress. The regular application of walnut oil can help in reversing dark circles. Walnut is a natural soothing agent and is known to ease puffiness and relax your eyes.
Furthermore, walnuts are a rich source of omega-3 fatty acids. The omega-3 fatty acids lock-in moisture and nutrients in the skin, thus making it plump and glowing. These fatty acids protect the skin against harmful UV rays and reduce the skin inflammation.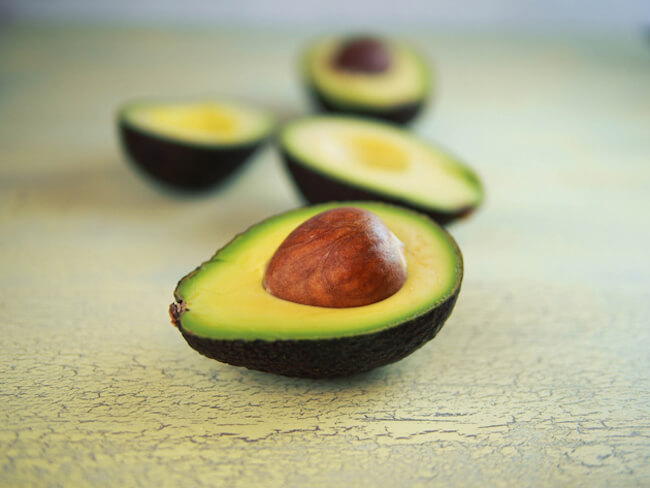 What a wonderful fruit avocado is! It has tons of health benefits. Not only it gives a steady supply of healthy fats and many other nutrients, but can improve your skin health as well. The avocados are a great source of antioxidants known as carotenoids including alpha carotene, beta carotene, beta cryptoxanthin, zeaxanthin and lutein. These elements pack quite a punch when it comes to tackling and destroying free radicals. They also protect your skin from the environmental damage, which could lead to fine lines, wrinkles and other visible signs of aging.
Avocados also have vitamin C, which apart from having antioxidant properties, also plays an important role in creation of elastin and collagen. Other skin benefit of avocados is that it has high oleic acid content. This fatty acid retains moisture in the epidermal layer of your skin, which assists in keeping your skin soft and hydrated. The oleic acid plays an important role in skin regeneration and has been found helpful in reducing facial redness and irritation.
The high content of vitamin A and C makes cantaloupe a great fruit for skin. The vitamin A encourages skin regeneration, whereas vitamin C plays a key role in the formation of collagen. Also, vitamin C minimizes the free radical damage, thus reverses anti-aging signs and maintains skin elasticity. The cantaloupe also has abundant folic acid content that facilitates the skin regeneration. Plus, cantaloupe is a good source of B vitamins including choline and betaine that keeps your skin replenished and rejuvenated.