Ask any personal trainer or fitness expert and they will tell you that you have to get various other things right apart from just hitting the gym regularly to lose weight and get fit. If you want to achieve your fitness goals, then not only you have to train with perfection, but will have to pay special attention to what you are eating and what you shouldn't be eating.
The right diet plan can increase your metabolism and jumpstart your weight loss program. Also, the right foods eaten at right part of the day will aid in muscle recovery and will ensure that your body gets the steady stream of proteins and carbs to get bigger and stronger, not bigger and flabbier. And, by eating right, we don't mean to imply that you should be surviving solely on grilled chicken and protein shakes.
This list includes a variety of foods that will assist in boosting metabolism rate, muscle recovery, energy supply and other various aspects of fitness regime. Incorporate these superfoods in your diet and maximize your fitness gains.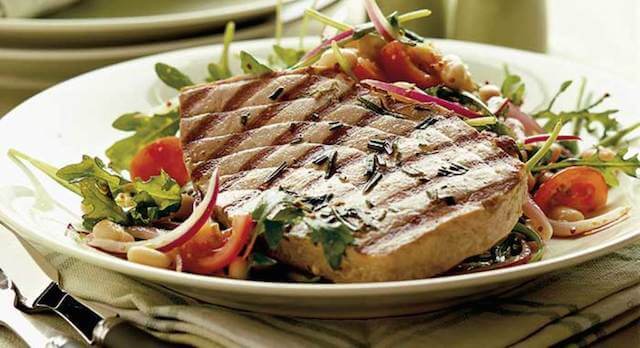 Tuna is one of the best suited foods for those who are spending hours sweating in the gym. Apart from being an excellent source of protein and low in saturated fats, tuna is loaded with vitamins and nutrients. It has a high protein content. How high? A single serving of tuna has about 23 grams of protein. Also, it is elemental in decreasing your triglyceride levels. Now, what exactly triglyceride levels are? The triglyceride levels in your blood indicates the amount of fat being carried. The high level of triglyceride means high levels of low-density lipoprotein (LDL), or "bad cholesterol." Whereas, the low level of the same means that you have high levels of high-density lipoproteins (HDL), or "good protein." I think you are smart enough to realize, which is better for you.
Another way in which tuna helps you to slim down is that omega-3 fatty acid found in tuna reduces the risk of obesity and improves body's insulin response, which aids in quick muscle recovery. The omega-3 fatty acid stimulates production of leptin hormone, which boosts body's metabolism while regulating the body's weight and food intake.
Despite so many benefits, people have started moving away from tuna due to the fear of high mercury content. However, only those who eat fish regularly are in a danger of having high mercury content in their bodies. You can eat tuna in moderation, which will help you get immense benefits of this superfood without worrying about negative effects of high levels of mercury in your food.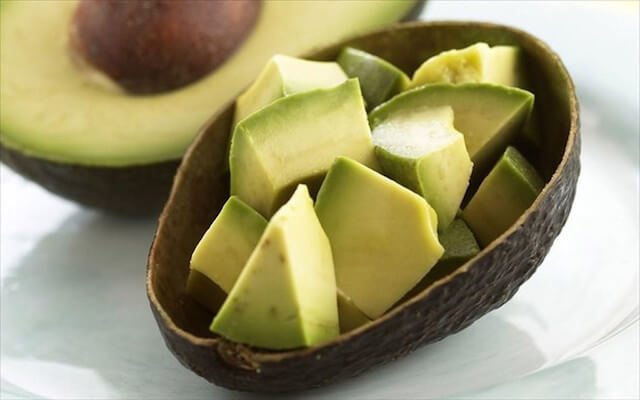 Avocados aren't called wonder fruit for nothing. This wonderful food, apart from helping in weight loss, improves cardiovascular health, prevents cancer, relieves symptoms of arthritis and can be an excellent choice for those suffering from diabetes. However, we won't be focusing on health benefits anymore, we are more concerned about the advantages it offers in achieving weight loss and fitness goals. The avocados are loaded with fiber, which is obviously helpful in a weight loss program. The fiber stimulates the friendly gut bacteria in the intestine and reduce blood sugar spikes.
Also, avocados have a high fat content. How is food high in fats supposed to help in weight loss? The research have found that monounsaturated fatty acids contained in the avocados are more likely to be used as slow burning energy than be stored as body fat. The slow burning energy make you feel full for longer periods, thus help in reducing hunger and appetite. The slow burning energy also makes avocados great as a pre-workout snack.
Clementines, being rich in potassium and high in energy are a perfect post-workout food. A single serving of fruit has roughly 130 milligrams of potassium. Now, most of the people are only careful about replenishing the protein stores after the workout. But, forget to refill the other depleted stores. Don't underestimate the importance of minerals such as potassium and magnesium. Lack of these can lead to cramps. Also, they are elemental in keeping pH levels in your body low and dictating the amount of water retained in your body.
Also, the clementines are low in carbs and doesn't spike your glycemic index. A single fruit has roughly 2 grams of fiber and only 8 total carbs per fruit. This makes them an excellent snack option. They are also rich in other nutrients and minerals such as vitamins, calcium and beta-carotene, which is one of the most beneficial antioxidants, you can consume.
Greek yogurt is another great food that has been criminally underestimated and underused. It can serve as a great workout recovery food. It is rich in amino acids, which are the building blocks of protein. They can assist in regenerating muscle tissue and repairing fiber damage. You can add bananas, berries or nuts to further enhance the nutrient content. The high protein content also makes it a good breakfast option. You can replenish the depleted protein stores without having to eat heavy foods like meat.
Another benefit of greek yogurt is that it can help you lose weight. In fact, a research conducted by the University of Tennessee, Knoxville, reveals that eating 18 ounces a day can help you to lose 22 percent more weight. Also, the same serving helps you retain one-third more calorie-torching lean muscle mass. The calcium in the yogurt signals your fat cells to pump out less cortisol. The cortisol hormone is produced by the belly fat and tells your body to accumulate even more belly flab. To cut it short, greek yogurt sternly orders your body to stay away from the fat.
The steak has one of the best and most complete collection of proteins. It has an impressive collection of the nine essential amino acids. Also, it has a high biological value, which means it can be very easily and quickly digested and used by the body. The studies have revealed that you should have foods with high biological value immediately after the workout to repair muscles quickly and effectively. Steak's nutritional value is not just limited to proteins, it also has loads of beneficial minerals such as selenium, iron and zinc. Selenium has antioxidant properties, zinc is known to improve immunity, and iron metabolizes protein and plays a role in the production of hemoglobin and red blood cells.
Steak has also an abundance of vitamins such as thiamin, riboflavin, niacin, pantothenic acid, B6 and B12. Though, the steak does have fats, but some of these saturated fats play an important role of maintaining testosterone levels. Also, one third of these saturated fats is stearic acid, which has a neutral effect on blood cholesterol levels.
It is a popular belief that watermelon is made up of only water and sugar. However, watermelon is actually a nutrient rich food, which provides high amount of vitamins, minerals and antioxidants. And, the best thing is that you don't have to worry about calories. As watermelon has high water content and is loaded with electrolyte minerals such as potassium, it can be used as a good post-cardio snack. Also, the presence of adequate amount of potassium in your body protects your body against cramps. As it is very low on carbs and calories, you can freely consume it while trying to lose weight. In fact, you can eat watermelon as one of the meals in a day.
Also, watermelon contains choline. Choline aids our bodies in getting better sleep, muscle movement, learning and memory. It is also responsible for maintaining the structure of cellular membranes, assists in the absorption of fat and reduces chronic inflammation.
Almonds are arguably one of the best nuts that have a high protein content. The fact that they come at the fraction of price of other protein rich nuts such as walnuts makes it an excellent choice. Not only, they are rich in protein and low in carbs, but they are also high in manganese and vitamin E, which are vital defenders against oxidative damage. The high protein and fiber content means that eating almonds will keep you satisfied for longer period. So, you can suppress your hunger without having to worry about consuming too many calories. They can be used as an ideal snack substitute.
Other health benefits of almonds include antioxidant ability, protection of cell membranes from damage, assists in blood sugar control and lowers cholesterol levels. So, what are you waiting for? Always keep a stock of almonds ready.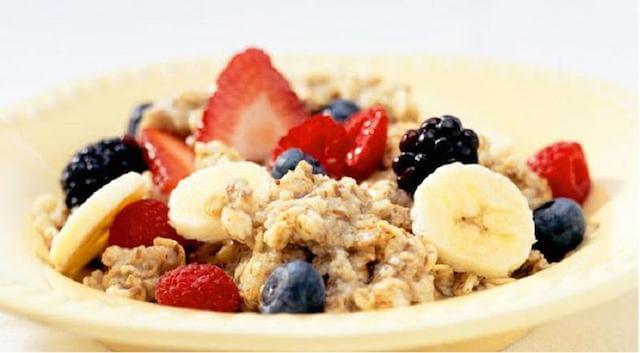 Oatmeal can serve as an effective component of any weight loss diet. It is an ideal low calorie breakfast. A single serving of an oatmeal has just 150 calories. The best thing is to make it tastier, you don't have to add a dollops of butter. Just top it with berries, apple, banana or any nut and you get a hearty, healthy and tasty breakfast. Also, it has got very low fat content. A single serving of an oatmeal has three grams of fat. And, most of these fats belong to the monounsaturated or polyunsaturated categories. These fats doesn't have any negative effect on your weight loss program and are essential for some body functions.
The high content of soluble fiber present in oatmeal will keep you satisfied for longer than bran cereal, whole grain bread and eggs. Also, the fiber is known to act with good bacteria in the gut that triggers digestion and hampers the fat storage.
These immature, green soybeans have taken the world with the storm. You can boil them whole or shell them and eat as a healthy snack. Or, you can add them to salads and soups. Just like its versatility, the health benefits of these beans are immense. First of all, they are extremely rich in proteins and very poor in fat content. A single serving of edamame have 17 grams of protein and less than 1 gm of saturated fats. It also provides body with nine essential amino acids, which our bodies cannot manufacture. Also, they have decent fiber content, which will keep you feel fuller for longer time period. Other benefits of edamame includes great antioxidant abilities. They contain isoflavones and saponins, which effectively negates the harmful effects of radicals and toxins.
It doesn't matter whether they came before the bird or after. They are arguably, the finest food item in the whole world. Boil them, fry them or simply scramble them. But, do eat them. Not only they are laden with proteins, but they have one of the most comprehensive collection of vitamins and minerals. One little egg is loaded with several beneficial vitamins such as riboflavin that helps your body to break down food into energy and tocopherol that fights off the free radicals causing tissue and cellular damage.
Though, due to its fattening perception, it may seem improbable, but the eggs do help in weight loss process. A study carried out by the Rochester Center for Obesity Research revealed that eating eggs for the breakfast can limit your daily calorie intake by at least 400 calories. This could be due to the fact that eggs keep you full for longer time and also have very low calorie count.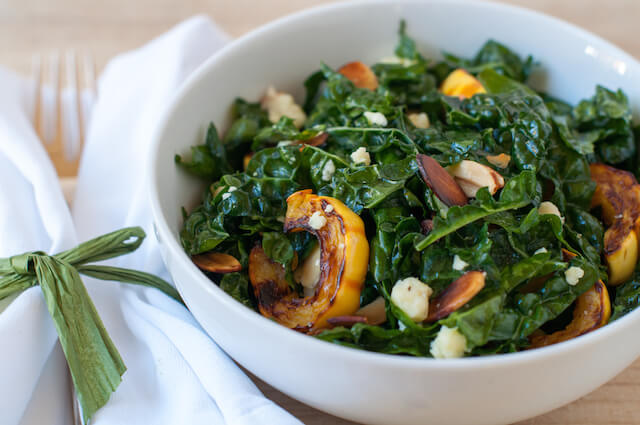 Kale is one of the most nutrient dense foods on the planet and is the king of the super healthy greens. Being a water rich food, it has very low calorie count, fats and carbs content. A single cup of kale (about 67 grams or 2.4 ounces) has a total of 33 calories, 6 grams of carbs (2 of which are fiber) and 3 grams of protein. Also, it has very low content of fat and large part of the fat in it is the omega-3 fatty acid called alpha linolenic acid. This makes it a perfect food for those looking to do dieting. The high water content will keep you full for longer time and low energy density will ensure that you don't cross your daily calorie limit. It also has several other health benefits, to describe which, we will have to write another article.