Anna Nicole Smith Quick Info
Height
5 ft 10 in
Weight
62 kg
Date of Birth

November 28, 1967

Zodiac Sign
Sagittarius
Eye Color
Green
Anna Nicole Smith was a famous American model turned actress who was usually in tabloid news for her tumultuous and scandalous personal life till her death in 2007. She had done modeling work for popular brands such as Guess, H&M, Heatherette, and Von Dutch. Anna had also appeared in the music videos of popular songs such as Will You Love Me Tomorrow and My Heart Belongs to Daddy.
Born Name
Vickie Lynn Hogan
Nick Name
Anna Nicole Smith, Vicky, Nikki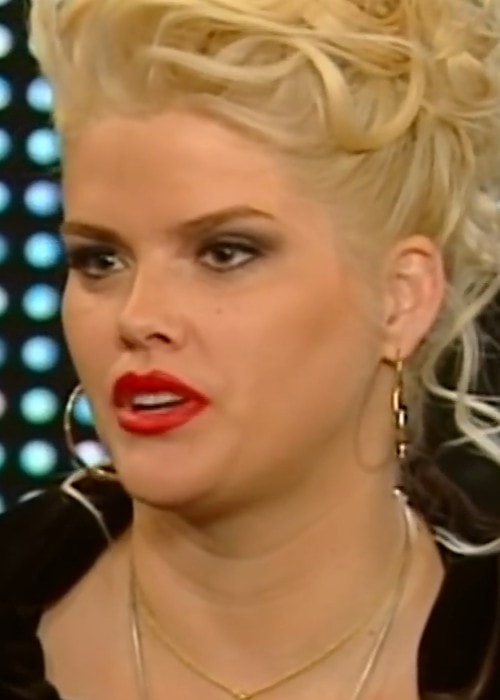 Age
Anna was born on November 28, 1967.
Died
Anna Nicole Smith died at the age of 39 on February 8, 2007, due to drug overdose in Hollywood, Florida, United States.
Sun Sign
Sagittarius
Born Place
Houston, Texas, United States
Residence 
Los Angeles, California, United States
Nassau, The Bahamas, Caribbean Islands
Nationality
Education
Anna attended Durkee Elementary School and Aldine Senior High School in Houston, Texas.
While studying in the 9th Grade, she was sent to live with her maternal aunt, Kay Beall and transferred to Mexia High School to finish the last semester of her freshman year (9th Grade). She dropped out of that school in her sophomore year (10th Grade) in 1982.
Occupation
Model, Actress, Reality TV Personality
Family
Father – Donald Eugene Hogan (1947–2009) (Died of Lung Cancer)
Mother – Virgie Mae Hart Arthur née Tabers (1951–2018, Expired losing her battle to long-suffering Cancer) (Deputy Sheriff, Veteran with the Harris County Sheriff's Department)
Others – Wanda Atkinson (Stepmother), Donald R. Hart, (Former Stepfather), James Arthur (Stepfather), Joyce Stevenson (Maternal Aunt), Kay Heard (Maternal Aunt), Clarence Eugene Hogan (Paternal Grandfather), Helen Marece Sandlin (Paternal Grandmother), Melvin Alfred Tabers (Maternal Grandfather), Paralee Allman (Maternal Grandmother), David Luther Tacker. Jr. (Older Half-Brother) (FBI Agent), Donna Hogan (Half-Sister) (Author, Entrepreneur), Donnie Hogan (Half-Brother), Amy Hogan (Half-Sister), Donald Hart aka Dino (Half-Brother) (Supervisor at Harris County Flood Control District)
Manager
Anna Nicole Smith was represented by –
Howard Kevin Stern (Attorney & Publicist)
David Granoff (New York-based Publicist)
Build
Voluptuous
Height
5 ft 10 in or 178 cm
Weight
62 kg or 136.5 lbs
Boyfriend / Spouse
Anna Nicole Smith has dated –
Billy Wayne Smith (1984–1993) – Anna met her first husband Billy Wayne Smith while working as a waitress at Jim's Krispy Fried Chicken in Mexia, Texas. Billy was a cook in the same restaurant. The couple started dating in 1984 and got married on April 4, 1985, and had a son named Daniel Wayne Smith on January 22, 1986. He expired unexpectedly at the age of 20 on September 10, 2006, due to an accidental overdose of prescription drugs. Anna and Billy separated in 1991 and got legally divorced in February 1993.
Donald Trump – Businessman and TV personality Donald Trump who became the 45th President of the USA was clicked at public events with Anna Nicole Smith in the early 1990s. The media speculated the possibility of an affair but neither of the two confirmed romantic involvement. While getting interviewed by radio show host, Howard Stern, Trump confessed that although Anna had a beautiful face, figure as well as great hair, the charm of her appearance faded the moment she opened her mouth to speak. He also implied that she was not emotionally stable by stating, "….she definitely had problems." In 2006, Anna wrote a column for the National Enquirer where she unknowingly foretold that Donald Trump would make a great President and added that she would like to be his first lady.
Edward Lozzi – Anna briefly dated famous publicist and political consultant, Edward Lozzi possibly in the early 1990s. Upon her untimely demise, Edward told CNN that Anna was a new-age Marilyn Monroe who was sharp, witty and had a great sense of humor. She was widely perceived as a dumb blonde with a big bosom because that was a strategic act put up by her.
James Howard Marshall II (1991–1995) – Attorney and government official turned Petroleum tycoon J. Howard Marshall met Anna at the Houston Strip club Gigi's where she worked as a stripper and went by the name, Vickie Lynn Smith. Upon meeting Howard, she danced for the octogenarian that made him fall in love with her. Ever since then, Howard started courting Anna by buying her expensive gifts and paid her enough money so that she no longer had to work as a stripper for a living. He supported her financially through her initial struggle in the modeling industry until she became Playboy "Playmate of the Month" in May 1992 and "Playmate of the Year" in 1993 that kick-started her career in Hollywood. Smith and Marshall got married on June 27, 1994 when Anna was 26 years old and Marshall was 89 years old. It sparked widespread speculation that the model was primarily after Howard's money. Although Anna publicly confessed that their marriage was never consummated and that she never kissed the man on the mouth more than 10 times, she still loved him back for the respect and attention he gave her. 13 months after their marriage, Howard died of natural causes in August 1995 at the age of 90. His death initiated a long legal battle between Anna and Everett Pierce Marshall. E. Pierce was Howard's 2nd son who inherited the entire estate of his father that left his older brother, James Howard III and Anna Nicole Smith out of the will. Neither Anna nor Pierce survived to see the resolution of their case. Pierce died in June 2006 due to an infection at the age of 67 while Anna passed way in February 2007. The case was decided in favor of Pierce's family in 2014 whose widow, Elaine Tettemer Marshall became a billionaire by virtue of inheritance.
Frédéric von Anhalt (1996–1997) – Businessman Frédéric von Anhalt shared that Anna approached him and his wife Zsa Zsa Gabor at the Plaza Hotel in New York to profess her admiration for Zsa Zsa. Shortly after, he had an affair with Anna. Publicly they were seen together from 1996 to 1997 but Frédéric revealed that their affair carried on and off for over a decade. Bearing that claim, he expressed himself as a potential father of Anna's 2nd child named Dannielynn Hope, to the media but his claim turned out to be false.
Christian Audigier (1998–1999) – Anna publicly dated French fashion designer, Christian Audigier for almost a year from 1998 to 1999.
Peter Nygård (1999–2002) – Finnish-Canadian businessman, Peter Nygård first met Anna while co-hosting the annual Los Angeles Oscar viewing party popularly known as the Night of a 100 Stars in 1999. The couple later started dating. Nygård publicly dated Smith for almost 3 years from 1999 to 2002. During a guest appearance at The Montel Williams Show, Peter shared that he made a genuine albeit an unsuccessful effort to get Anna off drugs.
Mark 'Hollywood' Hatten (2000–2002) – Mark is a musical artist and entertainer. His sister Jackie Hatten was Anna's close friend since the 1990s and was godmother to her son, Daniel. She set up Mark and Anna Nicole on a dinner date. Mark confessed an instant mutual attraction when he first met her at the Popeyes Chicken parking lot in North Hollywood and took her for dinner at Miceli's Italian restaurant. Upon her death, Mark's publicist released official statements that claimed that Anna was formerly engaged to Mark during their two-year relationship and suffered 2 miscarriages in that period. After that, Anna and her doctor asked him to give a sperm sample that they wanted to freeze for future use. He claimed to be the father in case artificial insemination was used for the conception of Dannielynn Hope. However, if Anna's daughter was conceived naturally, then he backed Larry Birkhead's claim for being the biological father and strongly opposed Howard K. Stern's assertion of paternity. He blamed Stern for isolating him from Anna and making him serve a five-year prison sentence on dubious charges of battery, assault, stalking, and criminal threats against Anna Nicole and attacking her neighbor. Mark Hatten wrote a book as a tribute to his ex-girlfriend called titled Hollywood's Annamania originally published in 2010 in which he claimed that Anna was once secretly married to him.
Howard Kevin Stern (2000–2007) – Anna hired Howard K. Stern on a contingency basis along with a team of several other lawyers in 1996 to fight for her case to win half of Marshall's estate. Howard became smitten with Anna and started bringing her home to family events. He confessed during a courtroom testimony that they became lovers in 2000 but had an open relationship. Howard let Anna date other men on the side because he wanted her to be happy. Anna's ex-boyfriends and other friends stated that Howard increasingly started playing the role of gatekeeper in Anna's life contributing to their respective break-up by alienating them. By 2002, Howard quit his partnership in the humble legal firm with Dave Shebby to exclusively live by Anna's side and had her as her only client. His loyalty towards Anna Nicole is defined as part obsession and part love by the former model's acquaintances. Some even blame him for enabling her addiction to prescription drugs. Larry Birkhead blamed Stern for his break-up with Anna but also admitted that once the results of his paternity claim were confirmed, the lawyer showed his support by teaching Larry how to take care of his toddler.
Alexander Denk (2002–2007) – Personal trainer and stuntman turned actor, Alexander first met Anna when his agent told him that she was looking for a personal chef to appear on her reality show. He auditioned with 3 other men, but Anna hired him because she liked his sense of humor. Alexander taught Anna how to prepare quick-fix healthy meals and became her personal trainer as well as her bodyguard. Shortly after he was hired, the couple got physically intimate. Since their relationship continued on and off until Anna left for the Bahamas, Alexander was one of the contenders claiming paternity of Dannielynn Hope.
Larry Birkhead (2004–2006) – Larry is a photographer who was working at the famous Barnstable-Brown Gala on the eve of the Kentucky Derby when Anna first saw him. She told her lawyer and best friend, Howard Stern that she liked him and kept waving and kissing towards Birkhead to get his attention. Larry did not respond thinking that the model was merely working for the camera to get good pictures. He was hired to take photos of Smith at an 8 day camp for children living with HIV which was also filmed for her reality show, The Anna Nicole Show (2002–2004). During that time, Birkhead noticed that Anna had not only transformed herself physically but also mentally to get back on top of her professional game. He saw the genuine side of her personality, playing with children without any make-up and pretentious behavior. The photographer eventually fell in love and traveled to Los Angeles to live with her. Other than Howard Stern, nobody else knew of Larry and Anna's live-in relationship. Publicly, he stayed in the background working as her photographer. The couple had a tumultuous 2-year relationship from 2004 to 2006. He would often compare his volatile relationship to the onscreen relationship shown in The War of the Roses (1989) adding that Anna had a very controlling temperament. The couple fought frequently that often provoked Larry to pack his bags and leave her home. During one such argument, Anna confessed that she was expecting his child. 6 months into her pregnancy, another fight between the two made Anna so angry that she decided to leave Los Angeles and settle in Nassau, The Bahamas to isolate Birkhead from his daughter. Anna's daughter was born in September 2006. She named her Dannielynn Hope Marshall Stern announcing to the world that Howard Stern was the biological father of her child. Following that, on September 28, 2006, Anna exchanged vows in a non-binding commitment ceremony with Howard and sold the images of that event to People magazine through Getty Images for 1 million dollars. She also sold the footage of her daughter's delivery to the media. A despairing Larry saw the birth of his child on television and felt compelled to file a paternity suit that continued after Anna's sudden and untimely demise. A DNA test revealed that Larry indeed was the biological father of Dannielynn. Her birth certificate was amended to name her Dannielynn Hope Marshall Birkhead. Larry moved to rural Louisville, Kentucky to raise his daughter as a single dad away from the spotlight. He did not pursue the case of Dannielynn's entitlement to Marshall's estate by virtue of being Anna's daughter and raised her with the money he made in photography and real estate by flipping houses.
Gaither Ben Thompson (2005) – In 2005, Anna entered a wet T-shirt contest at a club called the Freaky Tiki. The footage was meant to be filmed and put up on her official website. She met real estate developer Gaither there. He initiated the romance with her when she visited his Myrtle Beach property in the summer. She was accompanied by Howard Stern who stayed in the guest room. In 2006, Smith moved to the Bahamas to live in a $900,000 dollar mansion called Horizons that she claimed was a gift to her by Thompson. The real estate developer denied her claim stating that he merely loaned her money to purchase that place and took legal recourse in November 2006 to gain control of that property.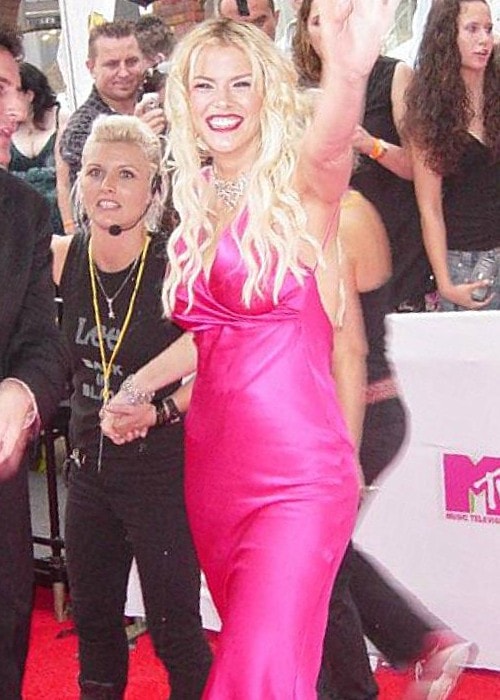 Race / Ethnicity
White
Anna had English, Scottish, and French ancestry.
Hair Color
Blonde
Eye Color
Green
Sexual Orientation
Straight
Distinctive Features
Resembled the 1950s and 60s American Diva, Jayne Mansfield
Curvaceous build
Long slender nose and chin
Spoke with a timid, baby voice every time she went in front of the camera. Her concierge doctor, Sandeep aka Sandy Kapoor stated that once the cameras were off, Anna had a regular voice.
Brand Endorsements
During her successful modeling career, Anna was cast as a model for brands such as Guess, H&M, Heatherette, and Von Dutch.
She was a spokesmodel for Lane Bryant clothing and spokesperson for TrimSpa Diet pills.
Religion
Christianity (Baptist)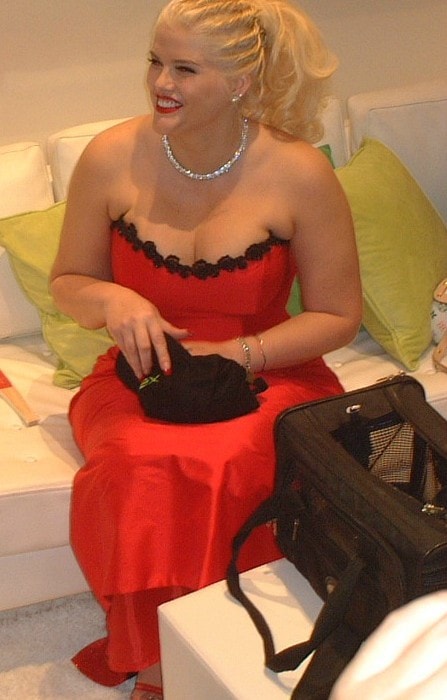 Best Known For
Appearing in black and white Guess campaign in 1993 immediately after which she earned billboard ad campaigns for H&M put up in Sweden and Norway
Her legal suit to claim half of James Howard Marshall II's property. The perpetual drama in her life got her a reality show on E! network called The Anna Nicole Show (2002-2004).
First Film
She made her theatrical film debut as Za-Za in the comedy film The Hudsucker Proxy in 1994 starring Tim Robbins.
First TV Show
She made her first TV show appearance as 'Herself' on the documentary series Hollywood Women in 1993.
Personal Trainer
To get a break in the modeling industry, Anna opted for liposuction paid by her 2nd husband James Howard Marshall II. After his death, Anna developed a food addiction that made her gain about 45 kg of fat or 99 lbs. With a combination of anti-anxiety drugs, weight loss medication, and painkillers, Anna lost her appetite for food that helped her lose 69 lbs.
Meanwhile, she also hired a trainer turned bodyguard, Alexander Denk who further helped her slowly take her total weight loss to 105 lbs from 2002 to 2005. Alexander became her chef and built a gym in the basement of Anna Nicole's Beverly Hills home and trained her 5 to 6 days a week. He charged her $195 dollars an hour for his services.
Before Alexander got hired, E! Network hired another celebrity trainer, Tony Little for Anna Nicole, but he had a different story to tell. Tony revealed that he had a tough time getting Anna to stick to a regimen because the model was always depressed and heavily medicated. Her son Daniel was just as depressed as his mother.
At that time, Howard Stern was in the process of negotiating a TrimSpa endorsement deal. After a successful substantial weight loss, Anna gave a public statement that she used to consume 6 TrimSpa pills a day to reduce her appetite and eventually came down to taking 2 pills a day for maintenance.
Anna Nicole Smith Favorite Things
Cuisine – Italian
Role Model – Marilyn Monroe
Source – EchoFlam.com, E News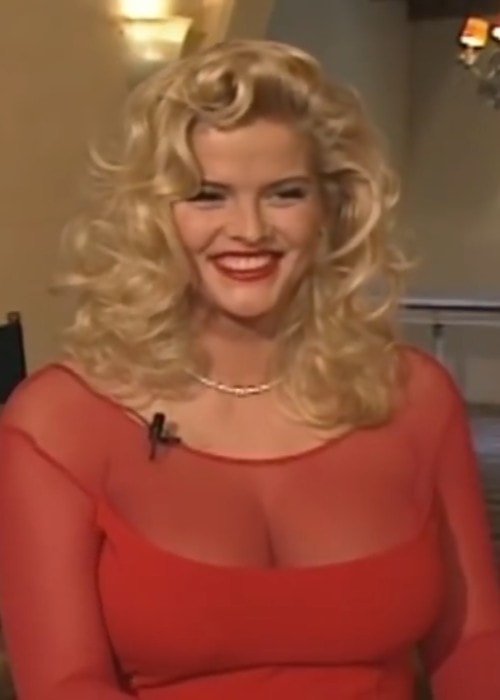 Anna Nicole Smith Facts
Guess founder Paul Marciano saw Anna in Playboy magazine and liked her unique facial features. He scheduled to meet her in San Antonio where he had to organize a Guess Kids campaign. At that time, Anna was still working as a waitress at the Red Lobster and was not yet married to Marshall. Paul was responsible for taking Anna to New York City and getting her an agent as well as rechristening her as Anna Nicole Smith.
Paul also replaced Claudia Schiffer with Anna for the famous black and white Guess campaign.
The director of The Mask (1994), Chuck Russell considered Anna for playing Jim Carrey's love interest. The role was eventually bagged by Cameron Diaz.
She suffered from chronic lower back pain and her breast augmentation surgeries created further complications. At its worst, physical pain would increase to the point of a seizure and Anna relied upon prescription drugs to numb that pain. She would often exceed the consumption of prescribed limit to maintain physical comfort.
Anna narrowly escaped death in the late 1990s when she went into a temporary coma after an accidental drug overdose. She checked into the Betty Ford Center to get clean but the pain of reconstructive breast surgery after one of her breast implants ruptured threw Anna off course.
Shortly after the birth of his younger sister, Daniel paid his mother and newborn baby sister a visit in the hospital in The Bahamas. He consumed some of Anna's prescription drugs to calm his nerves and rest in her hospital room only to meet an untimely death owing to an accidental overdose. When Anna woke up from a nap, she was shocked to find her son lying dead next to her.
5 months later, Anna Nicole met a similar fate. Her autopsy revealed that she had 9 different prescription drugs in her system. One of them being a sleeping pill had a fatal reaction with all the other drugs in her blood.
A psychiatrist met Anna in April 2006 and diagnosed her with Borderline Personality Disorder.
While filming her reality show, Anna Nicole owned a miniature black poodle named Sugar Pie.
Anna was featured in the music video of Kanye West's song, The New Workout Plan in 2004. Anna also introduced the rapper at the 2004 American Music Awards.
Other music videos that Anna was cast in were Will You Love Me Tomorrow (1993) by Bryan Ferry, My Heart Belongs to Daddy (1997) remake of the song by Marilyn Monroe, You Win, I Lose (1997) by Supertramp, and Jumper (1998) by Third Eye Blind.
Anna originally named her daughter Hannibel Hannah Rose Hogan but legally changed her name to Dannielynn Hope in October 2006 to honor the memory of her son, Daniel who died unexpectedly while visiting her.
Anna Nicole Smith underwent 5 breast augmentation/corrective surgeries during her life span to reach a point where she felt satisfied with her physical appearance. She clarified that visiting a plastic surgeon every 5 years was also essential owing to the build-up of scar tissue.
Many people misunderstood Anna to be a drug addict. Her former boyfriend Larry clarified that Anna was not interested in recreational use of drugs.
Both Larry Birkhead and Howard Stern stated that Anna was so overcome by grief at her son's funeral that she opened his casket to jump in, wanting to be buried alive with him.
She had 5 tattoos on her body that included a mermaid tattoo on her lower back, a topless woman with a holy bible on her right leg above the ankle and a woman's image on her left breast. After the birth of her daughter, Anna got a tattoo of her daughter, Dannielynn on her right upper back and an image of her son, Daniel with his birthdate and death date on her left upper back.
Visit the official page dedicated to her memory @ annanicole.com.
She wasn't active on social media.
Featured Image by doggiesrule04 / Flickr / CC BY-SA 2.0