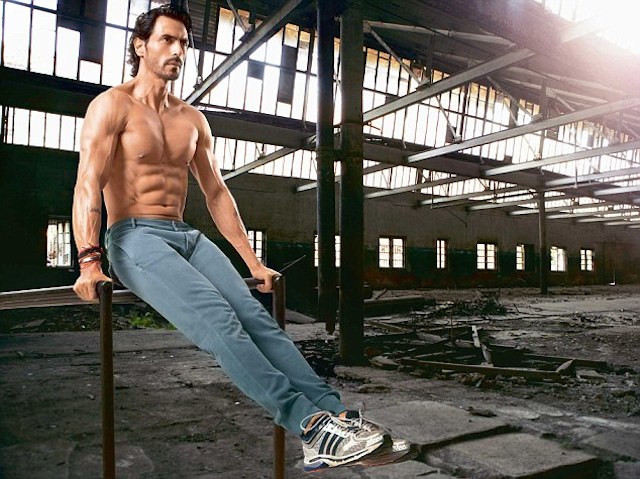 Arjun Rampal is one of the rare model-turned-actor who has managed to leave a mark in Bollywood. Despite being in the industry for years, he still has a worthy position. Though his debut film, Pyaar Ishq aur Mohabbat failed on the charts but his determination to succeed led him to play many different roles over the years.
His first taste of true success came in the year 2006 when his role in the movie Don was widely appreciated. His performance in the films like Om Shanti Om and Rock On was also extraordinary. Also, the roles he played in films like Rajneeti and Satyagraha were loved by the masses and this led to a substantial increase in his fan following.
Despite crossing the age of 40, Arjun's looks and physique still make a lot of men envious of him and also boosts his female fan following. So how does he manage to look so good? Well, here's the answer.
One Hour Rule: Arjun supports the one hour rule whereby he believes that everyone should spend at least one hour in a gym on a daily basis. He spends most of his time in doing cardio exercises that help him stay fit. He also advises his fans to eat heartily before going in for a workout as doing a workout without eating a well balanced meal would take a toll on the body and one would simply be wasting time in the gym. Banana is one food item that he prefers eating before hitting the gym.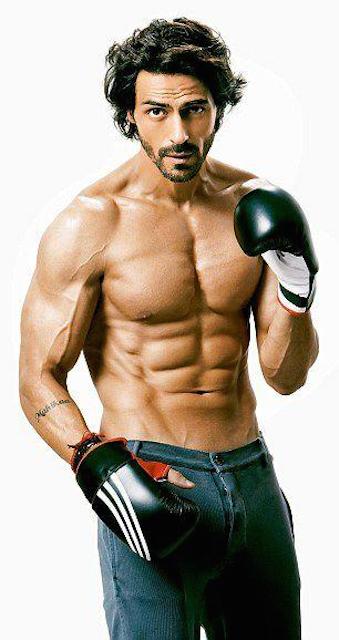 Try Different Exercises: This 42 year old also believes that one should try different exercises in a gym. For this one should always be willing to try on new forms of exercises and work on the latest exercising equipments. You can even change the time span of every workout like do heavy exercises for half an hour one day and do light exercises for one and a half hour the next day. This thing would make sure that you don't feel bored and monotonous from your exercise routine and also you would be eager to hit the gym every day.
Don't Push Too Hard: The Filmfare award winning actor also suggests that one should not stretch his or her body beyond a certain limit. He believes that everyone should know the capacity of his or her own body and should never push too far. This is so as such a thing would only lead to problems like dislocated joints, cramps in the body and lack of enthusiasm to work out in the future. So, all you people who wish to look like Arjun should keep in mind that everyone has a different body type and so you should do the best for your body accordingly.
Try New Things: The handsome hunk also believes that one should not restrict himself or herself to the gym only. He is always eager to participate in outdoor activities like swimming, cycling and running as it helps him stay fit on days when he doesn't have time to hit the gym. The stunning actor is also open to learn new forms of exercises and has proven the same by learning yoga on the advice offered by his Ra.One movie co-actor Kareena Kapoor Khan. He also likes to practice karate for physical fitness as well as self-protection.
Play: Cricket, football and tennis are some of the favorite games of this Jabalpur born star. He plays them regularly and loves to compete with others. He believes that competition makes the game interesting and keeps one hooked. So if you are a fan of any sport, indulge in a game every now and then not only to keep the blood moving and shed off those extra calories but also to entertain yourself.
Focus on Stamina: The National film award winner also has some advice for all the youngsters who are seeking to have a muscular body. He thinks that every person should concentrate on building up his or her stamina as it would be fruitful in the long run. There's no point of having bulging muscles if you don't have stamina to use them properly. Is there?
Arjun Rampal Diet Habits
As far as the diet of this good looking actor is concerned, Rampal has the following to offer –
Reduce Carbs to Look Lean: Whenever this actor needs to dawn a lean look for a project, he cuts down on the carbohydrate levels in his food. This low carb diet of his would consist of items rich in protein such as eggs, chicken, fish and non-starchy vegetables. Following this diet will not only help a person to reduce weight but would also help to bring about a change in the diet pattern. It's a must try for you if you want to stop weight gain and this can simply be done by staying away from food items like sweets, fruits, pastas, breads and starchy vegetables.
Healthy Breakfast: This versatile actor prefers to consume at least 8 boiled egg whites and some cereal in the morning. He likes to add a papaya if the mood strikes. A heavy breakfast like this would help you to feel full in the stomach the entire morning and you will not feel hungry until lunch time. It would also help you to avoid munching between the meals.
Home Cooked Lunch: The dashing actor prefers to consume simple daal, roti and subzi in lunch. It not only fulfills his need for essential nutrients like vitamins, minerals and protein but also pampers his taste buds. If you are an Indian then you would surely appreciate the value of simple ghar ki bani dal sabji. It is tasty, fresh as well as well balanced.
Simple Dinner: Most of the health freaks prefer to eat light at dinner and Arjun is no different. He just consumes a bowl of soup and simple salad. It keeps him away from midnight snacking which is a surefire way of gaining excess weight. If you have a habit of eating a heavy dinner then you should let go of it by reducing the amount of food items you eat. This should be done slowly and steadily (like eat 3 chapatis instead of 4 and then move on to 2 chapatis) as drastically reducing the amount of food you eat in dinner would hamper your health and increase your cravings for a midnight snack which you surely don't want to indulge into.
We hope that you would use some of these tips to build a fit body like Arjun Rampal who is again ready to rock the big screen with "Roy". Good Luck!!!