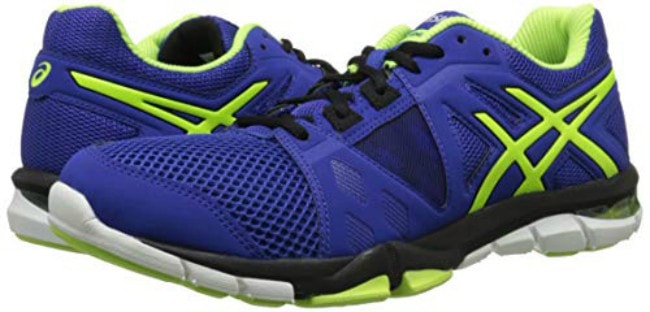 If you are an athlete, then cross-training is very important as it can enhance your performance. Cross-training is also necessary for people who want to reach a certain fitness goal. In order to do cross-training, you should have the right gears and a pair of good shoes is what you must have. Cross-training shoes can hold your feet properly when you are running, jumping, and lifting heavyweights. These shoes are versatile and help you to do various activities. There are lots of cross-training shoes you can choose from. They vary in design, color, build quality and price.
When it comes to training shoes, you should never compromise on quality as it can affect your performance. When choosing, shoes you should focus on the fit because if the shoes don't fit you properly, you will have a tough time wearing them. You must select shoes with a minimum drop so that you don't feel any discomfort while running or weight lifting. After going through a lot of training shoes, we have found the ASICS Men's Gel Craze TR 3 Training Shoe to be a great choice if you are looking for something great at a reasonable price.
The ASICS is a leading running shoe brand. They manufacture shoes for a leisurely run and sporting events as well. Most professional athletes prefer shoes from this brand due to the comfort and superior ride. The company relies on technological advances for constructing the shoes. So, if you buy training shoes from this brand, you will be able to use the shoes for intense training for a long time. Here, we are going to look at the features of ASICS Men's Gel Craze TR 3 Training Shoe in detail.
Design
The shoes are very well designed and come in great colors. These are designed to give comfort and protection to the feet during cross-training or running. The sole of the shoe has an outrigger design at the forefoot and so it spreads wider under the ball of the foot to increase the lateral movement ability. The feet also get more ground to perform box jumps. The shoe is covered entirely with breathable mesh that is soft and porous; so, sweat won't build up inside. There are stitched and reinforced synthetic overlays around the laces, heel, and toe of the shoe for durability.
The shoes are constructed using advanced technologies and ensure proper fit, cushioning and performance. You will not only be pleased with the design of the shoe but will be highly impressed with the performance as well. As a serious gym-goer, you will be able to wear the shoes comfortably for any intense workout sessions. The shoes are built for heavy training but can be used casually outside the gym as well.
Build Quality
You can get everything from this training shoe. It provides comfort, durability, and function. The outer sole of this shoe is made of Asics High Abrasion Rubber that provides durability. The FluidRide inside it provides cushion due to padding and allows the shoes to bounce back. The midsole is made of Solyte material that is light and so feels great. The midsole cushioning materials of the shoe provide lots of padding underfoot and protect the feet from impact during cross-training. The lateral outrigger construction of the shoes provides stability.
As it has a larger toe box, it allows for easy movement of the feet. The shoes' liner prevents moisture build-up keeping the feet protected and comfortable. The interior microfiber of the shoe has bacteria-fighting properties and so keeps away any foul smell. The inner surface of the shoes prevents blisters from forming by keeping away moisture. Overall, the construction is solid and the shoes will be able to withstand intense training sessions.
Comfort
The shoes are covered with breathable mesh material and so you will feel comfortable when running as heat can easily escape. The large toe box allows for better movement. Gel cushioning adds an extra layer of comfort and the padding prevents injuries during intense training. As the overall area of the shoe is spacious, it allows for comfortable movement of the feet and prevents any blisters from forming on the feet.
Effectiveness
It is a multi-purpose shoe that has style and function. This shoe can help you to perform at a high level and is extremely comfortable. It is thick and well-cushioned from the Achilles support to the toe box and sole. Your feet will never become tired by wearing these shoes for workouts. The sole is packed with ASICS technology that gives a light feeling. The ASICS GEL-Craze will give your feet the support you need for training. The sole has SPEVA cushioning for absorbing shock. There is a Rearfoot GEL cushioning system that will help the foot to bounce back.
You can do different types of training and make quick movements without any trouble. You will be able to work out on any surface, whether smooth or rough, wearing these shoes. These shoes are perfect for cross-training and running. You can also use it for other exercises. The versatility of these shoes makes them a perfect choice for both leisure walkers and professional athletes or regular gym-goers. So, if you are looking for design,  function, and performance, then you should buy this pair of shoes from ASICS.
Price
You can buy this pair of shoes for only $74.99 at Amazon. It's a great buy and you will enjoy wearing the shoe for a long time. At this price range, you will hardly find such high-quality training shoes in the market today.
Pros
It is very stylish and comes in a number of nice colors.
It has a breathable upper mesh that ensure comfort.
It has removable EVA sock liner.
The SpEVA® midsole makes the shoes bouncier and reduces the chance of midsole breakdown.
The shoes have extra cushioning that gives comfort.
The Rearfoot GEL Cushioning System absorbs shock during the impact.
Dual-density foam midsole makes the shoes durable.
Its FluidRide midsole spreads the shock and the FluidAxis technology lets movement in different planes.
You get it at a very good price.
It is versatile to be used for cross-training, running or casual wear.
Cons
May have a sizing problem
Some people may find it a bit narrow.
The heel cushion is too soft and may not provide appropriate stability.
The shoes feel a bit heavier.
Final Verdict
It is a great multipurpose shoe for cross-training and perfect for serious gym-goers. It is comfortable, durable and lightweight; therefore, is great for intense workout sessions. It is constructed with a number of technologies that makes the shoes stand apart from the rest. The midsole has FluidRide technology for protection and extra cushioning. The Rearfoot Gel cushioning system protects the feet from the shock of impact during cross-training. As a result, your knees, ankles, and hips stay protected. The lateral outrigger provides stability and allows the comfortable side to side movements. Therefore, by buying these shoes, you will be able to do the training comfortably and improve your performance. Therefore, it is one of the best training shoes to buy for cross-training.