It's summer again and most of us are desperately trying to beat the heat by taking precautions like staying indoors or wearing simple and lightweight clothes. If you are among such people, then the workout and diet tips offered by former Liberty X singer, renowned model and actress, Michelle Heaton are certainly worth a read. Here's what she has to say about beating the heat via Closeronline.co.uk.
Workout Routine
The television personality advises people to workout at least 5 times in a week. In her opinion, one should workout for 2 days in the beginning of a week, take rest for 1 day, then exercise for the next 3 days. Taking the 7th day off is also advised by the hot model as it will recharge you for the next week's workouts in advance.
Workout and Diet
As per the sexy celebrity, one should focus on eating a diet comprising of complex carbs on the days that are reserved for workout. On rest (workout free) days, you can skip those complex carbs as the required carbohydrates would be included in your normal diet of fruits and vegetables.
Portion Sized Diet
According to the famous celebrity, the portion sizes of the protein should be somewhere around 150g veg. For more portion control tips, do check out Health.com.
Avoid Sugar Intake at Night
The popular singer advises people to stay away from sweet foods at nighttime. What's new about that? Well, she insists that one should stay away from sweet corn and carrots too that are otherwise healthy options, but contain some amounts of sugar that can ruin your diet plan, if you eat them at odd hours.
Drink Water
Heaton advises her fans to drink loads of water during the summers as water helps your body to stay away from dehydration due to sun. If you want to know more about the benefits, you get by drinking ample amount of water not only through the summers, but the whole year, then this article from Greatist.com would certainly be worth your time.
Control Your Evening Food Cravings
Michelle also advises people to keep control over their diet in the evenings. If you have to have something in the evening, then you must opt for sugar free jelly or hot chocolate as they are the least threatening to the diet plan, she has carved for you (see below).
Be an Early Bird
The stunning actress also suggests people to have their evening meals before 6 pm and stay away from the habit of midnight snacking as it will do no good to you.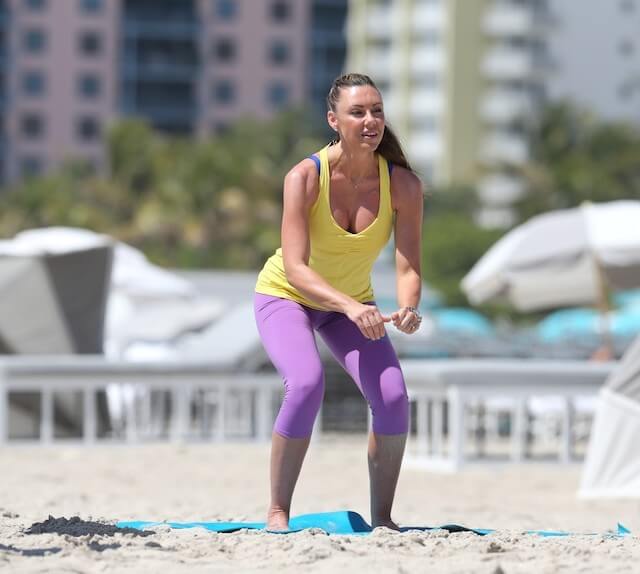 Here's the diet plan recommended by Michelle that's quite easy to follow and will offer amazing results, if followed with precision.
1st Day
Breakfast: 1 egg on whole meal toast
Snack: 1 large banana
Lunch: Turkey and avocado salad
Snack: 1 Protein bar (low sugar)
Dinner: Chicken Satay and salad
2nd Day
Breakfast: Oats and blueberries
Snack: 1 Protein bar
Lunch: Grilled chicken salad
Snack: Orange and almonds
Dinner: Roasted salmon
3rd Day
Breakfast: Egg white omelet
Snack: Satsuma and almonds
Lunch: White fish and vegetables
Snack: Greek yogurt and berries
Dinner: Turkey meatballs and green vegetables
4th Day
Breakfast:  Oats
Snack: 3 oat cakes and no sugar jam
Lunch: Tuna salad and vegetables
Snack: 1 Protein bar
Dinner: Flank steak salad
5th Day
Breakfast: 1 egg on whole meal toast
Snack: 1 Protein bar
Lunch: Large mixed salad with any protein
Snack: Handful of almonds
Dinner: Chicken stir fry
6th Day
Breakfast: Oats and blueberries
Snack: Peanut butter and 3 rice cakes
Lunch: Chicken broccoli with roast onions and tomatoes
Snack: Cottage cheese with pineapple
Dinner: Low fat mince and vegetables
7th Day
Breakfast: Egg white omelet
Snack: Greek yogurt and blueberries
Lunch: Seared tuna salad
Snack: 1 Protein bar
Dinner: Chicken Satay and salad
Are you only interested in having a body like Michelle herself? If so, do click here to learn about Michelle Heaton's Workout Routine and Diet Plan in detail.